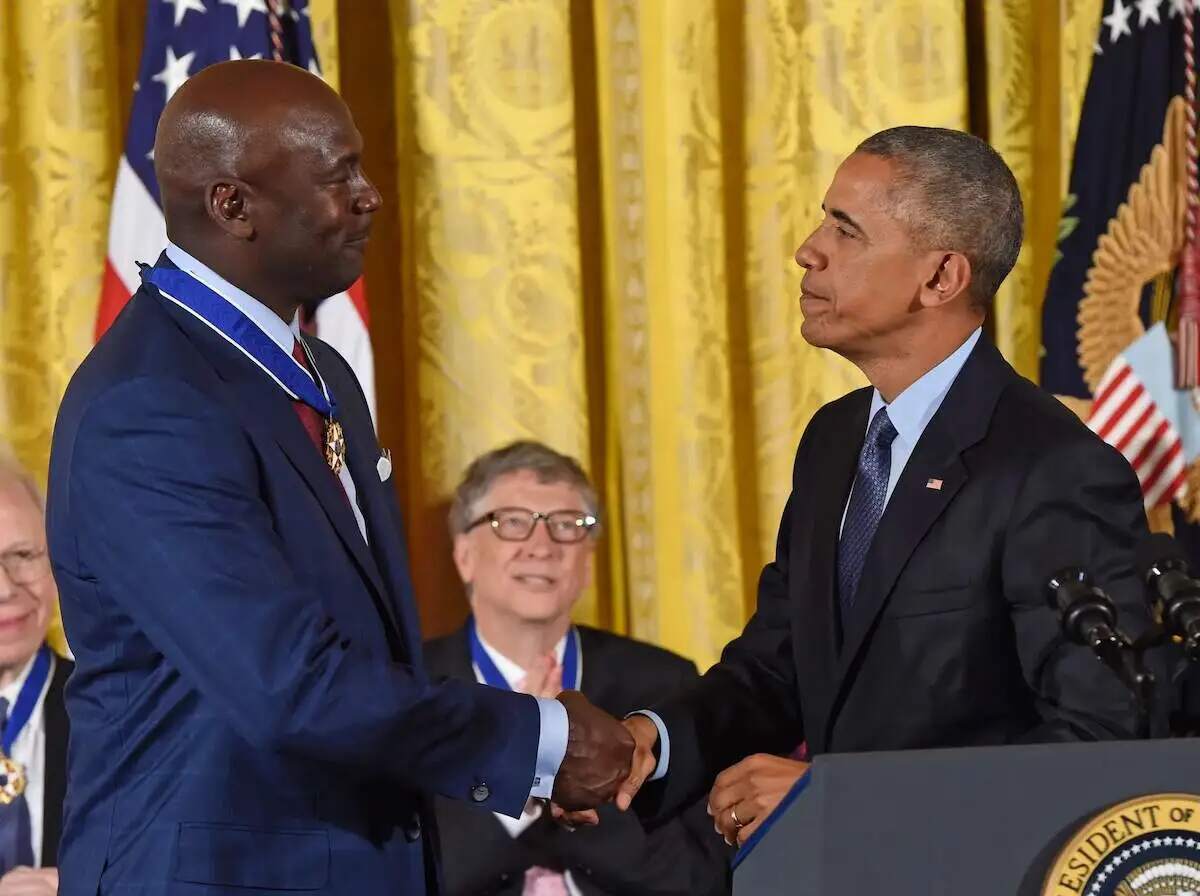 Michael Jordan Once Called Barack Obama a 'S—y Golfer' Before Getting Chirped in Return by the President
Michael Jordan isn't afraid to trash-talk anyone, including then-US President Barack Obama.
While every professional athlete wants to win every time they step on the field or the court, Michael Jordan took things to another level. During his time in the association, His Airness wasn't only a fearless competitor; he was a force of nature, unafraid to trash-talk anyone who stood in his way. That reality, it seems, didn't change in retirement. Just ask Barack Obama.
In 2014, Michael Jordan told the world that, in his opinion, Barack Obama was a pretty bad golfer. The POTUS, however, couldn't ignore that remark, though, and promptly threw a little shade back at MJ.
Michael Jordan was willing to trash-talk anyone to win
When we're talking about Michael Jordan, it goes without saying that he was an incredible athlete. His Airness, however, also had two other tools in his locker: an incredible will to win and a knack for brutal trash talk.
Thanks to childhood battles with his brother Larry, MJ developed a fierce competitive edge. While things could have gone south when he failed to make his high school's varsity basketball team, the teenager doubled down; Jordan dominated the JV competition, made varsity the next season, and became a McDonald's All-American by the time he graduated.
From there, Jordan only became better and better. During his time at the University of North Carolina, His Airness hit the game-winning shot to seal an NCAA title as a freshman; in the NBA, he won six championships, five MVP awards, and virtually every honor imaginable.
MJ didn't just dominate the competition on the court, though. He also proved to be a ruthless trash-talker, willing to attack everyone from opponents to his own teammates, if it helped him gain an advantage. On one occasion, Bill Clinton even felt Jordan's wrath.
His Airness once called Barack Obama a 's—y golfer'
Bill Clinton wasn't the only US president to be trash-talked by Michael Jordan, though. In 2014, the NBA legend also called out Barack Obama for his skills on the golf course.
As documented by For The Win, Ahmad Rashad asked Jordan to assemble a dream golfing foursome. His first pick was Arnold Palmer; MJ then nominated Obama, which led to some discussion about his skills on the course.
"I never played with Obama, but I would. But naw, that's OK, I take him out; he's a hack. It'd be all day playing with him," Jordan said.
Rashad then asked MJ if he really wanted to go on the record, saying that Barack Obama was a hack. "Don't worry about it," Jordan responded. "I never said he wasn't a great politician. I just said he was a [expletive] golfer."
Yes, you read that correctly. Not only did Michael Jordan trash-talk the president of the United States, but he did so without ever taking the course with him.
Barack Obama managed to take his own shot at Michael Jordan
As we learned during his time in the Oval Office, Barack Obama is quite the basketball fan. Based on that background, he couldn't resist giving Michael Jordan a taste of his own medicine.
As documented by another For The Win post, Obama was asked about Jordan's comments during a 2014 radio interview. In addition to saying that Jordan "wasn't very well informed," the POTUS also threw a little trash talk back at His Airness.
"But there is no doubt that Michael is a better golfer than I am," Obama continued. "Of course, if I was playing twice a day for the last 15 years, then that might not be the case."
Since those comments were made, though, Michael Jordan and Barack Obama have hit the links together. While it's not clear what did or did not happen after they teed off, it's safe to assume there was some trash talk going on.