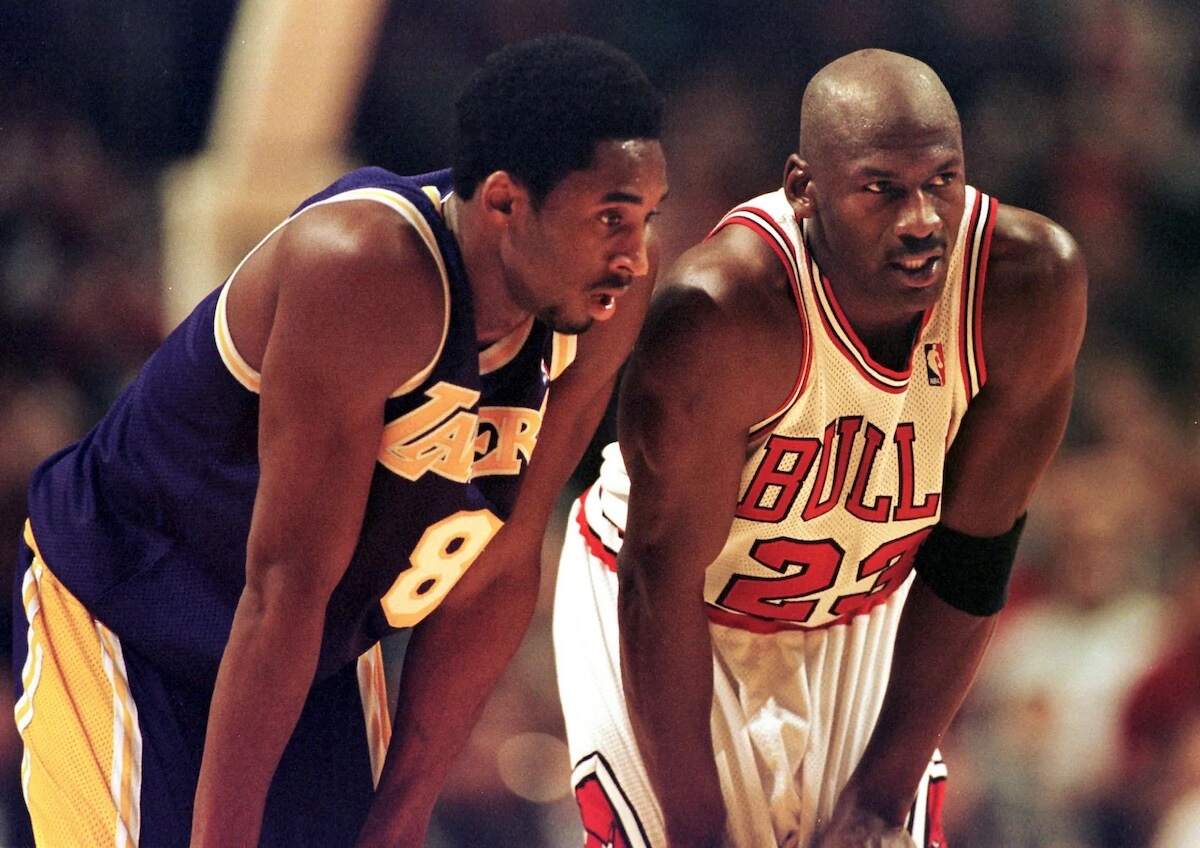 Michael Jordan Is so Competitive He Once Tried to Trash-Talk Kobe Bryant During a Friendly Dinner
Michael Jordan was willing to talk trash to anyone at any time, including Lakers legend Kobe Bryant during a friendly dinner.
In the world of sports, few men were more competitive than Michael Jordan. His Airness wasn't just talented. He was willing to trash-talk anyone who crossed his path in an endless effort to be the best. Kobe Bryant experienced that reality firsthand, even away from the basketball court.
While Kobe and MJ were fearless competitors, they also greatly respected each other. One night during a friendly dinner, however, Michael Jordan still tried to remind Bryant about his greatness.
Michael Jordan and Kobe Bryant were both fierce competitors
If you ask basketball fans about the greatest player they've ever seen on the hardwood, certain names will always appear. Among those, Michael Jordan and Kobe Bryant will always be near the top of the list. Not only were the two men incredible athletes, but they were also incredible winners driven to be the best.
While it's been a while since Jordan suited up for an NBA game, his competitive fire is still the stuff of legends. He honed that edge battling against his brother, Larry. Failing to make his high school's varsity team on the first attempt, he pushed things to the next level. By the time he reached the pros, MJ was a machine. Not only was he incredibly talented, but he needed to win and would trash-talk anyone who opposed him.
Since Kobe Bryant idolized Jordan, it's unsurprising that he also had quite a competitive streak. While he wasn't as outwardly mean as MJ, the Lakers star still created "Mamba Mentality," doing whatever it took to win. From studying the referee's rule book to hitting the gym in the wee hours of the morning, nothing was too big of a burden if it helped earn a 'W' at the end of the night.
Talking trash during a friendly dinner
Over the years, Michael Jordan trash-talked virtually everyone, from his teammates to Bill Clinton. Kobe Bryant even felt His Airness' wrath in a seemingly safe situation: a friendly dinner.
"The last time we had dinner, he was talking about, 'my year in 1991 versus your peak year, I would have kicked your ass," Bryant told Jimmy Kimmel in 2018. "And I say, 'Mike, come on. Enjoy the salad. We both know that's not going to happen."
For reference, Jordan averaged 31.5 points, six rebounds, and 5.5. assists during the 1990-91 campaign. During the best season of Kobe's career, the Lakers legend averaged 35.4 points per outing but didn't beat MJ regarding rebounds or assists.
Michael Jordan still had great things to say about the late Kobe Bryant
Given his competitive fire and willingness to talk trash over dinner, you'd be excused for thinking that Michael Jordan held a bit of a grudge against Kobe Bryant. When push came to shove, though, the two men viewed their opposite number with great respect.
On multiple occasions, Bryant referred to MJ as his big brother. During a speech at the late legend's memorial service, Jordan spoke highly of his protegee.
"When Kobe Bryant died, a piece of me died," Jordan explained. "As I look into this arena and across the globe, a piece of you died, or else you wouldn't be here. Those are the memories that we have to live with and learn from. I promise you from this day forward that I will live with the memories that I had a little brother that I tried to help in every way that I could. Please rest in peace, little brother."
That, not the dinner table trash talk, tells you everything you need to know about Michael Jordan and Kobe Bryant's relationship.
Stats courtesy of Basketball-Reference