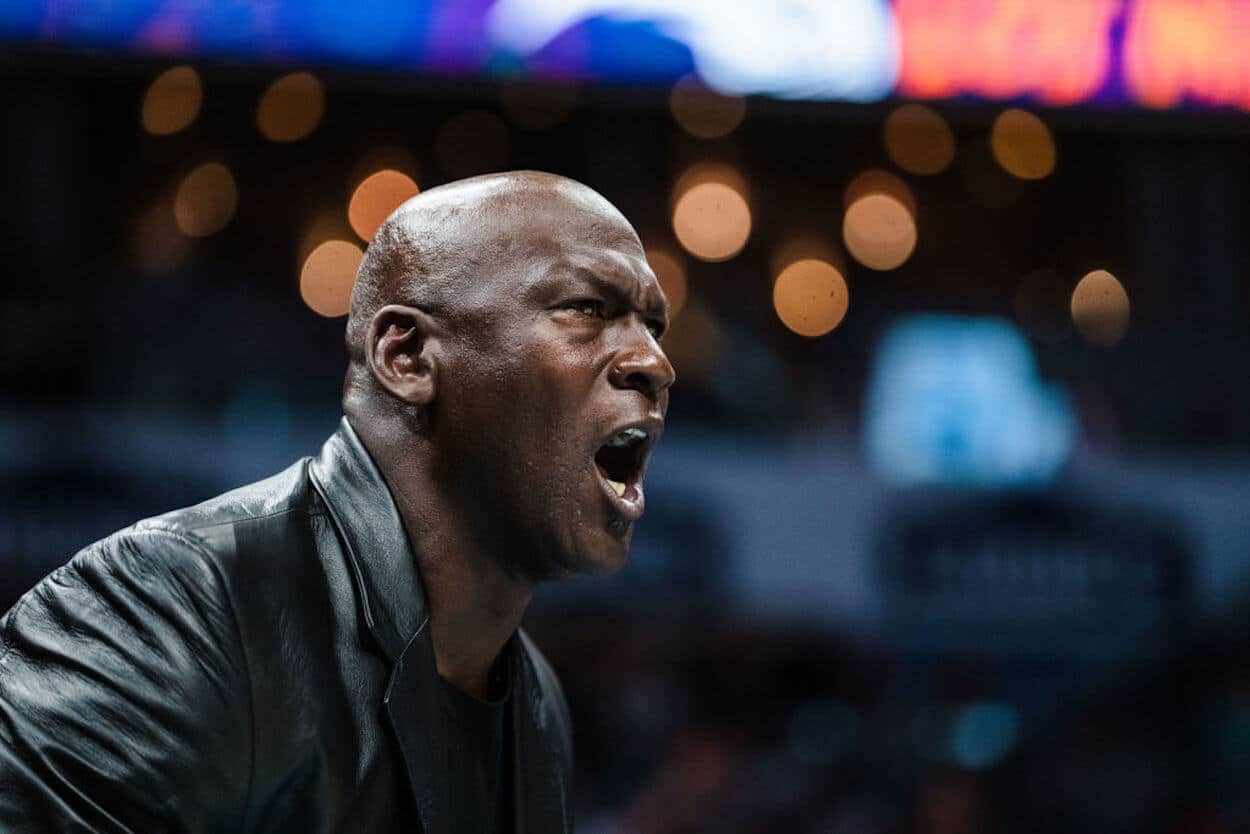 Michael Jordan Couldn't Resist Chirping Brandon Miller During His Draft Call
Even in a happy moment, Michael Jordan can't resist throwing a bit of shade. Just ask Brandon Miller about that.
While Michael Jordan hasn't played professional basketball in quite a while, his inner fire is burning as intensely as ever. The living NBA legend is more than happy to talk trash, even if there really isn't a reason to engage in verbal warfare. Brandon Miller, for example, told the world how His Airness said he was little more than a shooter ahead of the 2023 draft.
Although that concern must not have been too strong– the Hornets still snagged the Alabama product with the second-overall pick — the selection did give MJ a chance to throw a bit more shade. During a video of the draft call, we see Jordan greeting Miller in his own distinct way. There wasn't time for congratulations just yet; instead, Mike hit the teenager with a question about his physical skills.
Sound unbelievable? Well, let's check out His Airness in action.
Michael Jordan asked Brandon Miller if he could palm a ball and told him it was time to get to work
For NBA prospects, getting drafted is a life-changing moment. It's the culmination of years of blood, sweat, and tears, and it means that a multi-million dollar payday is right around the corner. Things are even sweeter if you're a lottery pick.
That's exactly what Brandon Miller experienced during the 2023 NBA draft.
Shortly after joining the Hornets, though, the teenager received a phone call from the organization's brass. While getting to speak with Michael Jordan seems like it would make an unforgettable evening even more memorable, His Airness wasn't going to lead with the congratulations.
"What up, dude," Mike said to Miller during the draft call. "Can you palm a ball yet?"
While that might not be elite-level trash talk, it's pure Jordan. There's no time for congratulations or pleasantries until the (admittedly gentle) power move is out of the way. To Miller's credit, though, he did take things in stride, telling MJ that he was just palming a ball the other day.
With that out of the way, Mike welcomed the new Hornet to the Association and said that he was looking forward to watching him play. Before hanging up, though, he had to provide one final reminder.
"You know what happens now, right?" His Airness asked. "You gotta get to work, dude."
Given his competitive edge and willingness to push his teammates to the limit, would you expect anything less from Mike?
Jordan also teased Mark Williams about the Duke-UNC rivalry during the 2022 draft
As you might expect from the various Michael Jordan stories that have piled up over the years, this wasn't an unprecedented occurrence. All we have to do is turn the calendar back an extra year and look at the 2022 NBA draft.
That evening, the Hornets selected Mark Williams, a big man out of Duke. Given the historic rivalry between the Blue Devils and Jordan's UNC Tar Heels, you know the living NBA legend had to throw a little shade.
"And, even though you're a Dukie, I take pride in that we did draft you," Jordan quipped during the draft call. That barb was probably a bit more painful, given that North Carolina had ended both Williams and Coach K's Duke careers in the Final Four, but the center took the comment in stride, saying they'd put their beef aside for the good of the Hornets.
Every new pro is going to experience some "Welcome to the NBA" moments. Getting on the phone with Michael Jordan and hearing him talk a bit of (gentle) trash has to be one of those.