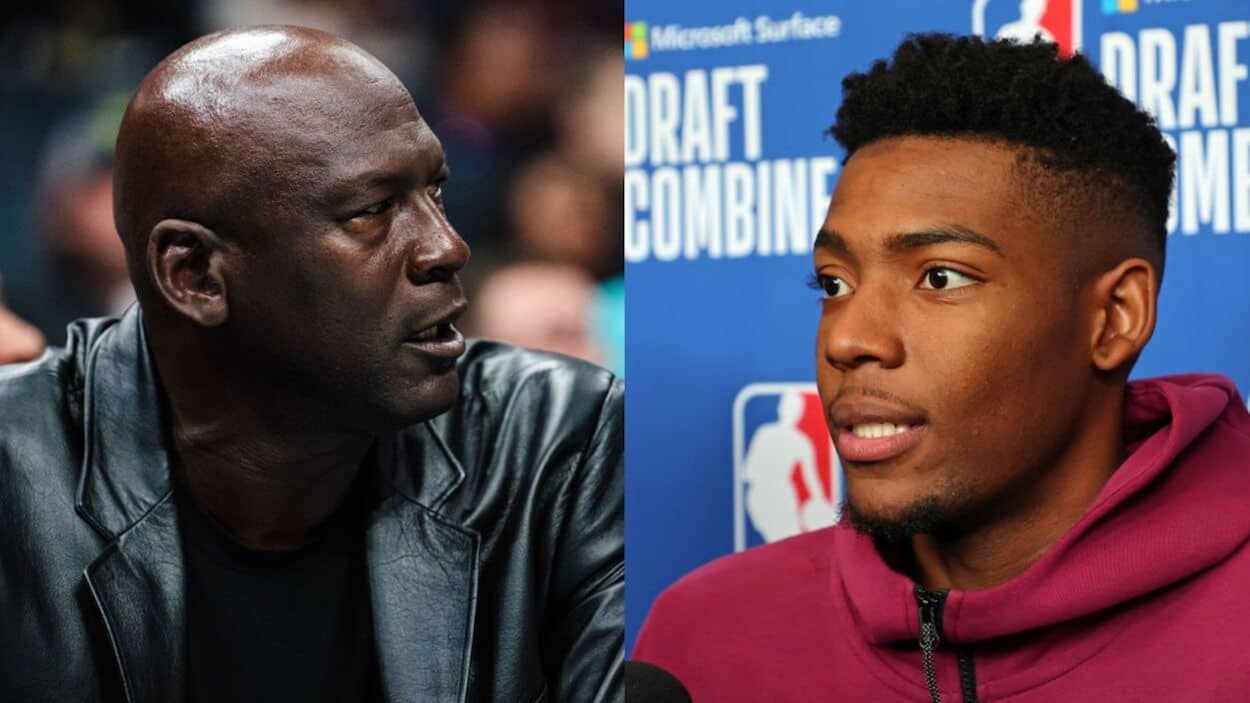 Michael Jordan Was Apparently Trash-Talking Brandon Miller Ahead of the 2023 NBA Draft
During a pre-draft workout, Brandon Miller got to hear exactly what Michael Jordan thought of him. Talk about a "Welcome to the NBA" moment.
During his playing career, Michael Jordan was a man of many talents. As his famous nickname would suggest, His Airness could take flight like no other. He also possessed an incredible will to win, which, combined with his raw ability, made him a threat like no other. MJ was also a better defender than you might assume, and some would argue he was a strong leader, capable of getting the most out of his teammates.
That's all true, but it excludes one key part of Jordan's arsenal: his famous trash talk.
And while some time has passed since Mike last set foot on the professional hardwood, it seems that his skills in that department haven't deteriorated. In fact, he was apparently giving Brandon Miller a taste of life in the Association ahead of the NBA draft.
Michael Jordan told Brandon Miller that he was just a three-point shooter during a workout
While Victor Wembanyama dominated the spotlight ahead of the 2023 NBA draft, he could only join one team. That left all the Association's other clubs doing their due diligence and trying to determine who they'd select on the big night.
Brandon Miller was chief among those alternative options, and breadcrumbs started to emerge suggesting that the Charlotte Hornets were considering snagging him with the second-overall pick. Michael Jordan, however, may have some reservations about the Alabama product.
During an interview ahead of the draft, Miller mentioned that he had worked out in front of His Airness. While the Tennessee native noted that he didn't grow up watching MJ, taking some of the pressure was off, he still got the full Jordan experience.
"He told me I was just a shooter," Miller told Justin Termine and Sarah Kustok. "Just shooting threes. … I know my talents and my abilities. Can't really let Jordan get in your head, you know?"
And while it would have been understandable if the teenager was taken aback by His Airness' verbal warfare, Miller apparently didn't miss a beat.
"Kinda talked some trash back to him," Miller added. "I witnessed him airball a free throw, too. … I always have that up against him."
That wasn't the end of the story, though. When asked how that airball happened, the forward simply said, "It's him just being old."
Talk about going in for the kill.
While Jordan might appreciate Miller's confidence, he'll probably raise an eyebrow at his GOAT pick
When you hear Brandon Miller's comments about MJ, it's easy to imagine that he'll take things personally. And while that certainly wouldn't be out of character, there is an alternate possibility. During his playing career, Jordan theoretically turned up the heat in practice to ensure that the Bulls could execute in crunch time. Perhaps the Alabama product passed the test by refusing to under the living legend's pressure.
With all of that being said, though, Jordan will probably be baffled at a bare minumum by Miller's pick for NBA GOAT.
Remember how I noted that the forward said he didn't really grow up watching His Airness? Well, that topic resurfaced during his pre-draft media availability.
Given that he grew up watching King James and worked out in Mike's presence, Miller was asked if he felt the Jordan-James GOAT debate was overdone. While there would have been plenty of acceptable answers, the teenager took things to a largely unprecedented place.
No, because I don't actually think LeBron is, you know, the GOAT of basketball. My GOAT of basketball is Paul George. I always grew up watching him, so it was never just LeBron

Brandon Miller
And while Michael Jordan has previously shut down the idea of comparing greatness across eras, it's safe to assume he raised an eyebrow when he heard that comment.
Let's just say that if Brandon Miller becomes a Hornet, things will be pretty interesting… at least while MJ is still around the club.