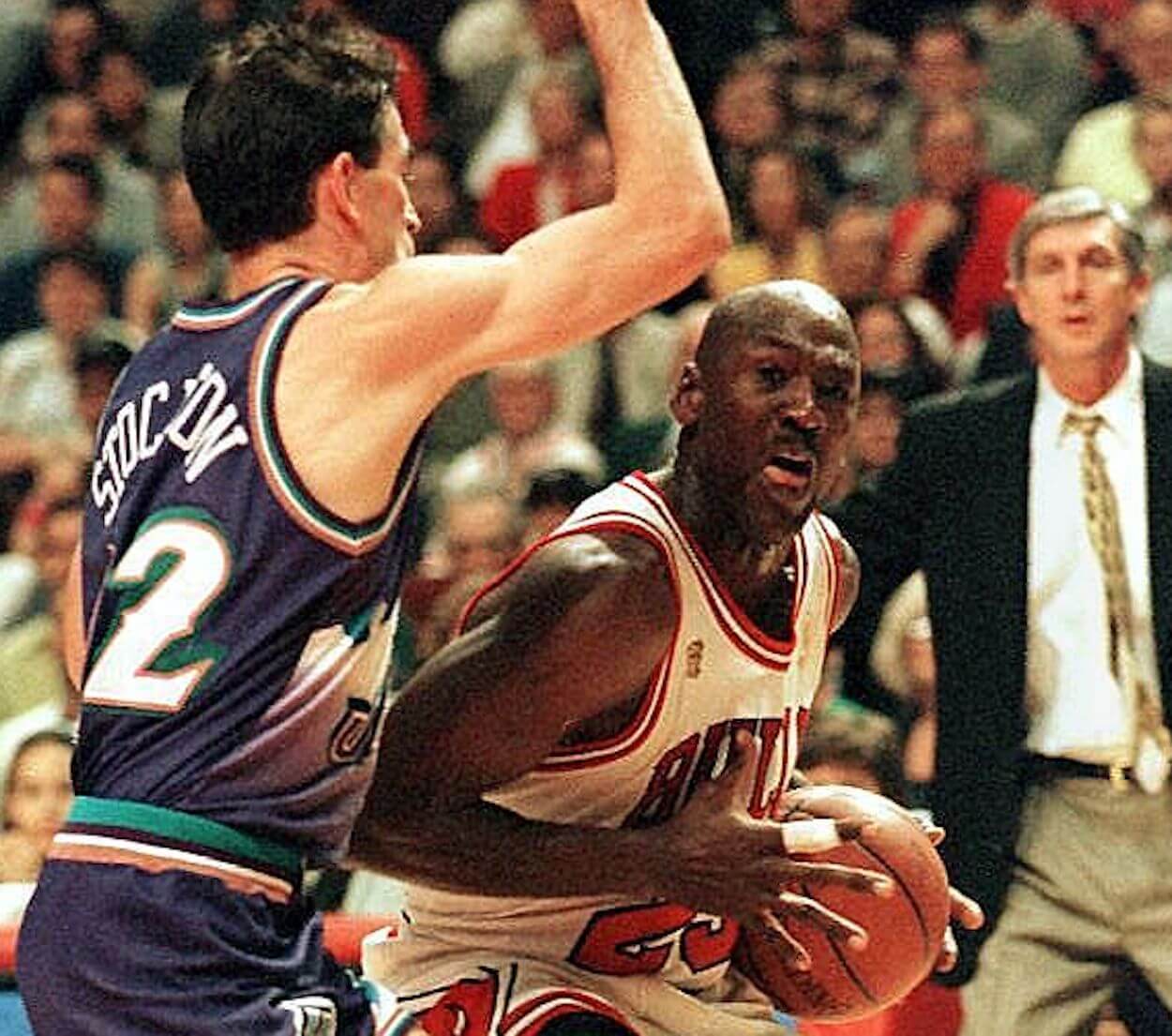 Michael Jordan Apparently Took Offense to Being Guarded by a 'White Guy'
Think you've heard every Michael Jordan trash-talking story imaginable? Think again.
Think back to 2020 for a moment and remember what it was like when The Last Dance first hit the airwaves. Since the ESPN docuseries was one of the only ways to engage with sports at the time, fans around the world latched on and didn't let go. Whether you were a Michael Jordan fan or not, each episode was must-see TV and, on Mondays, the previous evening's updates were the talk of the (metaphorical) town.
That reality helped push some moments into popular culture. The image of Jordan sitting in his chair and remembering how things he took things personally, for example, became something of a meme. It summed up the competitiveness — not to mention the absurdity — of His Airness; he could turn anything into motivation, whether it involved him or not.
There was at least one instance of MJ taking offense to something that didn't make it into the series, though. According to Charles Barkley, Jordan didn't appreciate being guarded by a "white guy."
We've heard about Larry Bird, but Charles Barkley said Michael Jordan also objected to specific matchups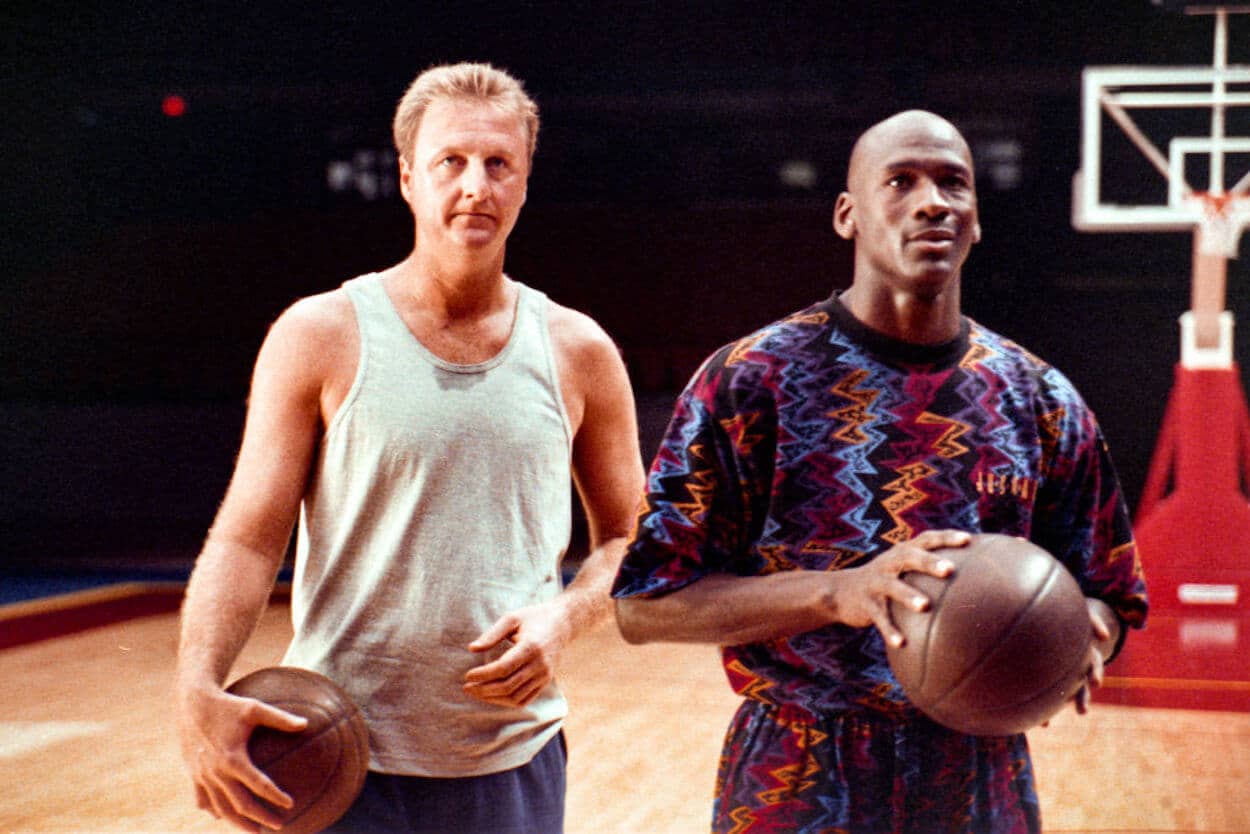 While we've spent the early portion of this piece talking about Michael Jordan, we'll need to take a brief detour into Larry Bird territory. The Boston Celtics star might not have had the same mean streak as MJ, but he was more than capable of throwing shade on the court.
Larry Legend's signature move consisted of telling an opponent how he planned on scoring and then following through, but there was another line he broke out on at least a couple of occasions: he found it offensive when other teams would task certain defenders with trying to stop him.
"I remember one time, we were playing the Celtics, talking to Larry, who was amazing," Charles Barkley remembered in a Barstool TV Youtube short. "So, it's my team at this point cause [Dr. J and Moses Malone] are gone, and Larry says, 'Chuck, can I talk to you a second?' I said, 'Sure, what's up, LB?' He says, 'Yo man, y'all being disrespectful to me.' I says, 'Larry, I would never let one of my players be disrespectful.' He's like, 'Yeah, y'all being disrespectful.' I said, 'What are we doing?' He says, 'Y'all got a white guy trying to guard me.'"
While that might sound unbelievable, we've heard a similar story before. Sir Charles told a similar tale to Dan Patrick, and in 2004, Bird explained his position on an ESPN special; for the record, he noted that "I didn't care who guarded me. I just didn't want a white guy guarding me. Because it's disrespect to my game."
But Barkley wasn't done there, though. After rehashing the Bird story, he added a new nugget: apparently, Michael Jordan made a similar comment on at least one occasion.
"And there's only two guys said that to me," Chuck continued. "Him and Michael. Michael says to me one game, he's, 'Yo man, I'm just offended out here.' 'What are you offended by?' 'Y'all got a white guy trying to guard me.' Larry and Mike are the only two guys, and you gotta laugh."
And there you have it, straight from Charles Barkley.
Once you get past the shock value, there's probably something to be said for Jordan and Bird using the same strategy
So, what's the takeaway from Charles Barkley's comments? If you want to be a bit tongue-in-cheek, you could say that Michael Jordan's trash talk was a bit less original than we thought since he was apparently using Larry Bird's lines.
On a more serious note, there's probably something larger at play. At the risk of trying to read the two NBA legends' minds, their comments seem to reveal the challenges of playing basketball at a high-level year after year.
While both Bird and Jordan were incredibly talented and could dominate any opponent, they continually found ways to engage with the opposition and stoke their competitive fire. As mentioned above, Bird had a habit of telling the other team how he planned to score before trying — and, more often than not, succeeding — to execute the play. MJ, as we also established, could view almost anything as an insult and take it personally.
Could those choices simply reveal a desire to spice things up a bit? Sure, but that seems a bit simplistic; at the risk of drawing on pop cultural depictions, Michael Jordan doesn't seem like the sort of guy who would be concerned with making a basketball game more fun. Instead, I'd point the finger elsewhere.
Although the likes of Larry Legend and His Airness may make it look easy, the NBA is an incredibly challenging league. Beyond the physical grind — basketball players aren't exactly digging ditches, but everyone piles up bumps and bruises over the course of the season — the Association is stocked with the world's best talent. Even the last man on the bench is better than almost anyone who's tried their hand at the game.
Perhaps Jordan and Bird's trash talk and insistence on finding offense is a reminder of that reality. In the Association, it's not enough to be an elite athlete; you always have to be pushing to stay ahead of the rising tide of talent. And, for some guys, the way to get that extra edge is by creating a game within a game to have that much more motivation.
Or maybe Michael Jordan and Larry Bird just live for the competition, and part of that is talking trash. You can be the judge of that.