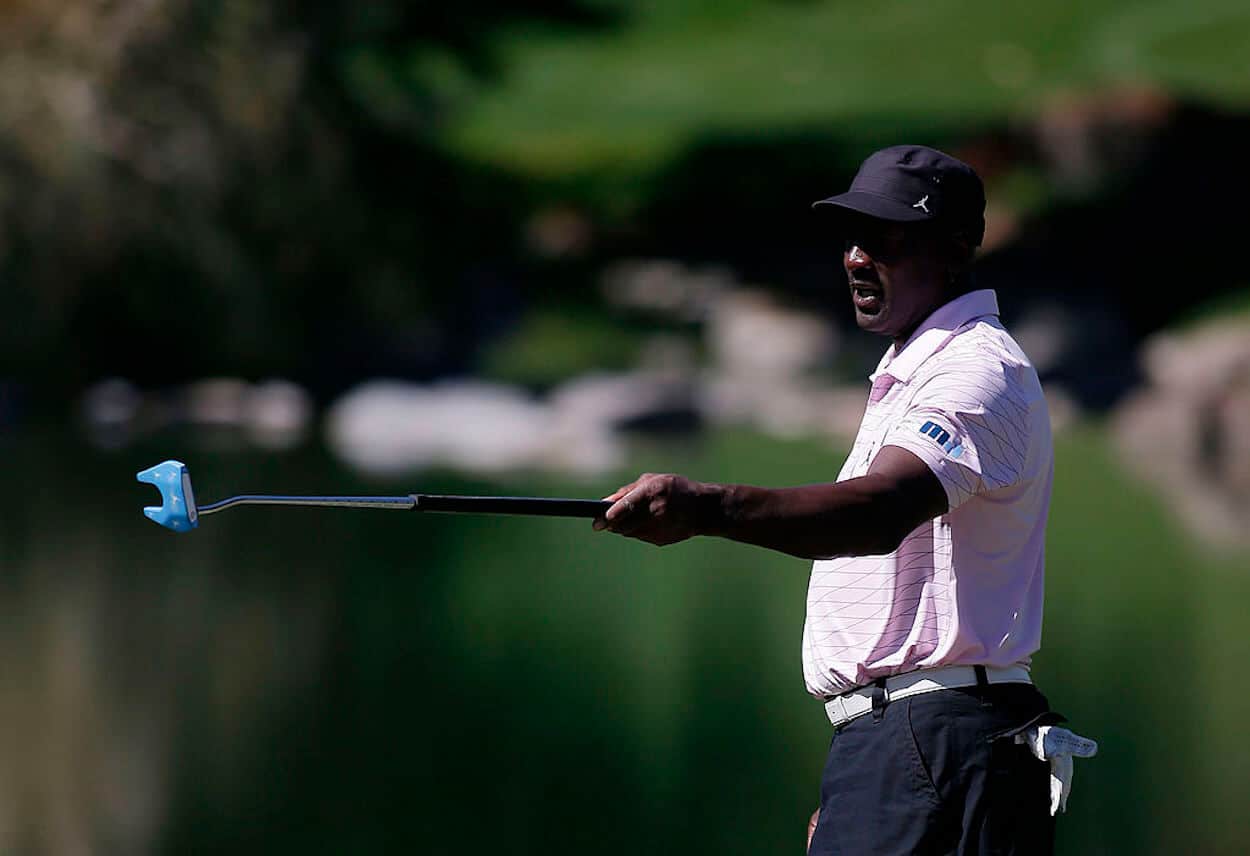 Michael Jordan Shut Down a Caddie Twice During a Single Ryder Cup and Never Forgot What Happened
No matter where you encounter him, His Airness isn't someone to mess with.
While he's obviously most famous for his skills on the basketball court, Michael Jordan hasn't been afraid to dabble in other sports. During the 1990s, MJ made his famous foray into baseball. More recently, he's dipped into NASCAR as an owner. And, ever since his days in college, golf has been a constant in Mike's life.
And, as you might expect, His Airness isn't someone you want to mess with on the links. Beyond his skill — are you really going to doubt Jordan's ability when it comes to any sport? — the living NBA legend isn't afraid to flex his metaphorical muscles. Just ask caddie John Burke about that.
During the 1997 Ryder Cup, Burke noticed that His Airness was watching the action. That set up two ill-fated interactions, in which the caddie tried — and failed — to hang with Mike. And, to add insult to injury, MJ apparently remembers those events to this very day.
Sound unbelievable? Or is it just pure Jordan? Either way, let's check it out.
Michael Jordan gave John Burke an ice-cold look on two occasions and still remembers it more than a decade later
For most sports fans, meeting Michael Jordan would be a dream come true. John Burke, however, provides a reminder that you should be careful what you wish for.
As recounted on GOLF Subpar, Burke was carrying Brad Faxon's bag at the 1997 Ryder Cup when he noticed His Airness standing by the first tee box. The two briefly made eye contact, and things started to go south.
"He looks at me, and he gives me this manly fist pump, like only Jordan can do," Burke remembered. "I'm caught off guard, and I gave him the stupidest fist pump back. He looked at me like I was the biggest idiot that ever walked. And that was my take from that Ryder Cup."
The two men weren't done interacting, though. Later in the tournament, MJ was sitting in Tom Kite's cart, and Burke needed to grab a bottle of water from the cooler. He tried to act natural but once again ended up falling flat on his metaphorical face.
"Both of his legs are kind of blocking the cooler," Burke explained. "And [Faxon] was parched because, you know, he's so nervous, and every, everybody is. So I run up to [Jordan], and I hit him as hard as I can in the knees, and I said, 'Get out of the way,' and grab the water."
And how did Jordan react? If you guessed that the NBA star was unimpressed, you'd be right.
"He gave me that same look back," Burke added. "It didn't work. It backfired."
While that would have scared most people off, the caddie (eventually) went back for more. He's apparently crossed paths with No. 23 since that fateful day and, on one occasion, even asked if he remembered that day in 1997.
Given that Jordan has a habit of taking things personally, you can probably guess that he does.
"I said, 'You remember that?'" Burke noted. "And he goes, 'Yeah, I remember that.' And he never said anything to me the rest of the day."
Even if you aren't an NBA player, His Airness isn't someone to cross.
In fairness, Jordan-related golf stories aren't anything new
Given what we know of Micheal Jordan's trash-talking exploits, it's probably not too surprising to hear that he could throw a bit of shade at a caddie. It's even less surprising, however, when you consider that Mike has a history of bringing his competitive fire to the golf course.
Take, for example, Michael Douglas' memory of trying to bury a putt against MJ.
"I played a couple of times with Michael Jordan, and I remember being a fool once and accepting one of his bets on a putt," Douglas told Chris Nashawaty of Golf.com. "He wanted to make it some crazy amount — in the thousands. I'm not a big gambler. I lined up the putt, and, over and over, Jordan starts ripping the Velcro on his golf glove. I was like, 'What are you doing?!' And he goes, 'Look, man. If I can make a free throw with 20,000 people screaming at me, you can make a putt with me making a little noise.'"
But that's not all.
According to Rickie Fowler, Jordan's The Grove XXIII course is designed to give him an advantage; the fairways get narrower as you move closer to the green, forcing pros to either lay up or risk landing in the rough. When you assume that MJ is getting a stroke on some of the longer holes, his edge is further compounded.
Add a few other tales — consider His Airness trash-talking a young Taylor Montgomery or making Harold Varner III fear that he would pass out — into the mix, and the message is clear.
No matter the context, Michael Jordan isn't someone to be trifled with.