Taylor Montgomery Was Trash-Talked by Michael Jordan at 7 Years Old but Returned the Favor as a Teenager
Like most PGA Tour players, Taylor Montgomery spent a lot of time on golf courses as a kid. But his experiences were certainly a little different.
You see, Montgomery's father, Monte, who made one PGA Tour start of his own at Torrey Pines in the mid-90s, has long been the general manager at Shadow Creek Golf Course in North Las Vegas, which happens to be one of the most high-profile and expensive public courses in the country. Perhaps you remember it as the venue of the first edition of "The Match" between Tiger Woods and Phil Mickelson.
Given its status, Shadow Creek has long been a favorite of celebrities and athletes from other sports. So Montgomery has seen some things. In fact, it was actually seeing how interested these celebrities and athletes were that got him more interested in the game of golf.
One frequent visitor through the years was six-time NBA champion and known golf enthusiast Michael Jordan. And not only did Taylor Montgomery meet MJ on more than one occasion, but he's also got a pair of incredible stories involving His Airness, both of which involve a little trash talk.
Michael Jordan ripped seven-year-old Taylor Montgomery for wearing AND1 basketball shoes
As Montgomery recalls, he thinks he was around seven years old the first time he met Jordan.
As he's always been a big basketball fan, Montgomery was naturally excited when his dad told him he was going to meet MJ. As Taylor tells it, he walked into the clubhouse for the meeting, and the first thing to come out of Jordan's mouth after the initial introduction was, "What the eff are you wearing?"
You see, in that first meeting, Montgomery was wearing AND1 basketball shoes. As Jordan obviously has a bit of a famous shoe line that bears his name, he's got no problem ribbing anyone who doesn't wear them — apparently even children. Montgomery went on to tell him that Air Jordans were simply too expensive, at which point he says MJ replied, "You've got a point."
It was all in good fun, and years later, Taylor got the chance to return the rib.
Years later, Montgomery trash-talked Jordan on the golf course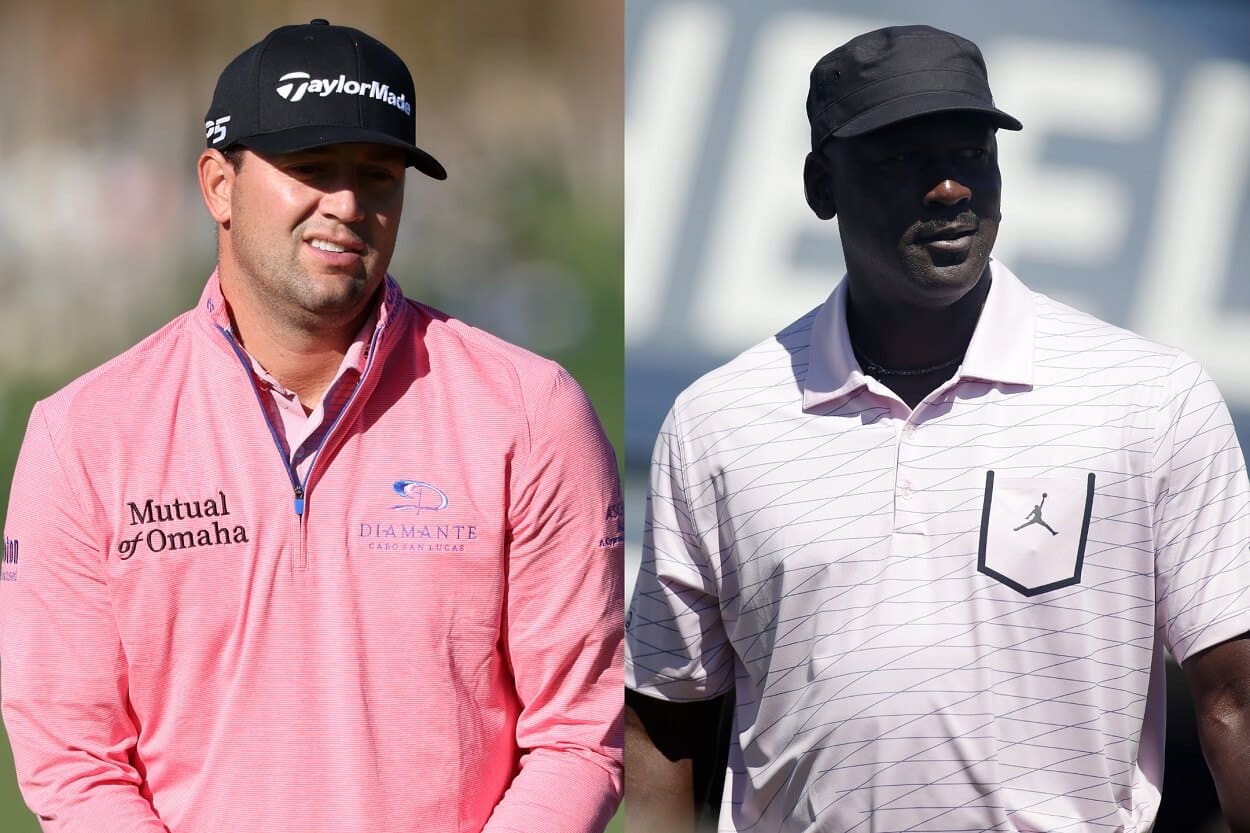 During his teenage years, Montgomery sometimes worked as a caddie at Shadow Creek. And one day, he found himself in a group that involved the five-time NBA MVP, who apparently didn't remember the kid he once berated for not wearing Air Jordans.
And here's what went down (h/t PGATour.com):
"I used to caddie for the guy that (Jordan) was playing against and I was always trash talking to him. This was at the age I grew like a foot in a year. He is like, hey, Bobby, who the hell is that kid? He's like, 'Oh, you dumb ass, that's Monte's kid.'

"Because I was just yapping the whole time. My guy kept chipping in and making putts and hitting it close and he was beating MJ pretty bad. Didn't work out though. The back nine, MJ kind of did MJ stuff."

Taylor Montgomery on Michael Jordan
Sounds like Jordan took that trash talk personally. One has to wonder if MJ would ever consider inviting Montgomery to the course he owns in Florida, one that apparently gives him an edge over professionals. But that invite would probably come with the caveat that Taylor has to wear a pair of Air Jordan golf shoes.