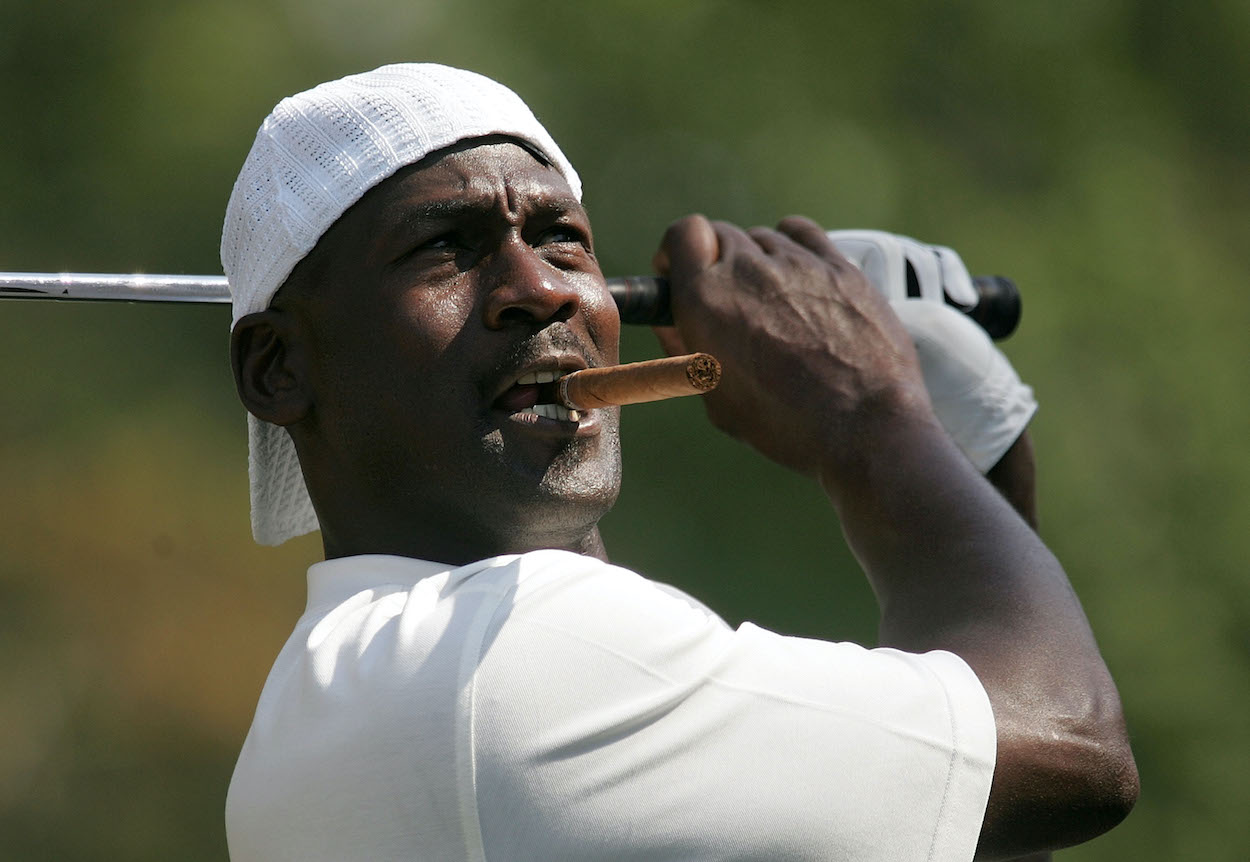 Michael Jordan Knows Exactly How to Get Under a Competitor's Skin on the Golf Course: 'You Can Make a Putt With Me Making a Little Noise'
Michael Jordan is a master of competition, and he knows exactly how to get inside a competitor's head even on the golf course.
Michael Jordan is one of the most ruthlessly competitive athletes to ever live, so it only makes sense that he's carried that ferocity from the NBA court over to his retired life. Jordan utilizes most of his competitiveness through his ownership in the Charlotte Hornets, but when he's not working tirelessly to improve the roster, he's channeling the cutthroat mindset he had in the NBA on the golf course.
Of course, the gambling tales involving Jordan on the course are plentiful. Famous actor Michael Douglas recently revealed how the Chicago Bulls legend likes to get under his competitor's skin during cash games, and it's pure MJ.
Michael Jordan is a fierce competitor on the golf course
What made Jordan so special on the basketball court was his win-at-all-costs attitude. The NBA Hall of Famer simply refused to lose, and that mindset has carried over to the golf course in retirement.
Jordan regularly invites PGA Tour players to join him at The Grove XXIII for cash games, and he even does pretty well against the best golfers in the world. Rickie Fowler, who's a regular at Jordan's private golf course, summed up his mentality on the links perfectly.
"Those are some of the best preps for going out and being ready to play tournament golf," Fowler told Jason Sobel of Action Network in 2018. "He'll play you for whatever you want. Whatever makes you scared."
Jordan never gets scared on the basketball court or the putting green, but he sure knows how to make others crack under pressure.
Jordan knows just how to get under a competitor's skin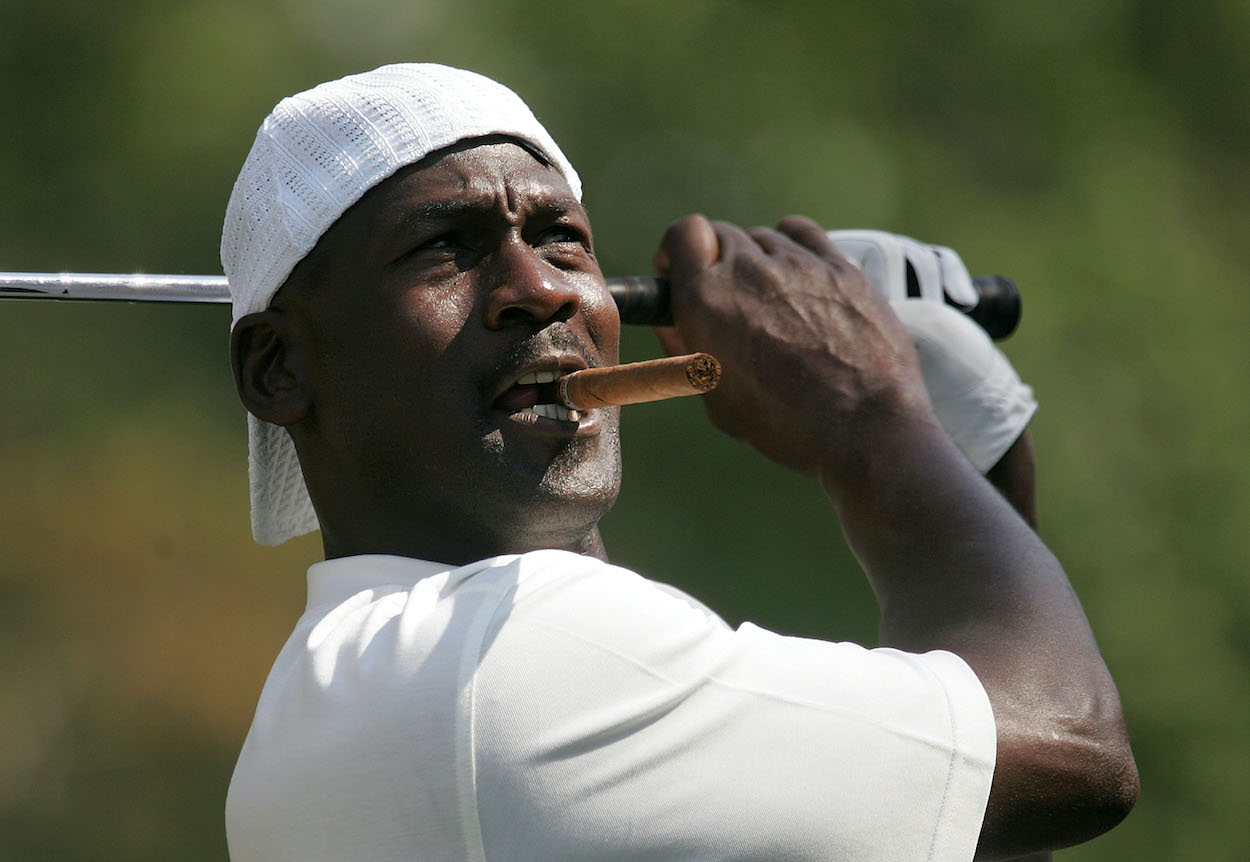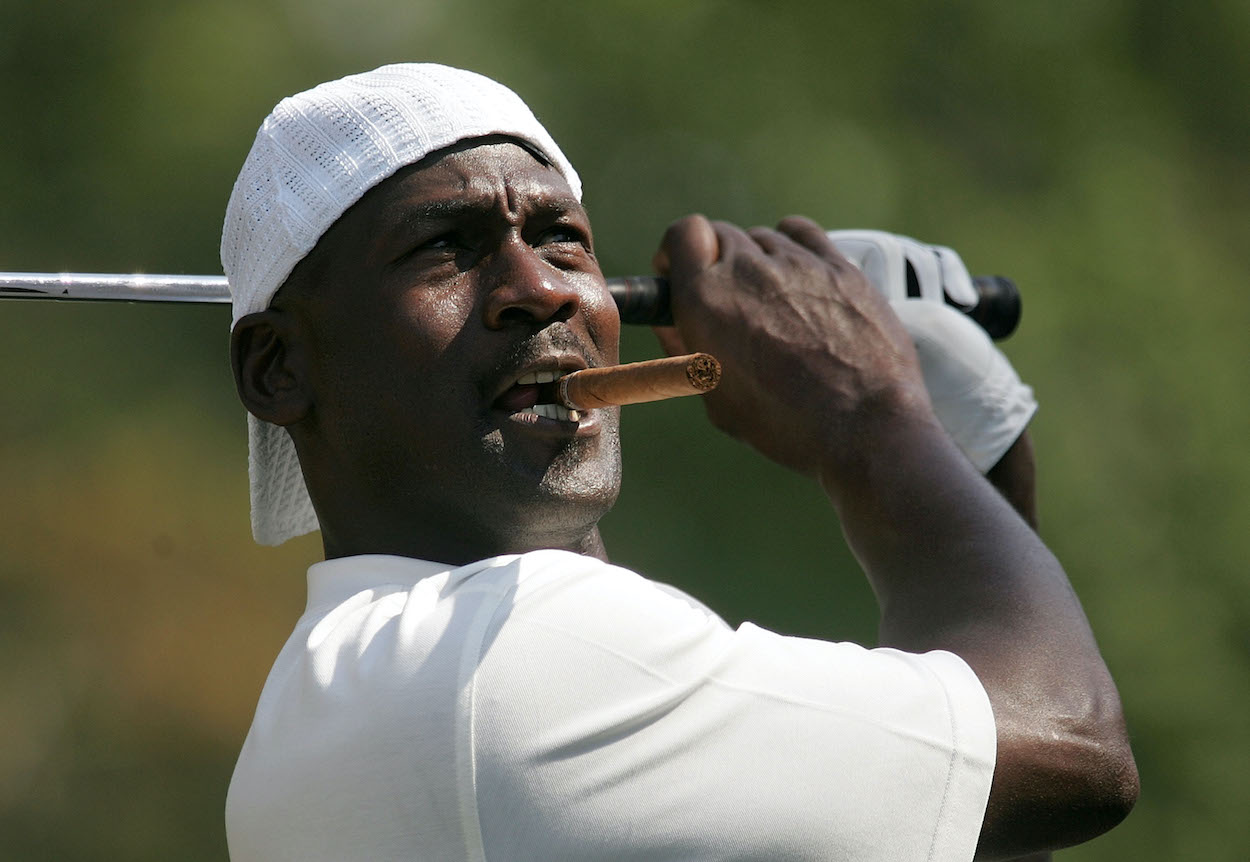 Along with PGA Tour golfers, Jordan also hits the course with some of the biggest celebrities in the world. He's played rounds of golf with Bill Clinton, Barack Obama, Samuel L. Jackson, and Michael Douglas over the years, and Douglas recently told a hilarious story about his experience hitting the links with the GOAT.
"I played a couple of times with Michael Jordan, and I remember being a fool once and accepting one of his bets on a putt," Douglas told Chris Nashawaty of Golf.com. "He wanted to make it some crazy amount — in the thousands. I'm not a big gambler. I lined up the putt and, over and over, Jordan starts ripping the Velcro on his golf glove. I was like, 'What are you doing?!' And he goes, 'Look, man. If I can make a free throw with 20,000 people screaming at me, you can make a putt with me making a little noise.'"
Jordan's Velcro trick might not be in line with typical golf etiquette, but it's unlikely he cares very much about manners with so much money on the line.
Don't play Jordan at The Grove XXIII
Jordan doesn't just pull out all the tricks on the putting green. He even designed The Grove XXIII specifically to fit his golf game. The unique design gives him an advantage over whoever dares to challenge him at his own course.
Just ask Fowler.
"The shorter you hit it, the wider it is," Fowler told Colt Knost and Drew Stoltz on an episode of the GOLF's Subpar podcast. "So the tees and pins are done every day, so the golf course can play as long as you want, but they set the back tees at roughly 7,000 or 7,100 yards, and MJ just plays the back tees.
"It's a golf course where he can basically hit driver on all of the par-4s and par-5s, and if I wanna hit driver, I have to kind of put it into a little bit tighter of a spot. I can obviously play back if I want, but that obviously becomes a little bit of a disadvantage, especially if it's a hole where he's getting a stroke on."
Pair that with Jordan's ruthless distraction tactics on the course, and you have a seemingly unbeatable golfer.