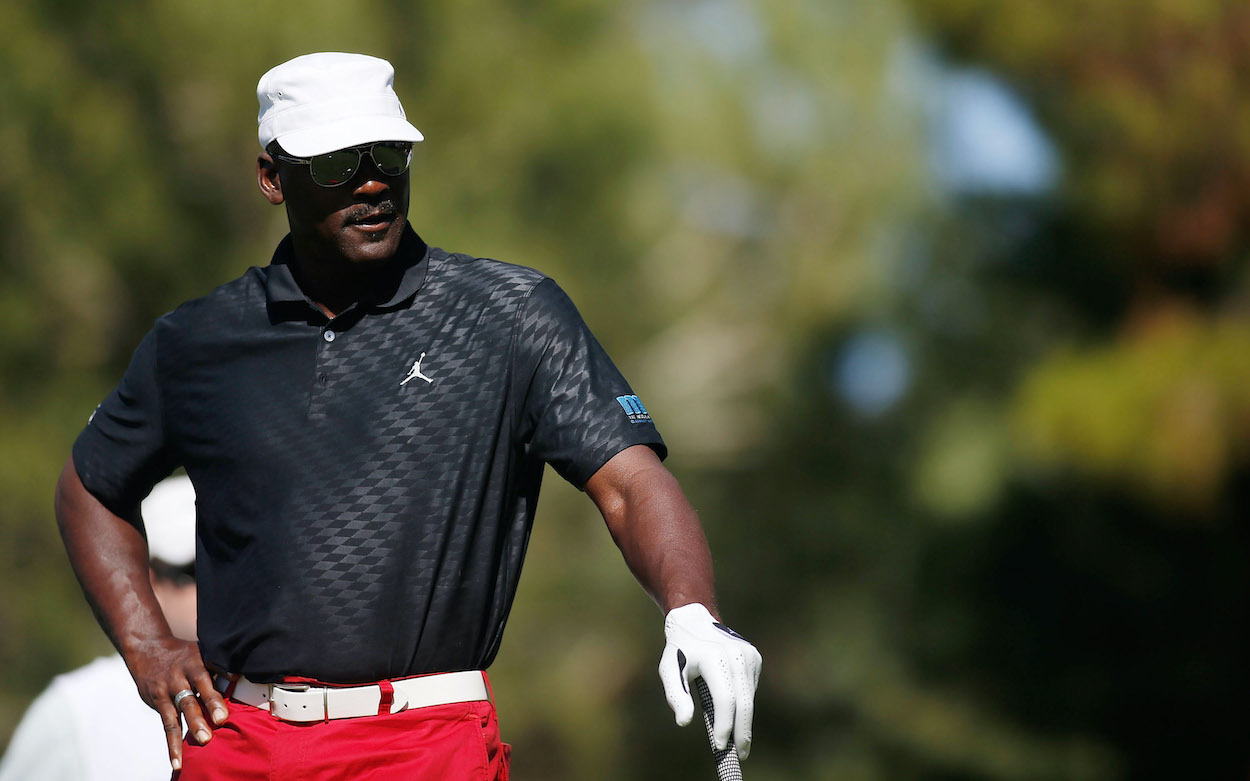 Michael Jordan's Intimidating Presence Nearly Made a Former Golf Pro 'Pass Out' on the Course: 'He Literally Couldn't Breathe'
Michael Jordan is so intimidating that he nearly made a former golf pro pass out during a match at his Grove XXIII private course.
Michael Jordan is one of the most well-known celebrities in the world. The top athletes in professional sports today grew up idolizing MJ, so even they get uncontrollably nervous if they're lucky enough to meet the NBA legend in person. And if Jordan challenges them to a money match at his private Florida golf course? They might just lose control of their bodily functions.
Last week, PGA Tour pro Harold Varner III told the hilarious story about his second time playing golf with Jordan. During the round, Varner's friend, who played professionally and in college, was so intimidated by Jordan that he nearly passed out.
Michael Jordan is ultra-competitive on the golf course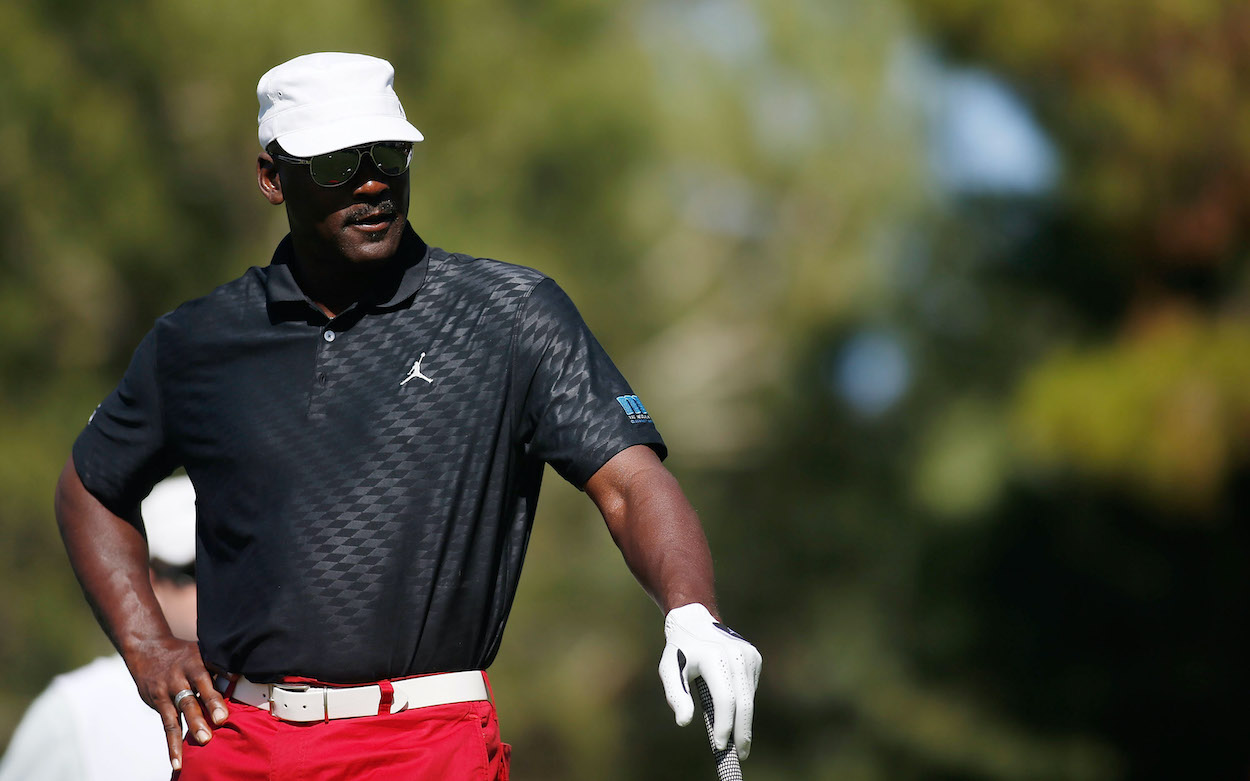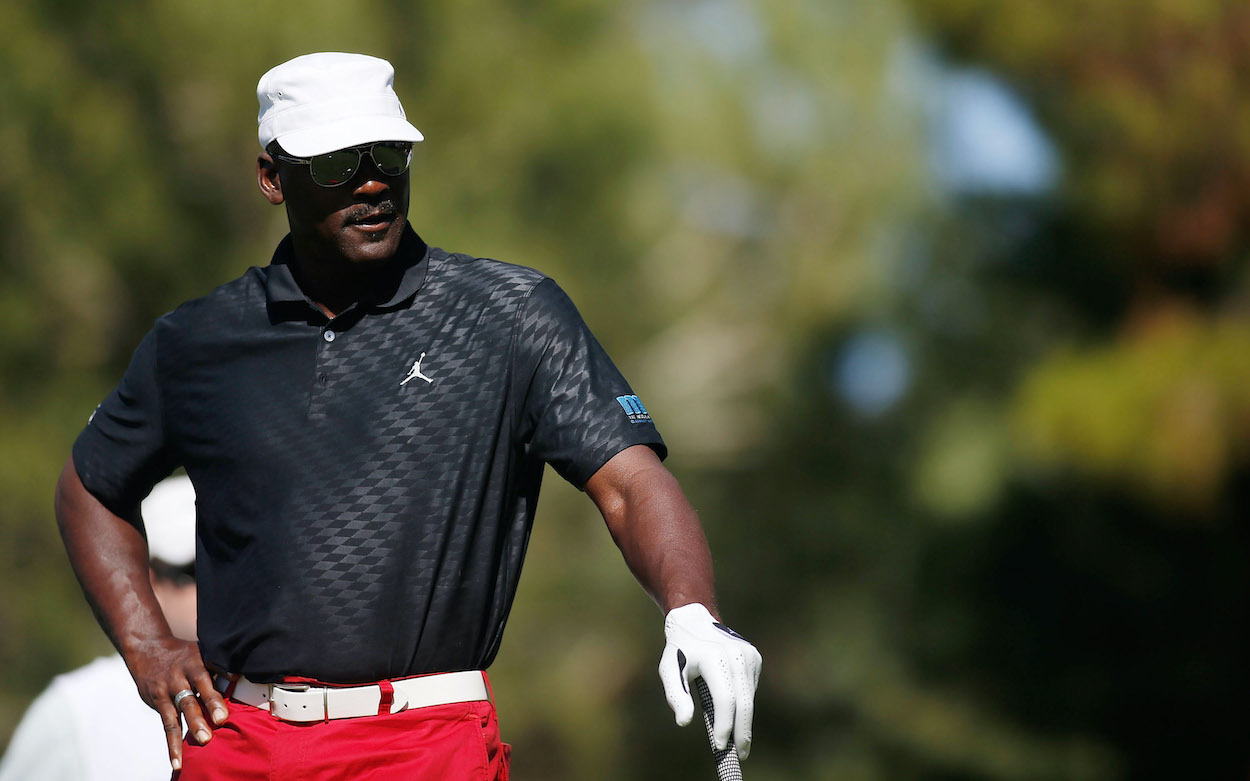 Jordan was an unrelenting competitor during his NBA career, so when he finally retired in 2003, he had to find another outlet to let out his competitive fire. That outlet quickly became the golf course.
After years of playing friends and celebrities in money matches at various courses around the country, Jordan decided to build his own. In 2019, he opened The Grove XXIII in Hobe Sound, Fla., a private course that has less than 100 full-time members. The Grove XXIII isn't just any private golf course, though. The track is nicknamed "Slaughterhouse XXIII" because it's specifically set up to suit MJ's golf game. It's almost impossible to beat him there.
Jordan has played money matches against PGA Tour stars such as Brooks Koepka, Dustin Johnson, and Rickie Fowler at his private course, and he always holds his own.
Jordan's intimidating presence once took a pro golfer's breath away… literally
Jordan always likes to challenge himself by inviting some of the best golfers in the world to The Grove XXIII. One of the PGA Tour stars who has become a regular at the private track is Harold Varner III, who's been friends with the NBA Hall of Famer ever since he signed with Jordan Brand in 2018.
Varner usually fares well when he faces off against Jordan, but the same can't be said about his friend, Will.
HV3 appeared on the most recent episode of GOLF's Subpar podcast with Colt Knost and Drew Stoltz and told the story of his buddy's rough round with the NBA great.
"So we go down [hole No.] 1, and Will's just playing like he's nervous. He's freaking out. And this is a grown man. He's 27 years old." Varner said on the podcast. "So we get on to the second tee, and MJ's like, 'There's not gonna be any freerolls out here.' He's like, 'Same bet, 100 bucks with you.'"
Now, Varner's friend is a former pro golfer himself who played in college at Auburn University. He should've been able to handle Jordan in a match, but MJ's intimidating presence completely broke him.
"Will, I think he sh*t his pants," Varner continued. "He literally couldn't breathe. He was like, 'Do you understand I'm playing with the GOAT?' I was like, 'I totally do, and you're going to pay him 100 bucks if you don't play well.'
"So he gets up there and he hits a good drive down No. 2 and then he has 70 yards, and I'll bet you he hit it 20 yards. Twenty yards!"
Varner's buddy probably hadn't hit a chunk like that in 10 years. That's the hypnotizing effect of playing golf with Michael Jordan.
Jordan nearly made the golfer "pass out"
Varner's friend eventually finished the stress-inducing round with clean shorts and air in his lungs, but he realized after the match just how nervous he was to play against Jordan. Varner explained on the podcast that Will checked his Whoop after the final hole and noticed his heart rate reached 159 beats per minute on the golf course.
"How 'bout that! Dude, that's like running a sprint!" Varner said. "I knew he was nervous, but I didn't know he might pass out."