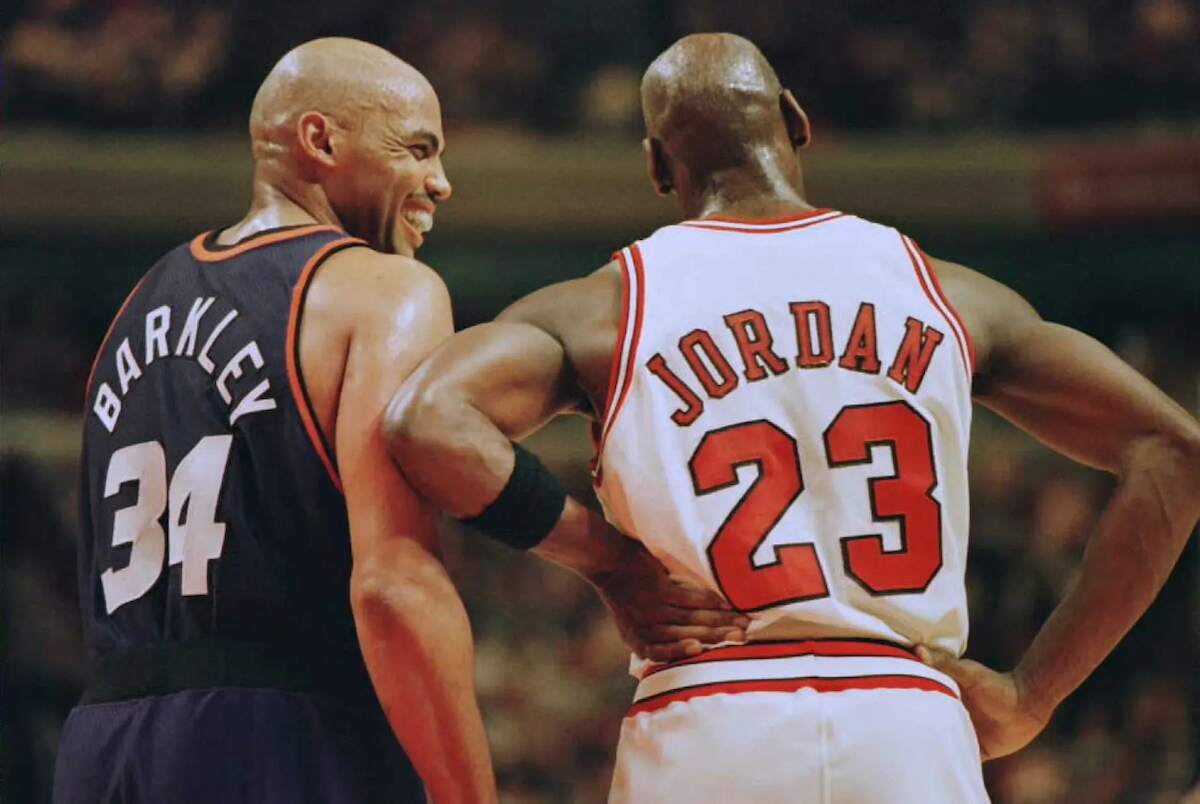 Michael Jordan May Have Used 48 Holes of Golf and a $20,000 Gift to Gain a Competitive Edge Over Charles Barkley During the 1993 NBA Finals
Michael Jordan was never afraid to talk trash, but he may have used 48 holes of golf and a $20,000 diamond to get the better of Charles Barkley.
If you're a basketball fan, you know all about Michael Jordan's resume. His Airness was a generational talent, but he was also a serial winner. Whether he was playing basketball, hitting the golf course, or playing board games, he needed to come out on top. His methods, however, could sometimes be a bit unconventional. Just ask Charles Barkley about that.
During the 1993 NBA Finals, Michael Jordan and his Chicago Bulls squared off against Charles Barkley's Phoenix Suns. According to stories, MJ may have used 48 holes of golf and an expensive gift to gain an advantage on the hardwood.
Michael Jordan won at just about everything he ever did
While Michael Jordan was an incredibly talented player, that's only part of his legacy. His Airness also hated to lose and, when push came to shove, won plenty of silverware during his career.
As you've surely heard, Jordan encountered an early setback when he failed to make his high school's varsity basketball team at the first attempt. That experience, however, only lit a greater fire under the young man.
MJ dominated the JV competition and, the following year, made the varsity squad. By graduating from high school, he had become a McDonald's All-American. He then headed to the University of North Carolina and promptly claimed a national championship.
While His Airness initially had some issues getting past the Pistons and their Jordan Rules, he eventually got back to winning ways. During his time in the NBA, he won six titles, five MVP awards, and virtually every honor imaginable.
MJ's winning ways weren't limited to the court, though. Whether he was hitting the golf course or playing board games, Jordan always managed to come out on top. He's also built up a massive net worth in retirement, which is a massive success in its own right.
Giving Charles Barkley a $20,000 earring?
Normally, Michael Jordan used a mixture of his raw talent and some brutal trash talk to get the best of his opponents. In 1993, however, he might have taken a different approach.
During the 1993 NBA Finals, Jordan's Chicago Bulls locked horns with Charles Barkley and his Phoenix Suns. After the third game of the series, MJ apparently decided to schmooze with the opposition's star player.
According to a Reddit post claiming to have spoken with former Bulls assistant coach Johnny Bach, Jordan and Barkley hit the golf course and played more than two rounds together. MJ also gifted Sir Charles a $20,000 diamond earring. When Bach asked why he did it, Jordan supposedly said, "He won't get in my way the rest of the series. What's $20,000 to me? Charles thinks we're great friends. I hate that fat f–k." 
Again, there's no verification that encounter actually happened. The story seems to have started with that Reddit post, then spread around the Internet, appearing in places like Vulture. With that being said, though, it doesn't seem outside the realm of possibility for Michael Jordan.
$20,000 gift or not, Michael Jordan got the better of Charles Barkley
When Michael Jordan and Charles Barkley theoretically hit the golf course together, the Phoenix Suns had just won Game 3 to close the gap in the series to 2-1. Regardless of what did or did not happen between the two men, though, His Airness ultimately came out on top.
In Game 4, Jordan dropped 55 points, going 21 of 36 from the floor. That was enough to help the Bulls secure a 111-105 win. He scored 41 in a Game 5 loss, then potted 33 points in a championship-clinching Game 6. That win completed the three-peat, giving His Airness his third ring. After a brief retirement, he'd come back win three more titles.
Did Michael Jordan really soften Charles Barkley up by taking him golfing and gifting him a $20,000 diamond earring? At this point, no one outside of those two men really knows. One thing, however, is an established truth: if MJ wanted to beat you, he was probably going to find a way to get the job done.
He did just that during the 1993 Finals, with or without any off-court assistance.
Stats courtesy of Basketball-Reference