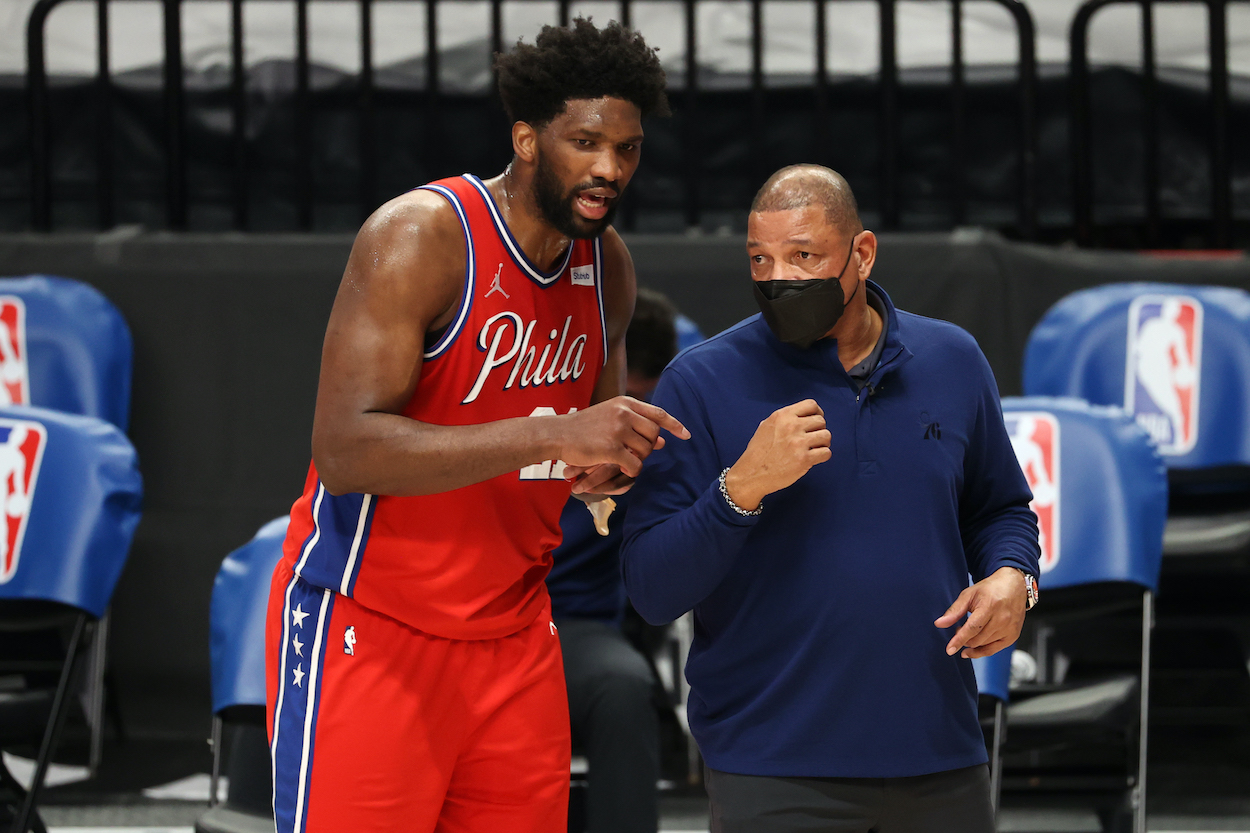 Doc Rivers Gives Joel Embiid the Ultimate Compliment by Comparing His Most Improved Skill to Tom Brady: 'He Just Was Directing, Just Picking People Apart'
Doc Rivers says Joel Embiid's improved passing ability makes him look like Tom Brady.
Tom Brady is an incomparable figure in the world of sports. With the most passing yards, passing touchdowns, and Super Bowl victories in NFL history, it's almost disrespectful to mention any other athlete in the same conversation with Brady.
But Philadelphia 76ers head coach Doc Rivers didn't shy away from the comparison when he recently said Joel Embiid has looked "Tom Brady-ish" so far in 2021.
Joel Embiid's improved passing ability
Embiid has never been known as an effective creator on the basketball court. The 7-foot-0, 280-pound center is a dominant force in the paint and a reliable defender at the rim, but it's never been his job to set teammates up on the offensive end.
In Embiid's five full seasons with the 76ers, he's never averaged more than 3.7 assists per game. That might be changing this year.
Without Ben Simmons in the lineup for Philadelphia, Embiid has taken a more unselfish approach to his offensive game. The big man is averaging 5.0 assists through three games in 2021, which is the highest mark on the team. In the Sixers' win against the Oklahoma City Thunder over the weekend, Embiid dished out six assists to go along with 22 points, nine rebounds, and three blocks.
Embiid has made it a point to become a better passer, and it recently paid off with a comparison to the greatest passer to ever live.
Doc Rivers compares Joel Embiid to Tom Brady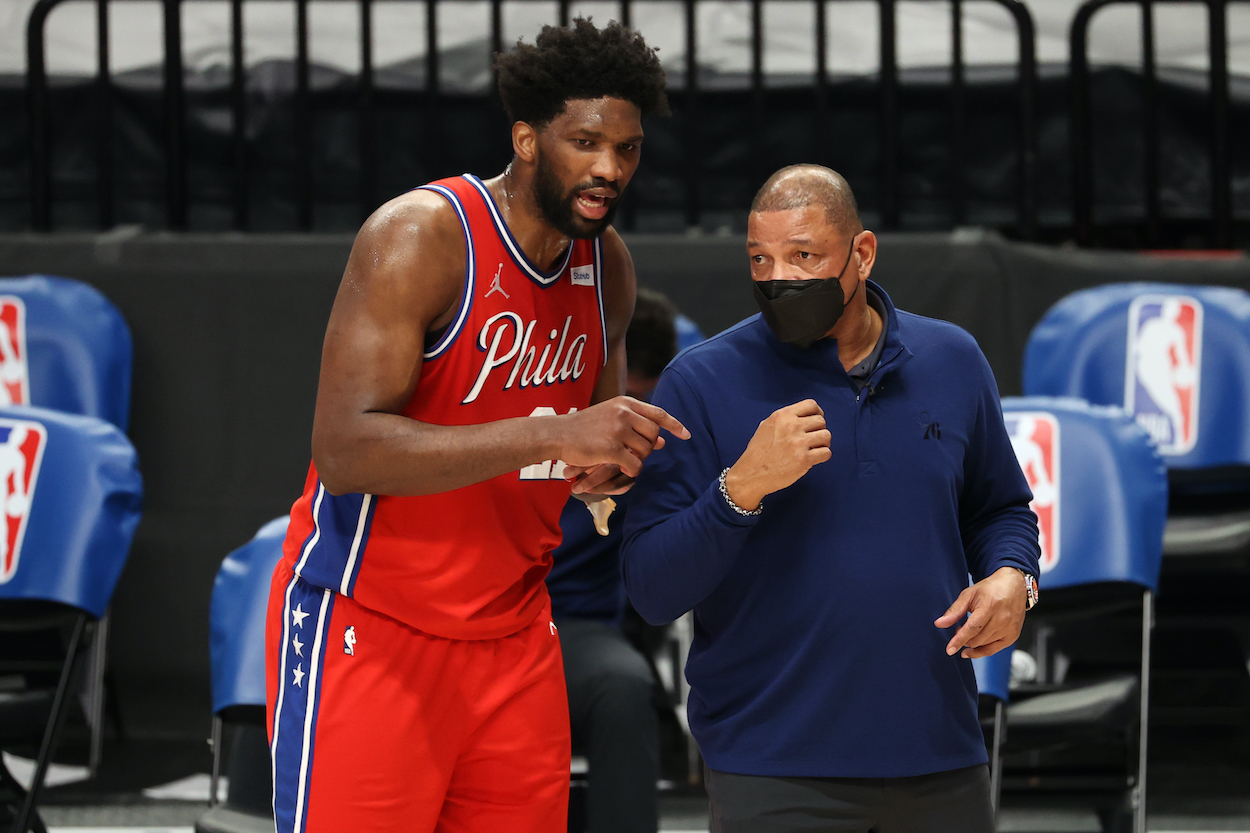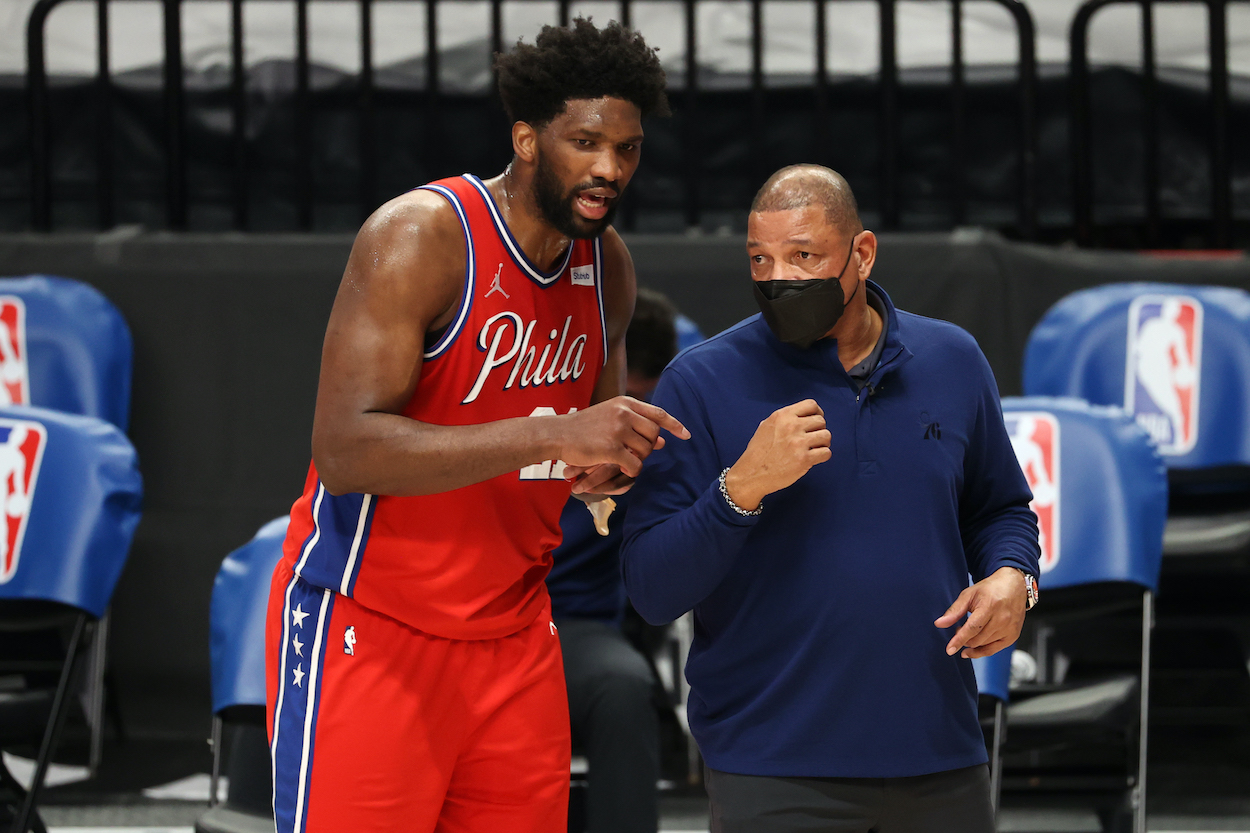 After watching Embiid pass up more shots to get his teammates involved early in the season, Rivers gave his superstar center a surprising compliment.
"If you trap Joel, he'll make you pay and that's what he did today," Rivers told reporters after a 115-103 win against the Thunder. "It was just great to watch because they kept walking over, coming over and he was just patient. He just was directing, just picking people apart.
Not Aaron Rodgers. You can't use that one because he's from Green Bay, but any other good quarterback. Tom Brady-ish is what Joel was today.

Doc Rivers
Although he might be reaching a bit, Rivers has clearly been impressed with the improvement Embiid has shown in regards to his passing.
Point Joel?
With Simmons out of the lineup for the time being, opposing teams are going to key on Embiid and force him to give up the ball in the post. Tyrese Maxey has filled in well for Simmons, but he's a score-first guard who doesn't rack up many assists.
The 76ers don't have a true point guard on the roster right now, so Embiid has taken it upon himself to improve his playmaking. Through three games, the center is leading Philadelphia in assists with 15.
"I thought Joel was every bit as much as the point guard tonight as anyone else on the floor," Rivers said Sunday. "I thought he got Seth shots, he got Danny [Green] shots. When he does that, he becomes unguardable because you trap him, we get a three. You don't trap him, he scores. That was great that he saw it and I loved that he did."
Ladies and gentlemen, the 76ers' new center-point guard.
All stats courtesy of Basketball Reference.
Like Sportscasting on Facebook. Follow us on Twitter @sportscasting19.