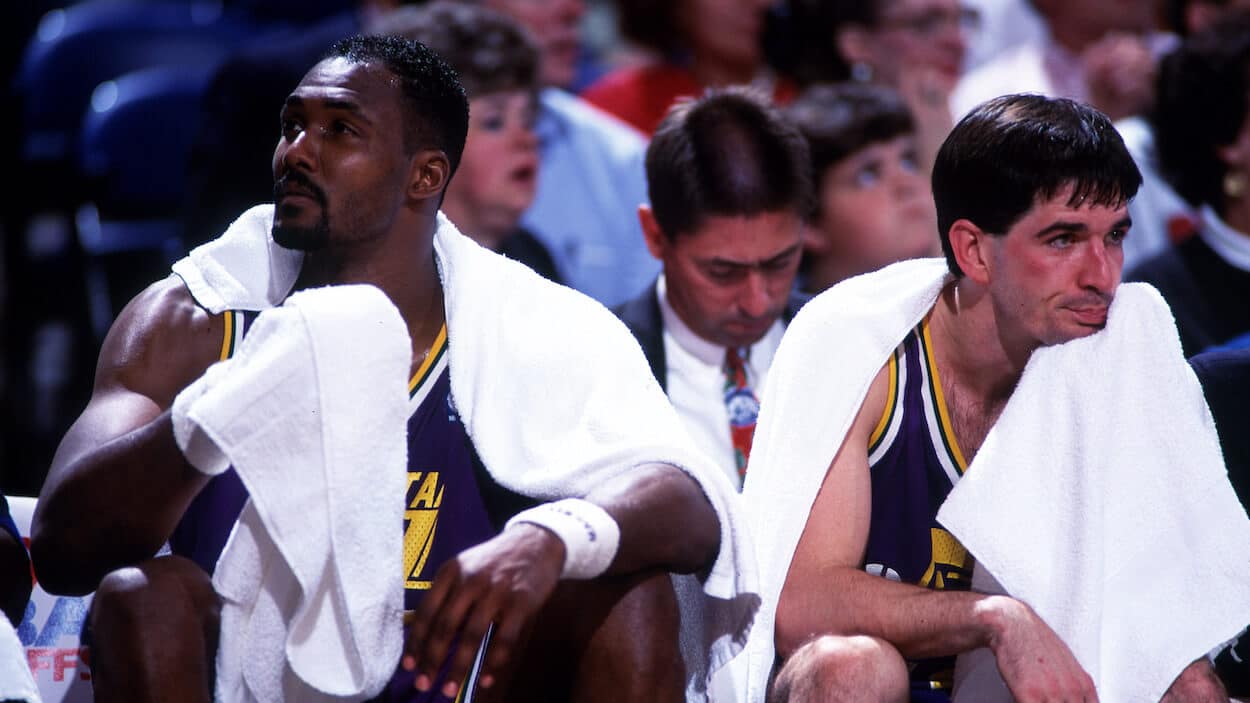 The Dream Team Made Fun of John Stockton and Karl Malone for 2 Specific Reasons
The Dream Team loved to tease John Stockton and Karl Malone for their idiosyncrasies, but Stockton and Malone were great together.
The 1992 U.S. Olympics Men's Basketball Team comprised the 11 biggest basketball players in the world (and Christian Laettner). It was a group that loved to compete and talk trash. The Dream Team did that on the court vs. the rest of the world, but they did it even more in practice, in card games, on the golf course, around the hotel, and on the bus. And two of the main targets were the dynamic duo from the Utah Jazz, Karl Malone and John Stockton.
The Dream Team loved ribbing Karl Malone and John Stockton
Like many great teams, the members of the Dream Team all ultimately got along, despite their NBA rivalries. They did enjoy talking trash and ribbing each other all the time, too, though, both on and off the court.
The team enjoyed teasing Larry Bird and Patrick Ewing about their unlikely friendship, and Jordan loved going after Charles Barkley and Clyde Drexler for their lack of championship rings.
However, the top targets for jabs on the Dream Team were John Stockton and Karl Malone.
On the Icons Club podcast, host and longtime NBA insider Jackie MacMullan explained that there were three reasons Stockton and Malone often found themselves the butt of the team's jokes.
"Malone and Stockton received endless grief for being inseparable and for their old-school ways," MacMullan said. "From wearing the same clothes — jeans and sneakers every day — to their complete lack of interest in new-fangled technology. [Chris] Mullin surmises that both are still using flip phones."
The Jazz teammates were definitely old school, and that provided endless entertainment for their fellow Dream Team members. They were also great on the court and magical together, perfecting the pick-and-roll like no other partnership in basketball history.
They were also the best NBA duo never to win a championship.
Stockton and Malone were the best NBA duo never to win a championship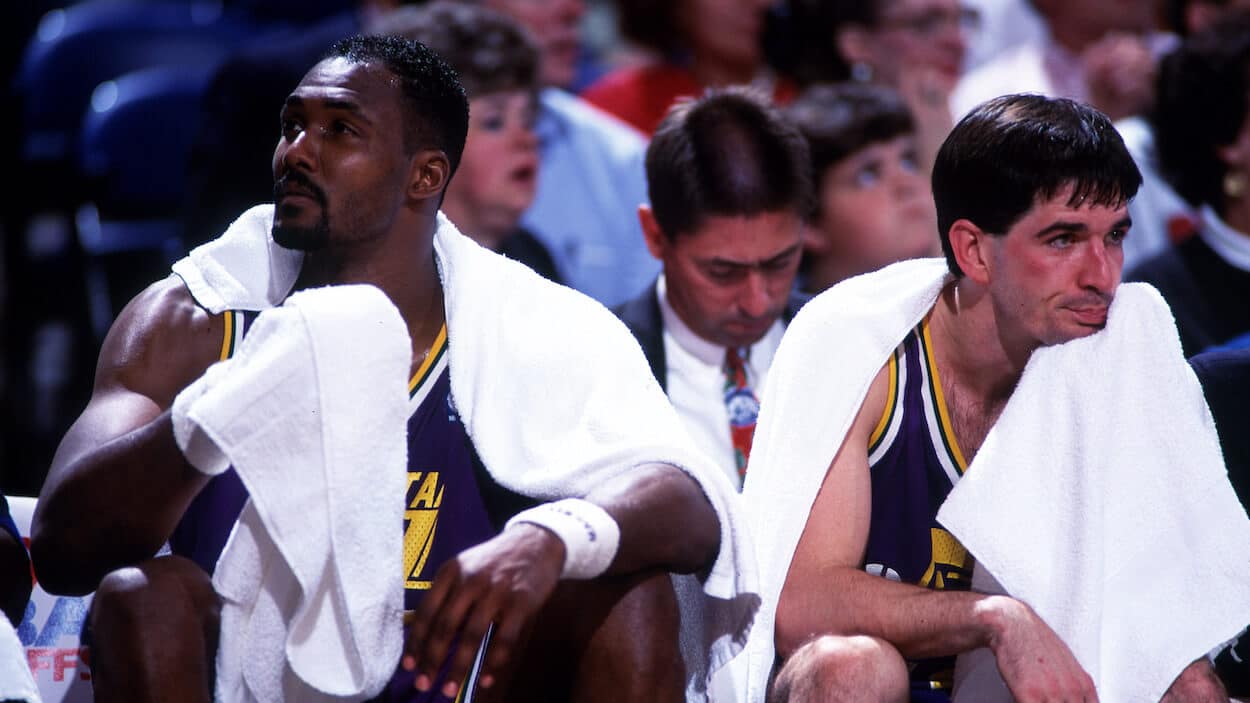 Karl Malone retired as the second-leading scorer (now third) in NBA history and seventh in rebounds. John Stockton is still the all-time assists leader, and the closest active player is Chris Paul, who is over 4,000 assists behind.
The two played together in Utah from 1985 to 2003, making the playoffs every season together. They even made back-to-back NBA Finals in 1997 and 1998, only to lose both times to Michael Jordan, Scottie Pippen, and the Chicago Bulls.
Stockton and Malone are the best longtime teammates to never win an NBA championship. They aren't the only ones on the list, though. Here are the other most dynamic NBA duos who never won a ring, in chronological order, not ranked.
Pete Maravich and Walt Bellamy 
"Pistol" Pete Maravich and Walt Bellamy are two of the best individual players never to win a championship, and they played together on the Atlanta Hawks in the early 70s. Maravich was just starting his career, and Bellamy was at the end. Still, they couldn't get past the New York Knicks and Boston Celtics of the day.
Patrick Ewing and John Starks 
If there weren't NBA teammates named Michael Jordan and Scottie Pippen, how many titles would Patrick Ewing and John Starks have won? We will never know the true answer to this because the teammates who defined New York basketball in the 1990s could never get one over their Bulls rivals, and the one time they did — with Michael Jordan off playing baseball — they lost to Hakeem Olajuwon.
Reggie Miller and Chris Mullin
Chris Mullin is most known for his time on the Golden State Warriors, but he played three seasons in the late 1990s with Reggie Miller and the Pacers. This run of two of the best shooters in NBA history culminated with a 2000 Finals appearance, where Miller, Mullin (and coach Larry Bird) fell short to Shaquille O'Neal and Kobe Bryant.
Vince Carter and Tracy McGrady
These cousins, who played on the Toronto Raptors together from 1998 to 2000, never won much of anything in the NBA. However, when it comes to individual talent, it's hard to argue that "T-Mac" and "Vinsanity" didn't have more talent than any pair to ever step on a basketball court.  
Steve Nash and Amar'e Stoudemire
Steve Nash and pre-injuries Amar'e Stoudemire were a point guard/power forward combination the likes of which the NBA hadn't seen since Karl Malone and John Stockton. Like Stockton and Malone, Nash and Stoudemire had the unfortunate luck of being in the NBA at the same time as Tim Duncan and the San Antonio Spurs.
Chris Paul and … 
Chris Paul is on this list for now. In 2023, with Kevin Durant now on the Phoenix Suns, he may not be on this list for long. That said, if he retires on this list, we can look back then and decide if Devin Booker or Blake Griffin goes down as his partner on this unfortunate list.