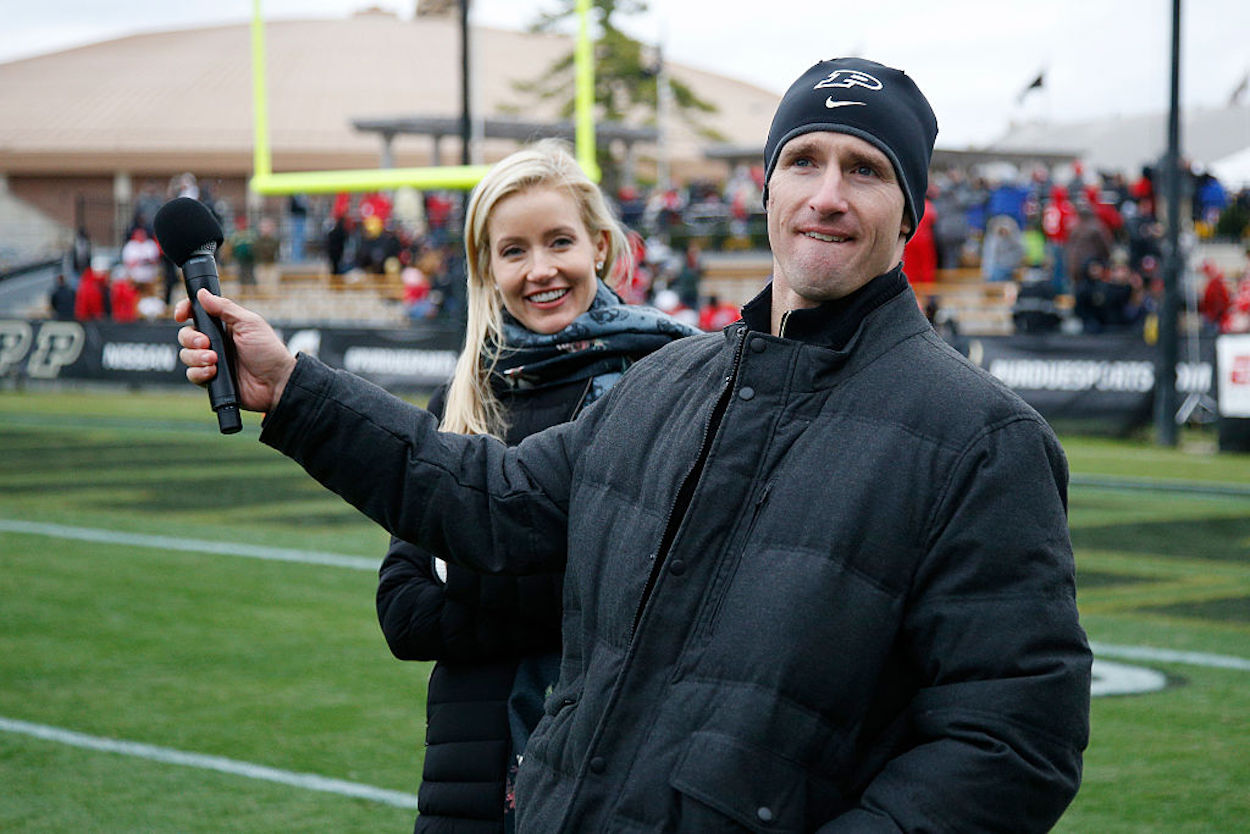 Drew Brees' Wife Drops a Bombshell About the Injuries He Played Through This Season
Drew Brees played the Saints' divisional-round game with 11 broken ribs and a collapsed lung, but his wife said he fought through much more.
Drew Brees didn't look like his tactical self in Sunday's NFC divisional-round game between the New Orleans Saints and the Tampa Bay Buccaneers. The future NFL Hall of Famer completed just 55.7% of his passes and threw a season-high three interceptions in the 30-20 loss.
Many attributed the poor performance to his 11 broken ribs and collapsed lung, but Brees' wife just revealed the Saints quarterback was fighting through even worse injuries all season.
Drew Brees played through 11 broken ribs and a collapsed lung
Drew Brees isn't just one of the most successful NFL quarterbacks of all time. He's also one of the toughest. Brees has played through a wide variety of injuries throughout his 20-year career, but this season might've been his worst yet.
Late in the regular season, Brees revealed he suffered 11 broken ribs and a collapsed lung from the bevy of hits he took in his year-42 season. Despite the pain and discomfort Brees suffered through over the last few months, he returned to the field in December and battled through his injuries.
Less than two months after suffering the 11 broken ribs and collapsed lung, Brees suited up for the Saints' divisional-round matchup against the Buccaneers last Sunday. Clearly, the injuries hindered Brees, as he threw for just 134 yards and three interceptions on 19-34 passing in the loss.
But it turns out Brees wasn't just dealing with the rib and lung injuries.
Brees' wife reveals he played through even worse injuries
After the Saints were eliminated from the playoffs last weekend, Drew Brees' wife, Brittany, posted an emotional tribute to the QB via her Instagram. In the post, Brittany revealed Brees also played through a torn rotator cuff and a torn plantar fascia this season.
"This has been the hardest year of our lives, yet in some ways one of the best," Brittany wrote in her post. "This year has shaped us and strengthened us. It has shown us what is truly important and what is not. I am so proud of the man that you are. The fact that you played this entire year with a torn rotator cuff, torn fascia in your foot. Then later 11 broken ribs a collapsed lung.
"Yet did not complain once," she continued.
Have we seen the last of Drew Brees in the NFL?
Drew Brees has been a fixture of NFL Sundays for the last 20 years, but it's quite possible we just watched his final game in a Saints uniform last Sunday. Before the game against the Buccaneers, NFL Insider Jay Glazer reported Brees plans on retiring this offseason.
Brees has yet to make an official announcement regarding his retirement, but it could be coming in the next few days. If this is in fact the end for Brees, it's been an absolute pleasure to watch him compete week in and week out no matter what he was dealing with physically.