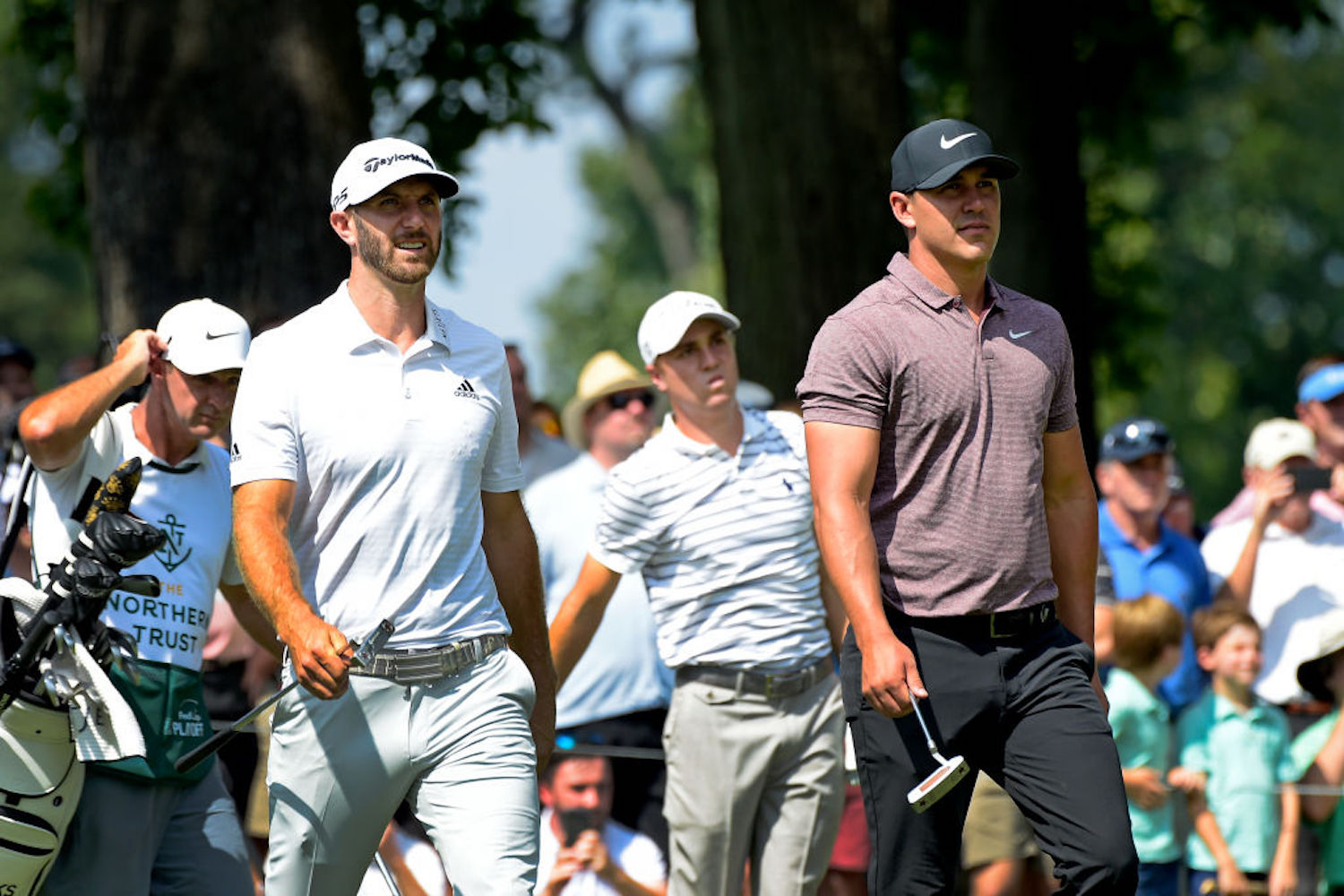 Dustin Johnson Has Dominated the PGA Tour Ever Since Brooks Koepka Took a Shot at Him
Brooks Koepka called out Dustin Johnson for his lack of majors a few weeks back, and Johnson responded with a historic run of golf.
Dustin Johnson has been making PGA Tour golf courses look like putt-putt tracks in recent weeks.
Johnson has a win and two second-place finishes in the last three tournaments. He was in the final grouping in all three, and he easily could've won each tournament. Johnson has been by far the most dominant golfer in the world over the past few weeks, and there might be a secret reason why.
Before the final round of the PGA Championship, Brooks Koepka took a surprising shot at Johnson for his lack of major championships. Johnson clearly took Koepka's comments to heart, and he's made it his mission to bury his old friend into the ground with his play in recent weeks.
Brooks Koepka took a savage shot at Dustin Johnson during the PGA Championship
Johnson and Koepka were thought to be close friends coming up in the golf scene. Well, that was until Koepka went after his old pal during the first major of the year.
After the third round of the 2020 PGA Championship, Koepka took a jab at Johnson for his lack of major championships. Koepka has four to Johnson's one.
"A lot of the guys on the leaderboard, I don't think have won. I guess DJ has only won one. I don't know a lot of the other guys up there," Koepka said.
Koepka later clarified his comments, saying he meant no disrespect to Johnson.
"To be honest, when I'm looking at a leaderboard I'm never looking at who is behind me or tied with me, I only look ahead," Koepka said. "I view myself as going forward no matter what. So I regret that part of it. That's what I was trying to say — that I didn't know who was on the leaderboard at that point because I hadn't looked. I just genuinely didn't know the guys at 8 and 7. That part I regret and I wish I had used different words because I didn't pay enough attention to who was under Dustin because he was my main focus. When someone asks if I can win, I'm always going to say yes, that's the competitor in me. I'm not there to finish second. I think that's where some of the cocky stuff comes from because I always think I can win and truly believe it."
Whether it was meant as a real shot or a tactic to get in Johnson's head, Koepka's comments clearly lit a fire under the No. 1 ranked golfer in the world.
Johnson has gone on a dominating run since Koepka's comments
Johnson heard Koepka loud and clear at the PGA Championship. In response to Koepka's comments, Johnson has rattled off some of the most impressive golf seen in a three-week span in PGA Tour history.
Johnson shot a final-round 68 at TPC Harding Park to finish T-2 at the PGA Championship. He went on to TPC Boston and fired a 30-under final score at the Northern Trust to win by 11 strokes. The next week, he finished second at the BMW Championship after losing in a playoff to Jon Rahm. Rahm had to sink a 66-foot putt on 18 to beat the blistering-hot Johnson.
In nine rounds of golf since Koepka's comments, Johnson has gained an absurd 36.03 strokes on his competition.
From Morikawa's incredible eagle down the stretch at the PGA Championship to Rahm's unlikely putt at the BMW, players have to pull off the near-impossible to beat DJ right now.
Johnson enters the TOUR Championship as the hottest golfer in the world
It's unclear how much Koepka's comments have fueled Johnson's recent surge of incredible golf, but the timing sure is peculiar. Johnson has been the most dominant golfer on earth since Koepka called him out, and Koepka has gone the opposite direction.
Since he took his shot, Koepka shot 74 in the final round of the PGA Championship, missed the cut at the Wyndham Championship, and pulled out of the FedEx Cup playoffs due to a nagging knee injury.
If you believe in karma, here's a prime example of it playing out in front of our eyes. Johnson is a huge favorite to win the TOUR Championship and bank another $15 million, while Koepka will be watching from the couch.