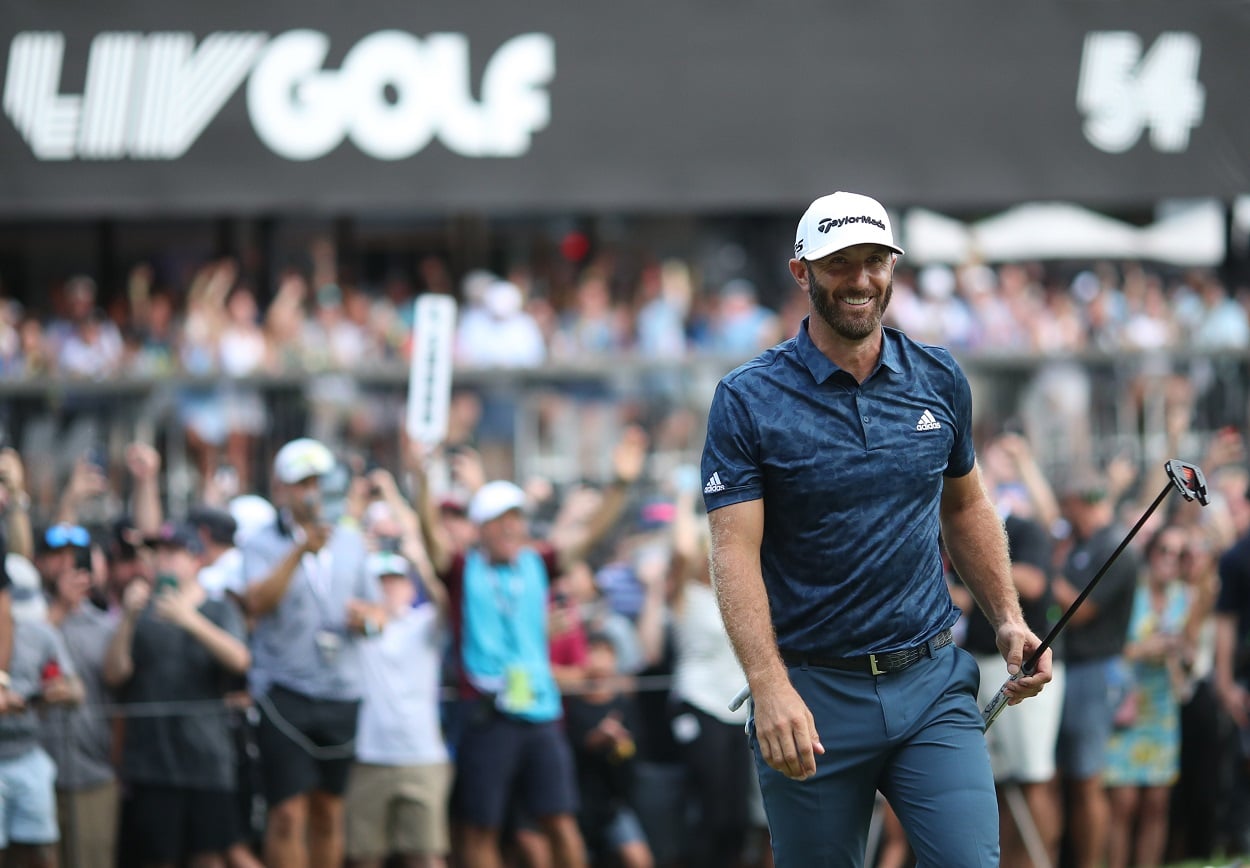 Dustin Johnson Showed Something in His LIV Golf Triumph We Haven't Seen in Forever and Pocketed More Cash Than His Pair of Majors Combined
Dustin Johnson is clearly enjoying himself in LIV Golf, where he won close to $5 million on Sunday.
Dustin Johnson has never been one to show much emotion on the golf course. Even during many of his 24 PGA Tour wins, including his two major championships, it seemed as if the former top-ranked player in the world just didn't care at times.
But we're seeing a whole new version of DJ in LIV Golf, one that actually looks like he enjoys playing the game again. But maybe that's what collecting $150 million just to show up will do to somebody.
Seemingly just going through the motions that last year on the PGA Tour, Johnson was engaged and even electric at times on the way to his first LIV win this past weekend in Boston. And his final stroke on Sunday, in particular, really stood out to me and made me utter arguably the most cliche line one can say about another person: Who are you, and what have you done with Dustin Johnson?
Dustin Johnson actually showed some emotion when he sank his eagle putt to win the LIV Golf Boston event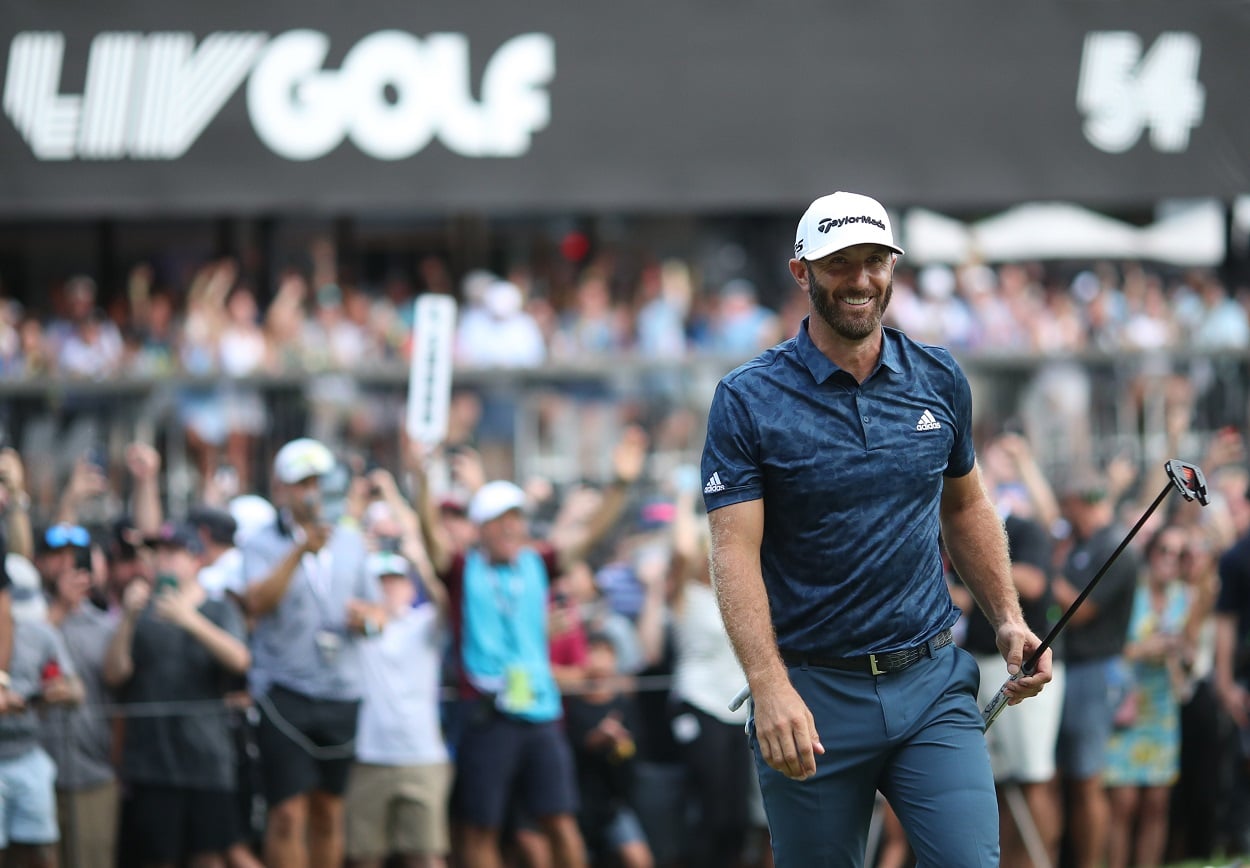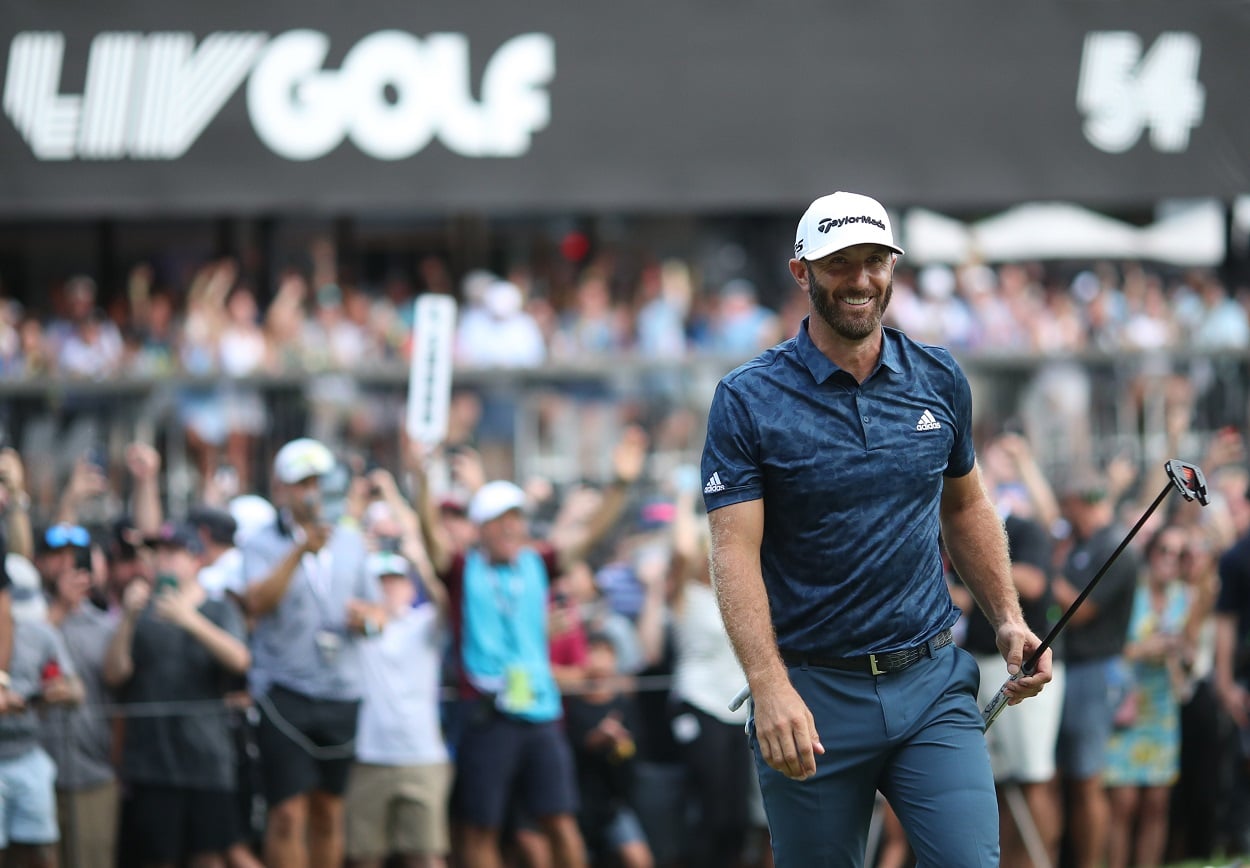 Let's get real. The first three LIV Golf events have been absolute duds. Despite my strong feelings against the Saudi-backed series, I still want to see some good golf if and when I choose to watch.
But that all changed this weekend at The International Golf Club in suburban Boston as LIV got its first playoff. Anirban Lahiri locked in the magic number of 15-under first in the shotgun format, followed by Joaquin Niemann, two of the newest members of the LIV Golf roster.
Johnson could have won with a birdie on his 54th and final regulation hole of the week but had to scramble to make par to join the playoff festivities.
In what looked like could be a lengthy playoff, given that the trio would play the par-5 18th as many times as possible to crown a winner, the result was just the opposite.
Niemann was out of the equation by not giving himself a legit shot at birdie, but Lahiri had just three feet to card a four. But he never got the chance to make his putt as DJ rammed home a 35-foot eagle putt, one he's lucky hit the back of the cup as it was ready to skirt at least 10-15 feet past.
But it instead dropped down in the hole, giving Johnson his first win in 19 months. And DJ was jacked. While we're used to seeing him stoically walk up to the hole to retrieve his ball, he instead raised his arm for a Tiger Woods-like uppercut that turned into a low five with his caddie and brother, Austin.
Perhaps I'm reading too much into it, but I truly haven't seen that much emotion out of Dustin Johnson in quite some time. While it pains me to say it, perhaps the move to LIV Golf truly is what he needed to reinvigorate his passion for the game he dominated for so long.
Johnson earned more money with his LIV Golf win than he did in his two major championship victories combined
In picking up the individual victory at The International, Johnson collected the $4 million winner's paycheck that comes with every LIV Golf event.
To put in perspective just how ridiculously high the payouts are for the renegade series, that's more than DJ won in his two major championship victories — combined. He earned $1.8 million for winning the 2016 U.S. Open at Oakmont and $2.07 million for his victory at The Masters in 2020.
Tack on the extra $750,000 Johnson pocketed on Sunday for his Four Aces squad taking the team title, and the 38-year-old won $880,000 more than he did in winning his two majors. But that's LIV Golf, folks. And whether you like it or not, it's not going anywhere anytime soon.
Like Sportscasting on Facebook. Follow us on Twitter @sportscasting19 and subscribe to our YouTube channel.