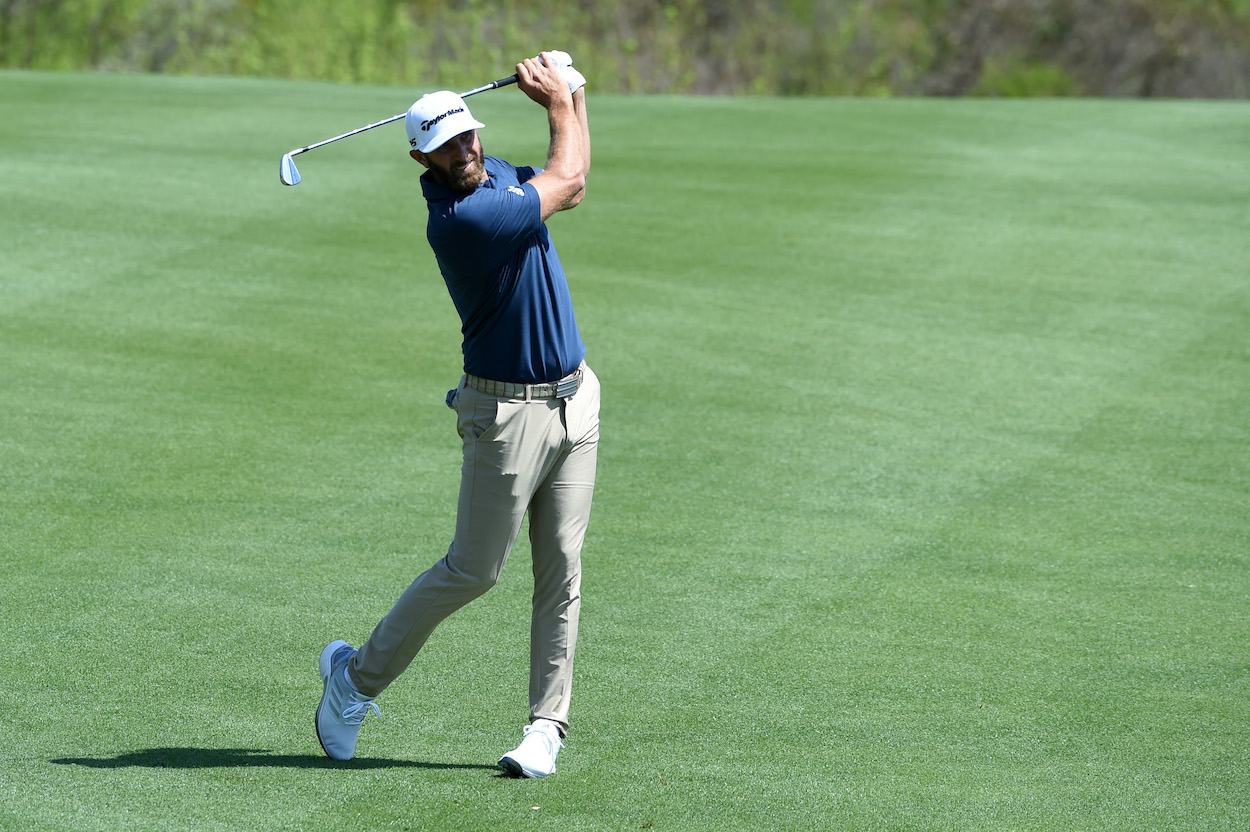 Dustin Johnson Upset at Kevin Na's Decision and Lecture at WGC-Dell Technologies Match Play
Dustin Johnson and Kevin Na have controversial moment at tournament.
Dustin Johnson is the No. 1-ranked golfer in the world. Kevin Na is ranked No. 30. On Friday, the two players were battling at the WGC-Dell Technologies Match Play event in Austin when things took a bizarre turn on the 11th hole. When it was all said and done, Johnson walked off the green upset and everyone, including announcer Nick Faldo, questioned why Na would pull off such a move that will only make him more enemies than friends.
Dustin Johnson excels at WGC events
Dustin Johnson loves WGC events. He's second only to Tiger Woods with six victories. He captured the Austin title in 2017. After winning his first match on Wednesday and halving his second on Thursday, Johnson faced Kevin Na on Friday.
On the No. 11 hole and up by one in the match, Johnson had a seven-foot birdie putt to win the hole. Johnson rolled the putt, and it dipped into the right side of the cup before wrapping around the back and coming out on the left side, stopping less than a foot away from the hole.
Johnson walked up to the ball and tapped it with the back side of his putter toward him, picked it up, and walked off the green. Everyone in the gallery and those watching on television thought Johnson had just walked off the green with a par. 
Kevin Na didn't see it in such simple terms.
Kevin Na calls Dustin Johnson back to hole
Dustin Johnson walked off the green, took a practice stroke on the side of it, and then began walking toward the next tee box. That's when television cameras showed Johnson walking back toward the hole and the announcers said Na had called Johnson back.
Nick Faldo best summed up what was about to happen next with an "uh-oh."
Johnson and Na met around 20 feet from the hole in the middle of the green, where Na put his hand on Johnson's shoulder. Faldo said it appeared that Na hadn't conceded the putt. Moments later, the nearby microphones picked up the audio.
"I'm going to give it to you," Na said. "I'm just saying, just wait. I know it's this," he said, holding his fingers around the length of Johnson's remaining putt, "but you still have to wait until I say so." Before Na had finished his remarks, Johnson nodded his head and began walking off the green.
Faldo was asked his thoughts on the developing situation. 
"It's the rules. Wow, that's a hell of call when considering Na is eliminated, he wouldn't let that one slide cause it's not really affecting him. It is technically the rules. But it's a tough call. It depends if you want to make friends or enemies."
Twitter reacts to Na's decision
Not surprisingly, Twitter reacted to Kevin Na's decision to call out Dustin Johnson for picking up his putt before he had conceded.
"Kevin Na gets the turd in the punch bowl award once again," posted one person. 
"You'd think Kevin Na would be a little more understanding of someone walking after a putt, thinking it was good," wrote another, referencing Na's penchant for little patience and often walking in behind his own putts.
On the next hole, Johnson hit his second shot in the water. Whether or not Na's move affected him is anyone's guess. What is absolutely certain is Na didn't make any friends with that move. At least he doesn't have to worry about any fans giving him a hard time for it because he won't be around for the weekend.  
Like Sportscasting on Facebook. Follow us on Twitter @nfl-sportscastercasting19.