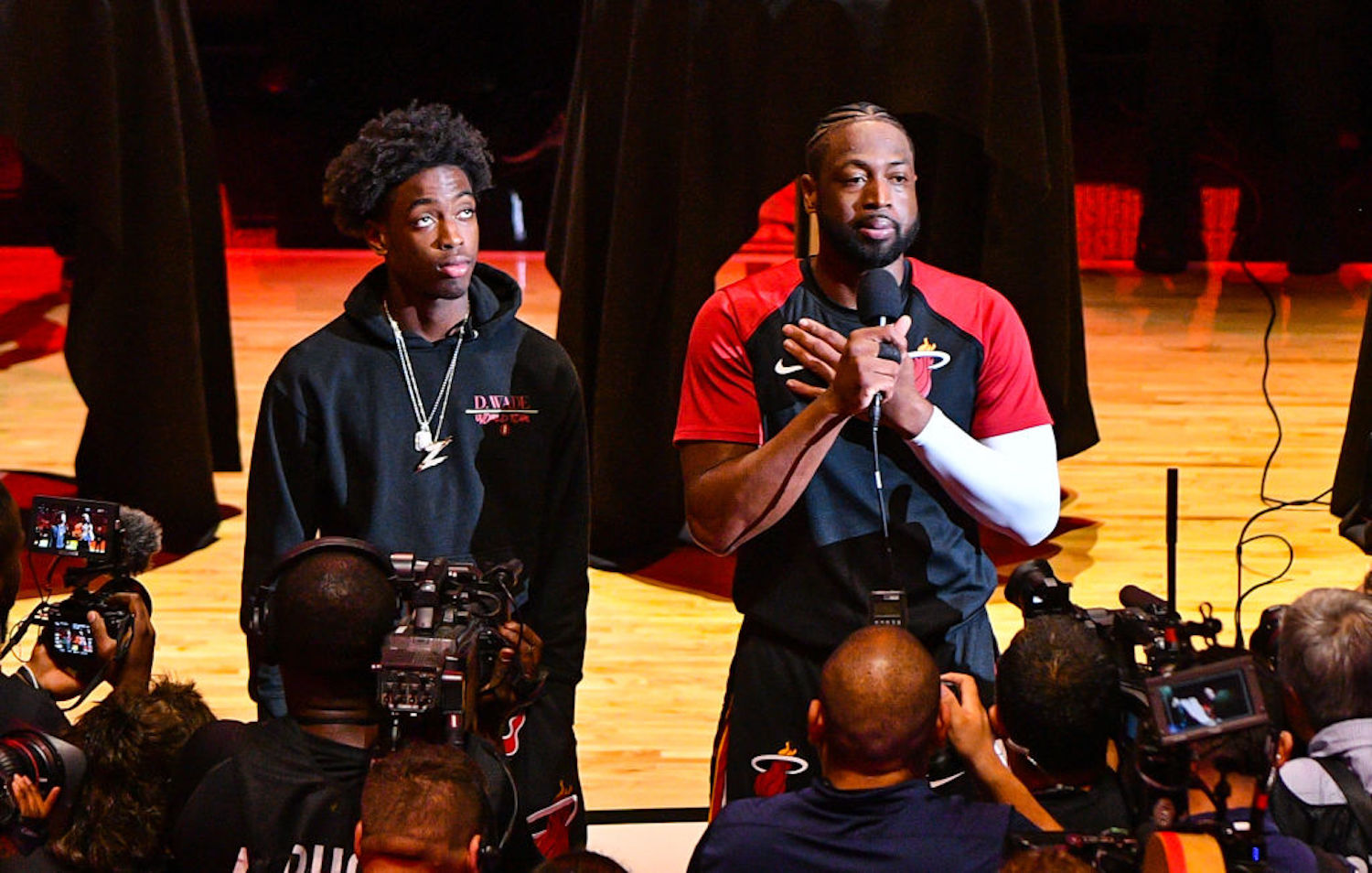 Dwyane Wade Teaches His Son Zaire a Lesson In Heated 1-on-1 Battle
Dwyane Wade's teenage son Zaire is growing into a star basketball prospect, but he still gets humbled by his old man on the court.
Dwyane Wade's son Zaire is growing into a talented basketball prospect out of Sierra Canyon High School, but the Miami Heat legend can still embarrass him on the court at 38 years old.
Dwyane and Zaire played a not-so-friendly, trash talk-laden game of one-on-one recently, and father humbled son in the matchup. Zaire has the potential to follow his legendary dad to the NBA, but he'll have to step up his game if he wants to take down his old man on the court.
Zaire Wade is a coveted basketball prospect
Zaire Wade isn't just a popular figure because of his last name. He's actually a top basketball prospect who had multiple college offers coming into this year. Wade spent the last four years at Sierra Canyon High School in Chatsworth, Calif. playing alongside LeBron James' oldest son, Bronny. He finished his senior season ranked as the No. 197 prospect in the 2020 class.
Wade chose to play at Sierra Canyon to showcase his skills to top college coaches, but his playing time started to dwindle due to the sheer amount of talented players on the same team. It got so bad Dwyane even publicly called out Zaire's high school coach on Inside the NBA earlier this year.
"I will not be there," Wade said when asked if he would be at the state championship game. "My son ain't playing, and I don't want to do nothing to the coach. So, I won't be there. …  But I'll be rooting for the kids."
Despite losing playing time, Zaire fielded college offers from Rhode Island, Toledo, and DePaul as a senior, but he decided to delay his first year of college to improve his game.
Zaire Wade isn't playing college basketball in 2020-21
Zaire Wade graduated from Sierra Canyon earlier this year, so we should be watching him play college ball had he gone down the typical career path. But Zaire went a different route.
Instead of accepting one of his scholarship offers, Zaire delayed his college career to play a post-graduate season at Brewster Academy in New Hampshire. Brewster has produced numerous NBA players in the past, including Utah Jazz star Donovan Mitchell.
Zaire will decide on his future after this season.
Dwyane Wade humbled Zaire in a heated game of one-on-one
Zaire Wade is now tearing it up at Brewster, but he still can't best his old man in a good old fashioned game of one-on-one. The father-son duo recently went at it on the court on video, and Dwyane Wade looked like his old, crafty self.
Zaire struggled to guard his father in the post, and Dwyane ended up winning the matchup easily. He even talked some trash after embarrassing his eldest son.
Zaire might be younger, quicker, and more athletic than his future Hall-of-Fame father, but Dwyane just proved he's still the alpha dog in the family for the time being.