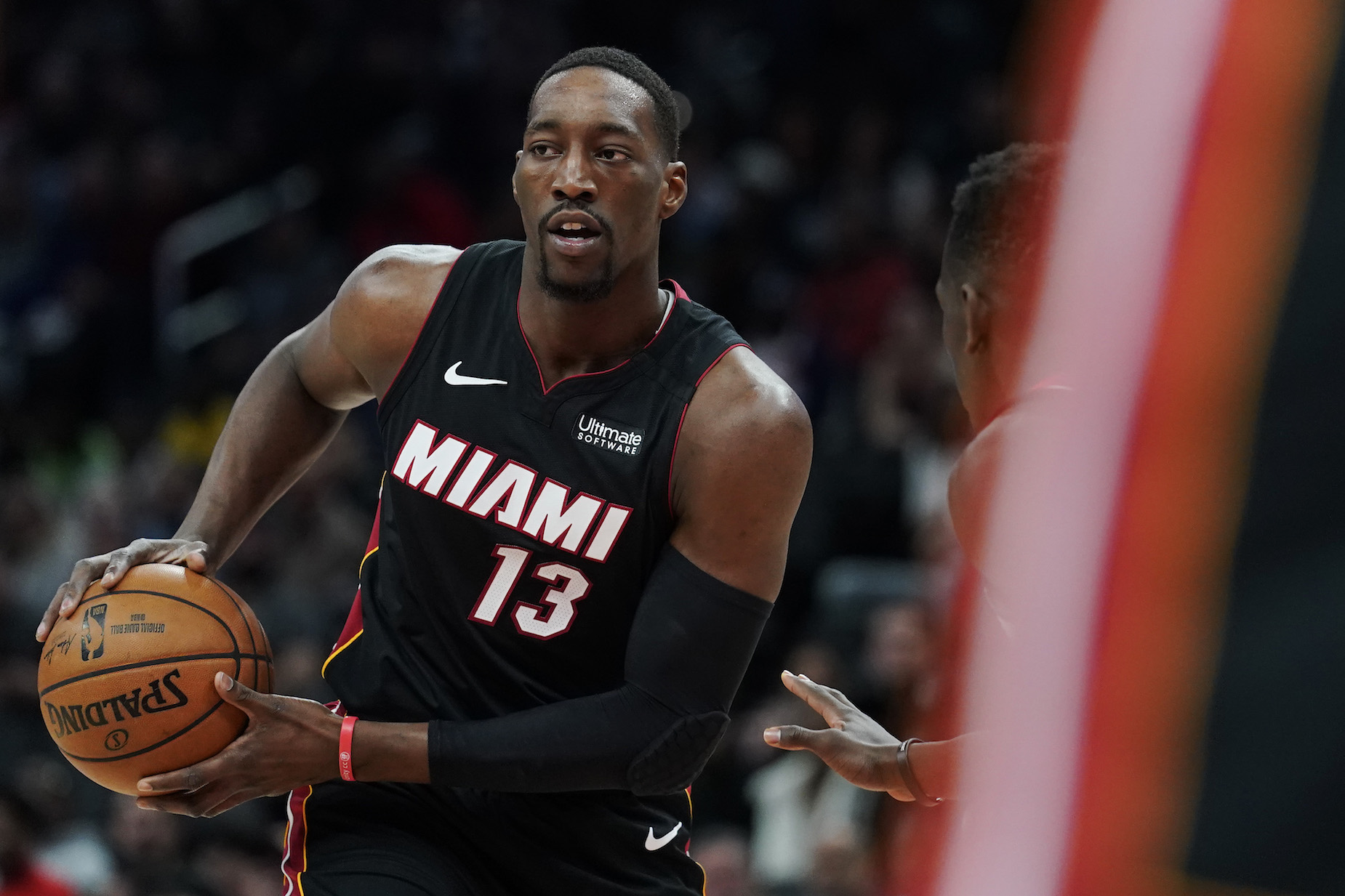 Miami Heat Big Man Bam Adebayo Inked a $163 Million Extension and Bought His Mother the Ultimate Gift
In November, Miami Heat big man Bam Adebayo signed a massive contract extension, then gave his mother the ultimate birthday gift.
While the LA Lakers ultimately lifted the Larry O'Brien Trophy, the Miami Heat still made quite a statement during the 2020 NBA playoffs. One of the break-out stars of their campaign was Bam Adebayo; during the offseason, Pat Riley and company rewarded him with a five-year contract extension worth at least $163 million.
After signing on the dotted line, though, Bam Adebayo didn't rush out to buy some shiny new toys. Instead, the Miami Heat forward decided to give back to his mother with a heartfelt gift.
Bam Adebayo has become a legitimate NBA talent, thanks to his mother
In the world of sports, there have been plenty of athletes who fell short of professional success, despite having plenty of talent. Bam Adebayo, however, has a powerful ally in his corner: his mom, Marilyn Blount. 
As Zach Lowe wrote for ESPN, Blount raised her son alone; she would get up "every day at 5:45 and cooked Bam a hot breakfast as he slept. After Bam left for school, Blount walked to the Acre Station Meat Farm, where she took home about $12,000 per year as a cashier. When her son came home from basketball practice, she was already asleep."
With her support, Adebayo thrived. He did well in school and grew into a force on the basketball court; after high school, he headed to the University of Kentucky, played one year with John Calipari, and entered into the 2017 NBA draft.
While Bam didn't look like much of a star when he arrived in the NBA, he's improved with each passing season. Based on what he and the rest of the Heat brass have said, everything the big man does is grounded in humility and hard work; it's impossible to overlook the connection between those traits and his mother.
Signing a big-money contract extension with the Miami Heat
After two quiet seasons to begin his professional career, Bam Adebayo took a major step forward in 2020; he started all 72 of Miami's regular-season games and averaged 15.9 points, 10.2 rebounds, and 5.1 assists per outing. That improvement, combined with the fact that he was entering the final year of his rookie contract, inspired the Heat to make a move.
In November, the Heat inked Adebayo to a five-year contract extension. Based on Spotrac's numbers, the deal is worth at least $163 million before escalators. If Bam is named NBA MVP during the course of his contract, for example, he could take home almost $197 million.
For reference, Adebayo took home a little more than $3 million in salary during the 2019-20 campaign.
Bam Adebayo gifted his mother a house after signing his new contract
Shortly after Bam Adebayo signed that contract extension with the Miami Heat, his mother celebrated her birthday. Unsurprisingly, there was quite a gift ready for her.
Growing up, Adebayo and Blount shared a single-wide trailer; now, she owns a house of her own, thanks to Bam.
"My mom never had nothing that she could call her own," Adebayo explained, according to Nick Friedell of ESPN. "So growing up and being able to do something different with basketball and be a special player, that was something that I've always had in my mind, I've always wanted to do. And just having the opportunity to do it for my mom is an incredible experience."
Inside the house, Adebayo insisted on one particular detail. A picture of their old trailer—which the big man has used as motivation throughout his basketball career—hangs right next to the front door.
"I wanted it by the front of the door because I wanted everybody to see where we actually came from," Adebayo continued. "And that doesn't matter who walks in. You're going to always see that picture. My whole goal [of] putting it there was just so everybody can see where we actually come from. And I was raised at what I went through, the struggle, to get my mom a brand new crib and the conditions she lived in. So that's the main point of the picture."
Stats courtesy of Basketball-Reference