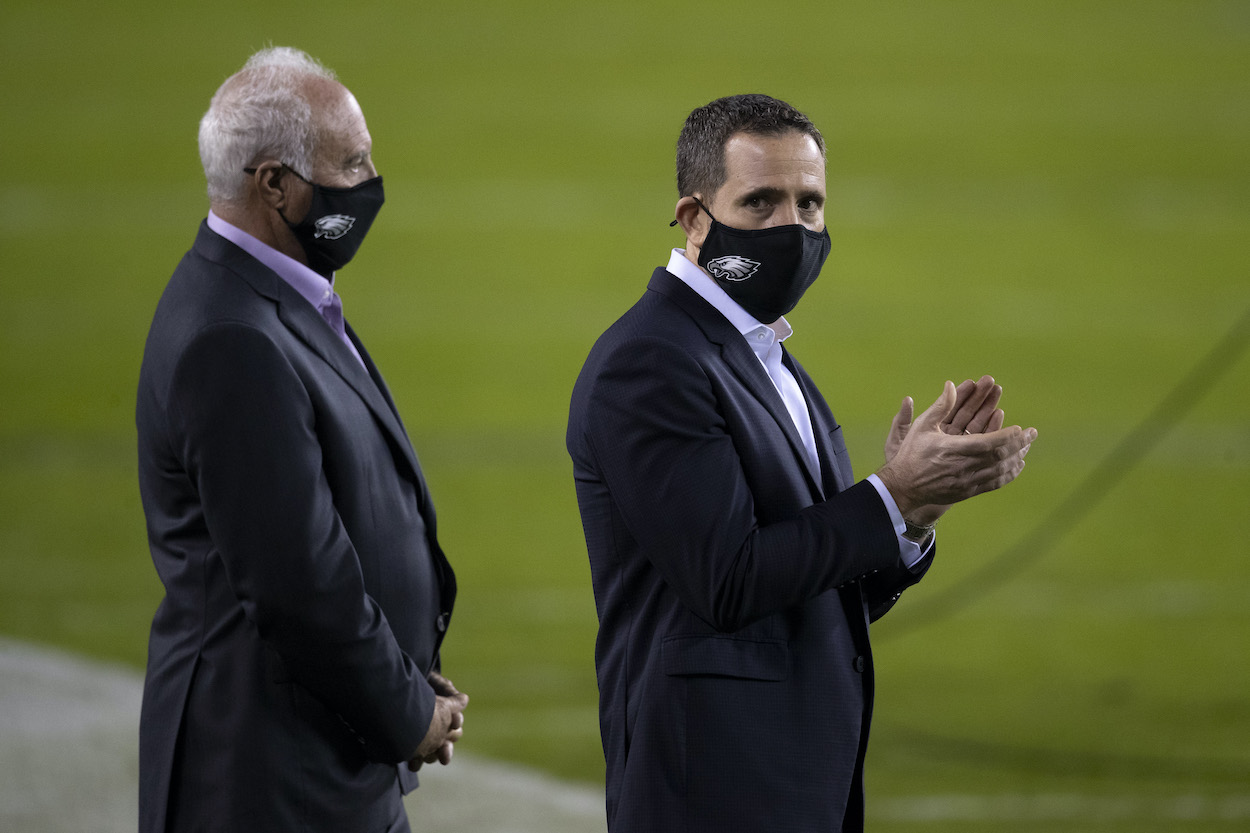 Eagles GM Howie Roseman Explains What Led to the Cringeworthy NFL Draft Moment That Went Viral for All the Wrong Reasons
Howie Roseman was the laughing stock of the NFL draft for getting shunned by an Eagles scout, but what really led to that cringeworthy moment?
Philadelphia Eagles general manager Howie Roseman was the talk of the NFL draft this weekend, but not for the reason he would've liked. After the Eagles made their third-round selection on Friday night, Roseman was caught on camera having a cringeworthy exchange with senior football adviser Tom Donahoe. The video immediately went viral online, and Roseman quickly became the laughing stock of the 2021 draft.
A few days later, Roseman gave a public explanation for the incredibly awkward moment between him and Donahoe.
Eagles GM Howie Roseman mocked for viral draft room video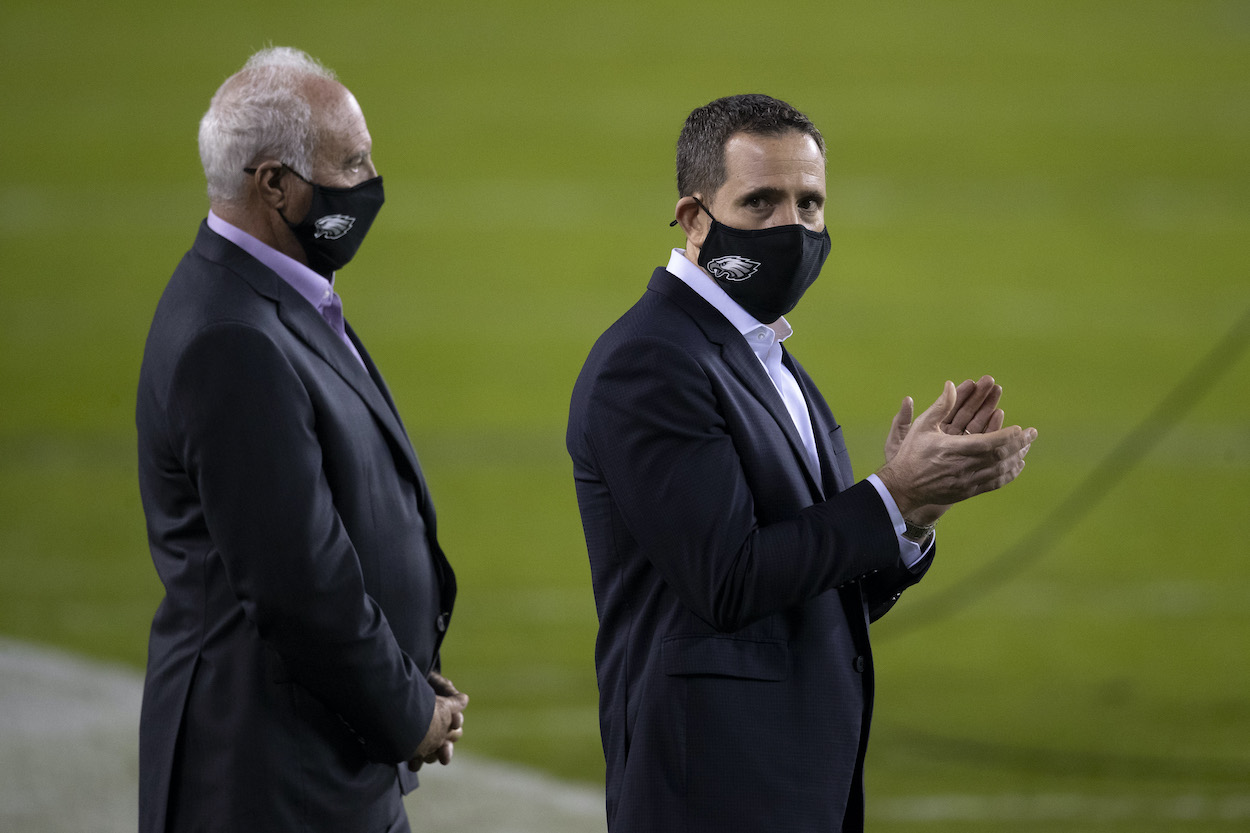 All throughout the 2021 NFL draft, ESPN and NFL Network would routinely cut to video feeds of draft rooms to give fans a look inside each organization. The reactions to every pick were resoundingly positive, as you probably would've guessed. Everyone from the team owner to the front office members to the scouts debate each pick and come to a uniform conclusion they can all agree on.
Easy enough, right? Well, not for the Eagles.
After Philadelphia traded down and selected Louisiana Tech defensive tackle Milton Williams with its third-round pick, ESPN switched over to the Eagles' draft room feed to capture its reaction.
In the video, Roseman emerges from the left side of the screen and fist bumps team owner Jeffrey Lurie. He makes his way around the room until he reaches Donahoe on the other side. Instead of giving Roseman an excited fist bump of his own, Donahoe extends a dead arm and says something under his breath. The longtime GM looks taken aback, and he shrugs his shoulders as if to say "What's the problem?"
The internet instantly exploded with jokes about the dysfunctional organization, which prompted Roseman into some damage control a few days later.
Roseman explains what led to the cringeworthy moment
There were numerous theories floated out regarding the nature of the awkward conversation. Many believed Roseman drafted Williams when Donahoe was completely against the pick. Others said Roseman didn't even consult Donahoe on the selection, and that's why he was so upset.
On Tuesday morning, Roseman appeared on the 94WIP morning show with Angelo Cataldi and cleared up all the rumors.
"Let me tell you the story about what happened there because I think you guys deserve it," Roseman said. "I'll give you some insight into it. We're at pick [No. 70], we have two guys standing out on our board, two defensive linemen. And they're different flavors. One is a 3 technique, one is more of a nose tackle. And so obviously when you have different flavors, everyone likes a different flavor.
"So Carolina calls and they're picking two picks behind us and (Panthers GM) Scott Fitterer says, 'Hey Howie, you want to drop down two picks for our top of the sixth-round pick?' I said, 'You gotta tell me offense-defense.' He said, 'I'm taking an offensive player.' So we know we're getting one of these two guys.
"And when we talked to our coaches about their fit and their role, we are excited about these two guys. And so one of them goes and then we take Milton Williams. I didn't even know where the cameras were, to be honest, as you probably know at this point."
It's probably safe to say Donahoe preferred a different flavor.
Donahoe wanted NC State DT Alim McNeill instead of Milton Williams
Based on the information Roseman gave us Tuesday morning, we can pretty easily figure out how the viral moment came about. After the Eagles traded back in the third round, NC State DT Alim McNeill went 72nd overall to the Detroit Lions, one pick ahead of Philly. Roseman was content settling for Williams, but Donahoe clearly wasn't.
Not all NFL draft decisions are easy, though, and Roseman said those disagreements can be healthy overall.
"Discussion and debate and having these conversations, it's OK," Roseman said. "You'd rather have that. You'd rather have that passion. Tom's been here for a long time, we've been together for 10 years, extremely close relationship. It's OK to have tough conversations and Tom and I have had a lot of them in 10 years and that's why you want people around you who aren't going to just tell you everything you're doing is OK… And this guy, fans are going to love Milton Williams."
He better be right about that, or that video will haunt him for the rest of his career in the NFL.