Eagles Legend Brian Dawkins Once Achieved the Ultra-Rare 'Quadrafecta'
Brian Dawkins dominated NFL offenses as one of the league's most opportunistic players for nearly two decades. Dawkins retired after the 2011 season with 37 interceptions, 36 forced fumbles, and 19 fumble recoveries to his name. The Philadelphia Eagles legend helped his cause and all-time totals with a historic performance early in the 2002 season.
The 2020 season marks the 18th anniversary of Brian Dawkins' "quadrafecta." Just what is the quadrafecta, and will any other player ever accomplish the rare feat? Let's take a look.
Brian Dawkins achieved the "quadrafecta" in a 2002 victory over the Houston Texans
Brian Dawkins was already an established Pro Bowl safety entering the 2002 season. Dawkins made his first All-Pro team after the 2001 season and would repeat the feat in 2002. But no one saw Brian Dawkins' historic performance against the Houston Texans coming, even if it was against the expansion Texans.
In addition to six tackles, Brian Dawkins recorded a sack, two pass deflections, an interception and a forced fumble in a 35-17 victory over the Texans on Sept. 29, 2002. Dawkins also turned a trick play on a fake punt into his first career touchdown reception, a 57-yard score, in the third quarter.
Brian Dawkins became the first player in NFL history to record a sack, interception, recover a fumble, and have a touchdown reception in the same game. That 57-yard touchdown was the only catch Dawkins ever had in 16 NFL seasons.
Dawkins is one of the greatest players in Eagles history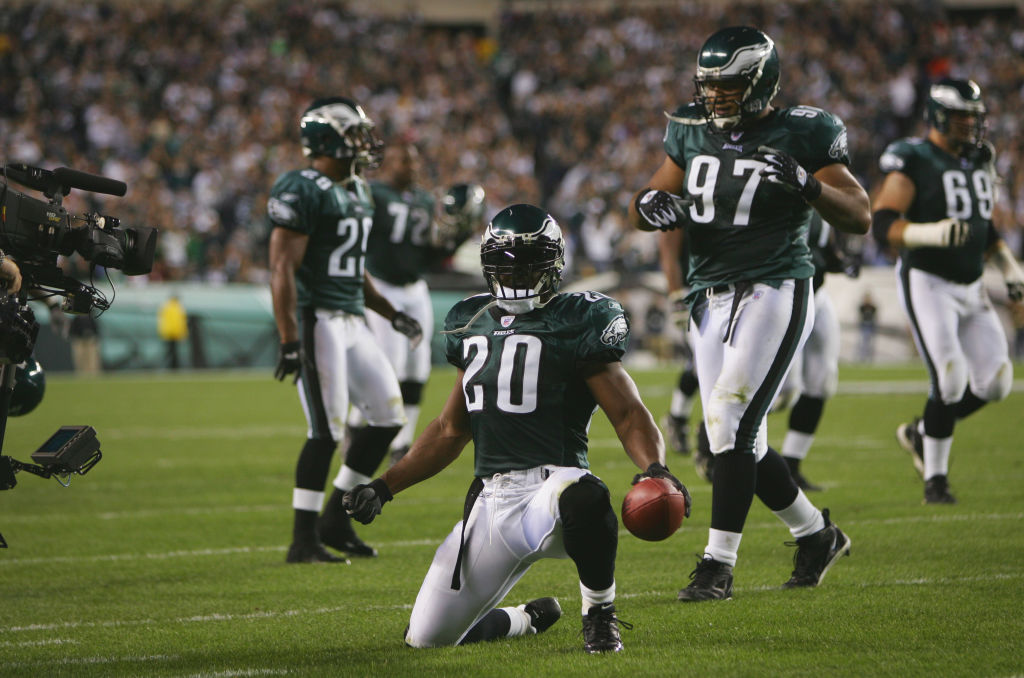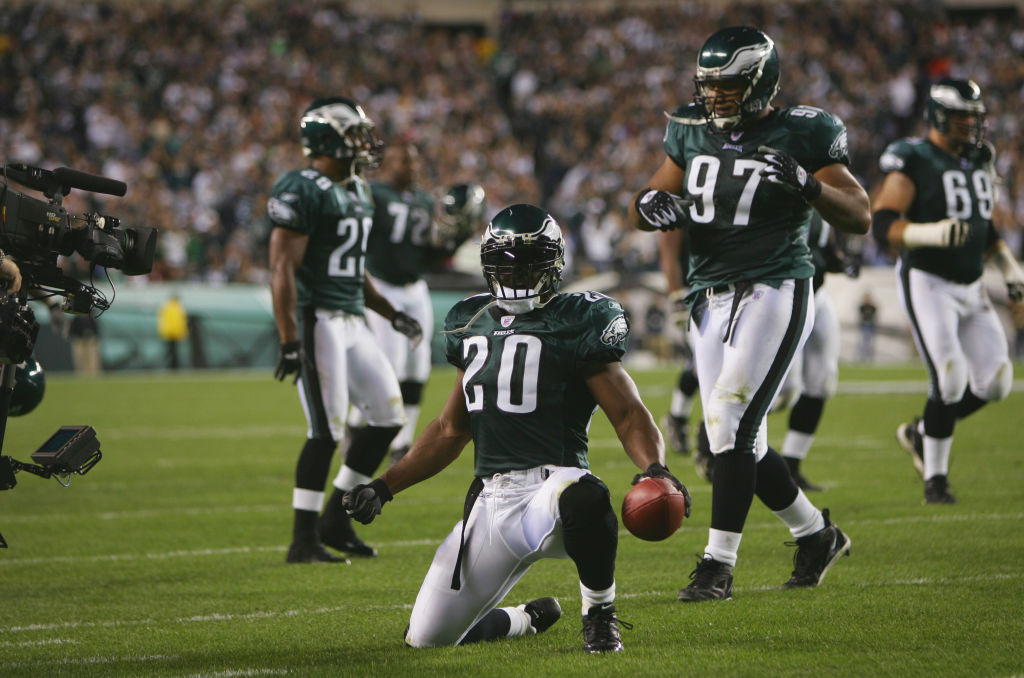 Brian Dawkins somehow was only the 61st overall pick of the 1996 NFL Draft. When evaluating NFL Drafts, Pro-Football-Reference uses a unique Approximate Value system that measures a players' career success based on the highest AVs of his career. Using that system, Dawkins' 100 career AV ranked fifth among players in his draft class.
Interestingly, only one of the top-five players were selected within the first 25 picks. Colts legend Marvin Harrison, the 19th overall pick, retired with a 124 approximate value, second only to Baltimore Ravens linebacker Ray Lewis' 158 AV. Lewis was the No. 26 pick out of Miami.
Dawkins' traditional absolute value with the Eagles, 120, is third-most in franchise history. Legendary sack artist Reggie White and Dawkins' former teammate, quarterback Donovan McNabb, are tied with a 126 approximate value. The Eagles retired Dawkins' No. 20 in September 2012.
Will any other NFL player join Brian Dawkins and record a "quadrafecta?"
Anything is possible, especially in a rapidly-changing NFL. If any player recorded a quadrafecta, it would almost certainly need to happen in a similar format to Brian Dawkins' historic outing — a defensive starter scoring on a trick play — as opposed to a traditional two-way player.
Kansas City Chiefs safety Tyrann Mathieu only has nine sacks in seven NFL seasons, but he has always had a nose for the football. Houston Texans defensive end J.J. Watt has the sack and forced fumble parts down pat, and he has three career touchdowns on offense. But Watt only has one career pick and has trouble staying healthy.
Jets star safety Jamal Adams might be the most high-profile player with a chance at the quadrafecta. Adams had a career-high 6 1/2 sacks and a 61-yard pick-six last year. With two Pro Bowl nods and an All-Pro honor in his first three seasons, Adams is already on pace to become the NFL's next Brian Dawkins.