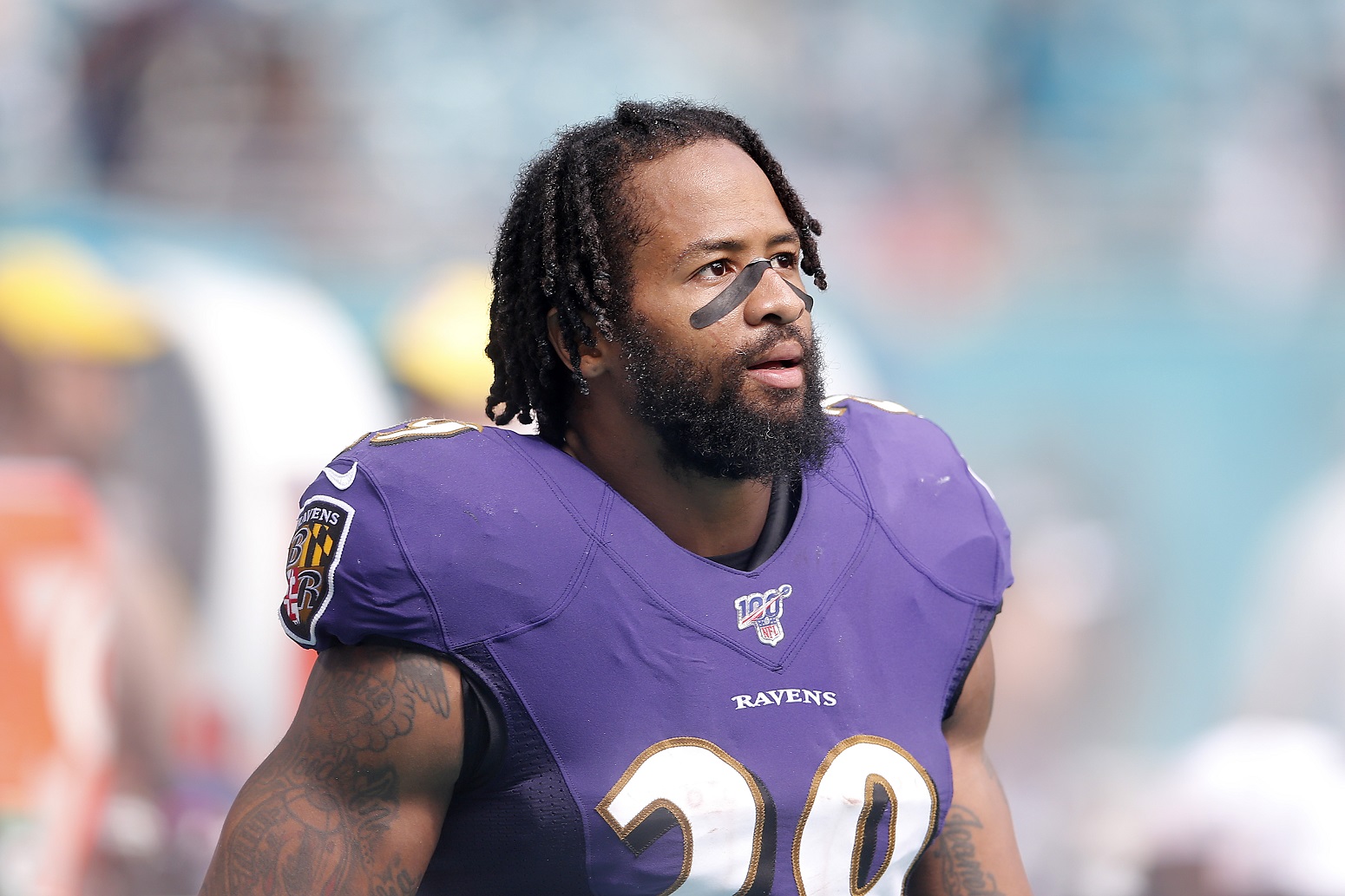 Earl Thomas' Bad 2020 Just Got a Whole Lot Worse
Earl Thomas has had a bad 2020 unable to find a team interested in his services. Something just happened in the seven-time Pro Bowler's personal life that made his year a whole lot worse.
Earl Thomas has made headlines in 2020 for all the wrong reasons. During the offseason, Thomas and his wife had a domestic dispute that allegedly involved her holding a gun to his head. Several months later in training camp, Thomas got into a fight with one of his Baltimore Ravens teammates. He was released shortly after. Once again, Thomas is in the headlines for something non-football related. This incident, however, is the most personal and most painful. 
Earl Thomas encounters trouble at home
This past offseason Earl Thomas returned to his home in Austin, Texas. In April, during the middle of a confrontation with his wife, Nina, Thomas' brother picked him up, and the pair left the house. Several hours later, his wife tracked them down at a nearby rental home, where they were found with a couple of women.
Tensions escalated when Thomas' wife confronted him and allegedly held a gun to his head. After someone placed a 911 call, police arrived and discovered Thomas had gained possession of the gun, but his wife was chasing him with a knife. 
After officers got the situation under control, they interviewed those at the scene. Police arrested his wife. Court records showed his wife received an emergency protective order and was required to remain 200 yards away.
Earl Thomas released by Baltimore Ravens
In late August at training camp, Earl Thomas was preparing for the 2020 NFL season, his second year with the Baltimore Ravens. During one of the practices, the seven-time Pro Bowler and fellow safety Chuck Clark had a dispute on the sideline, in which Clark had to be restrained. 
Apparently, the players failed to resolve their differences because the two were involved in a second altercation later in practice. Clark was restrained again, but team officials sent Thomas home.   
Reports later came out and revealed that several players had grown frustrated with Thomas for multiple things, including his lack of punctuality, being unfocused, and freelancing on the field, a complaint that's dogged him in the past. 
On August 23, the Ravens released Earl Thomas. 
His terrible year gets even worse
Since the Ravens released Earl Thomas, there was a great deal of speculation early in the 2020 NFL season where he might land. The Dallas Cowboys were considered the favorites. Jerry Jones talked about Thomas a lot but never pulled the trigger on a deal. Surprisingly, neither did any other team. 
If being a three-time All-Pro safety unable to find a team wasn't bad enough, Thomas' 2020 got a whole lot worse earlier this month when his wife filed for divorce, citing adultery as a grounds for ending their marriage. According to TMZ, she indicated in court documents there's "no reasonable expectation of reconciliation."
In addition, she intends to limit his access to the couple's three children until "he takes a parenting course and can show evidence that he is able to care for the children for an extended period of time." 
For Earl Thomas, like so many others, 2020 cannot end soon enough.