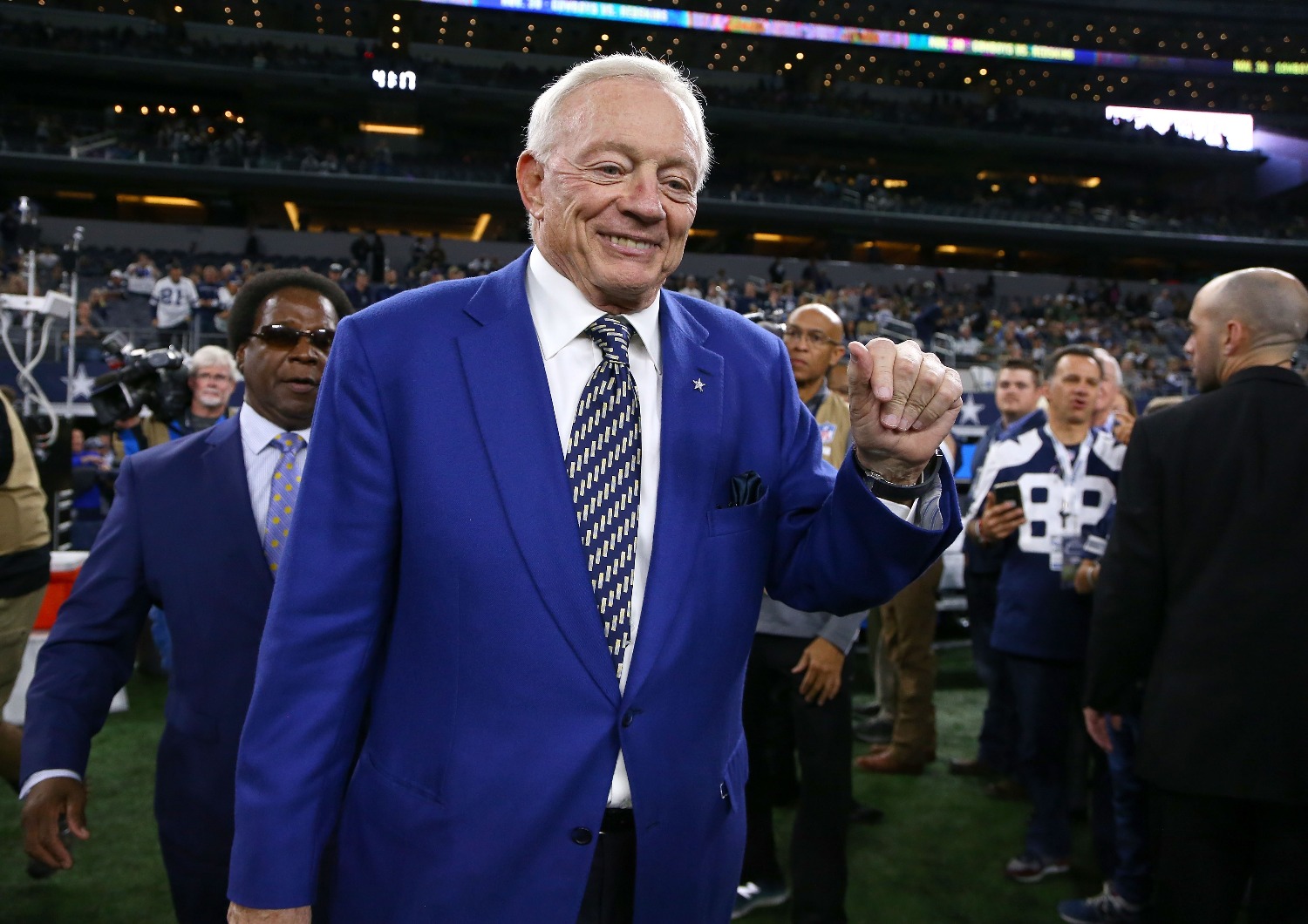 Jerry Jones Just Sent a Confusing Message About Earl Thomas
Jerry Jones just sent a confusing message about Earl Thomas. Will the Cowboys sign the All-Pro safety? At this point, nobody knows.
When Jerry Jones speaks, everyone listens. That just comes with the territory when you're worth $8.4 billion and own the Dallas Cowboys. However, Jones' latest message can best be described as downright confusing. With Earl Thomas still in search of a new home, the Cowboys have been discussed as a potential landing spot. However, Dallas has yet to pull the trigger on the All-Pro safety.
But figuring out exactly where Jones and the Cowboys stand on adding the future Hall of Famer is a mission in itself. Will Dallas sign a player who just got cut by one of the top teams in the AFC? Or will Jones pass on bringing in a veteran whose attitude issues led to his swift exit?
Earl Thomas is still waiting to find a new NFL team
For years, Earl Thomas ranked as one of the best safeties in the NFL. A hard-hitting, ball-hawking missile, he earned a Super Bowl ring as one of the founding members of the Legion of Boom. Last offseason, he signed a four-year, $55 million deal to join the Baltimore Ravens.
Thomas showed he still had plenty left in the tank by earning Pro Bowl honors for the seventh time in his career. However, he never got a chance to play out the rest of his deal.
The Ravens cut Thomas just two days after he punched teammate Chuck Clark during practice. Baltimore sent a strong message by getting rid of a player who many view as a Hall of Fame lock.
Speculation surrounding his next NFL landing spot naturally included the Cowboys. Dallas looked into acquiring Thomas back in 2018. However, Jerry Jones ultimately passed on trading for the perennial Pro Bowler. But with Thomas free to sign anywhere, that has only led to more rumors about a possible union with Jones' team.
Jerry Jones sends a confusing message about Thomas
Jerry Jones has been asked on more than a few occasions about the Cowboys' interest in Earl Thomas. Just a week ago, the 77-year-old owner appeared on 105.3 The Fan to discuss where Dallas stood on the seven-time Pro Bowler. Jones explained that the Cowboys have to evaluate several factors before moving forward. However, he did not rule out the possibility of signing Thomas.
On Tuesday, Jones once again appeared on 105.3 The Fan. And yet again he faced questions about the prospect of adding Thomas to a roster teeming with talent. Only this time, he sent a confusing message that leaves more questions than answers (H/T Pro Football Talk)
"We have discussions that certainly he's an outstanding football player," Jones said. "We're sitting here at personnel time and we're looking for ways to get better, and he would be one of several that we would discuss during this particular time as we finalize this roster."
As if that was not vague enough, Jones followed up with the ultimate tease that will leave some confused as to the Cowboys' true stance on Thomas.
"It would be a misleading thing to say we haven't discussed him; it would be a misleading thing to say that we have," Jones said.
Should the Cowboys sign the All-Pro safety?
Based on Jerry Jones' public comments, the Cowboys have not had direct discussions with Earl Thomas. However, it seems like the team has explored the possibility of adding him to their defense. Of course, his chances of becoming a Cowboy may have increased with Xavier Woods suffering a groin injury.
The 2017 sixth-round pick has been the team's starting free safety in each of the last two seasons. However, if he misses extended time now, or at any point during the season, that would force Dallas to rely on uninspiring options at safety.
However, signing Earl Thomas would give the Cowboys a terrific third safety to go along with Woods and Ha Ha Clinton-Dix. Dallas could employ a rotation to keep all three players healthy. Plus, Thomas probably won't cost much given his unceremonious exit.
A one-year, incentive-laden deal could entice him to join a Cowboys team with legitimate Super Bowl potential. Thomas could then hit the free-agent market in 2021 and potentially score a multi-year contract to finish out his NFL career.
At the end of the day, though, Jerry Jones makes the final decisions in Dallas. And based on Tuesday's confusing message, there does not appear to be any clear resolution in sight. We will have to see if Earl Thomas ends up in Dallas, or if the Cowboys pass over yet another opportunity to bring the talented safety back home to Texas.
Like Sportscasting on Facebook. Follow us on Twitter @sportscasting19.