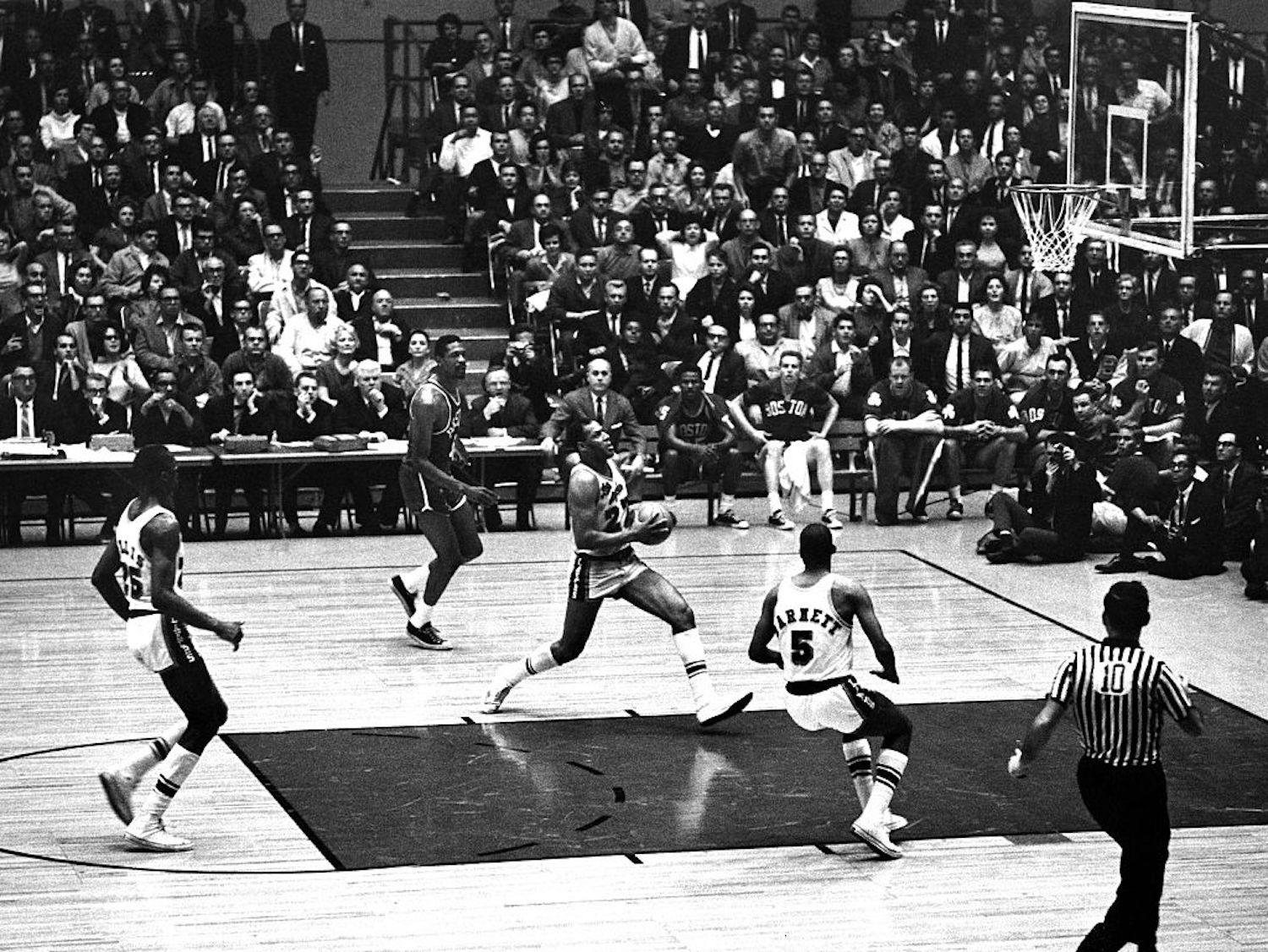 Elgin Baylor's Career-High 71 Points Might Not Have Been His Best Game Ever
Elgin Baylor's 71-point game is one of the highest in NBA history, but it might not even be the Laker legend's best performance as a pro.
In 1960, Elgin Baylor made NBA history when he scored 71 points in a single game for the Los Angeles Lakers. At the time, it was the most prolific scoring game in the history of the NBA. Wilt Chamberlain came along a few years later and overtook the record with 100 points, but Baylor's 71 still ranks in the top 10 of the highest-scoring games of all time.
Although it's his most famous performance, it might not even be his best game as a pro. Baylor's true greatest game came two years later in the 1962 NBA Finals.
Elgin Baylor is an underrated Lakers' legend
Elgin Baylor is a 10-time All-Star and basketball Hall-of-Famer, but he still might be one of the most underrated players in NBA history. He's rarely mentioned alongside the Bill Russells or Wilt Chamberlains of the 1950s and '60s.
In terms of the Lakers franchise, Baylor in criminally under-appreciated. Magic Johnson, Kareem Abdul-Jabbar, Shaquille O'Neal, and Kobe Bryant are always named before Baylor.
Baylor played all 14 of his NBA seasons with the Lakers. He averaged 27.4 points over his entire career, but he was much more dominant in his prime. From 1961-1963, Baylor averaged 34 points per game or more in each season.
Baylor was also an elite rebounder during his career. He was the best to ever do it in a Lakers uniform, as his 11,463 career rebounds is the most in franchise history.
Baylor finished his career with 11 All-Star appearances and a Hall-of-Fame induction.
Baylor's 71 points is one of the best single-game scoring performances ever
In 1960, Elgin Baylor put up one of the greatest single-game performances in NBA history. He scored 71 points and grabbed 25 rebounds in a win against the New York Knicks on Nov. 15.
At the time, Baylor set the record for most points scored in a single game. Wilt Chamberlain surpassed Baylor a few years later, but Baylor's 71 points is still the eighth-highest total in NBA history.
Baylor's iconic game against the Knicks is widely regarded as his most impressive statistical game of his career. That might not actually be the case.
His Game 4 showing in the 1962 Finals is more impressive
Elgin Baylor's 71 points and 25 rebounds in a single game is one of the all-time performances in NBA history, but it might not even be his most impressive game.
In the 1962 NBA Finals, Baylor powered the Lakers to a Game 5 victory over the Boston Celtics with 61 points and 22 rebounds. No one else on the team had more than 26 points.
Baylor almost single-handedly defeated one of the greatest dynasties in sports history on the biggest stage. His 61-point performance remains the highest-scoring NBA Finals game of all time from a single player. Michael Jordan, the greatest NBA Finals performer ever, never scored more than 55.
The Celtics came back to win the series in seven games, but Baylor still averaged 37.5 points per game the rest of the way. Baylor deserved an NBA championship for his historic performance, but he ran into the buzzsaw that was the Boston Celtics in the 1960s.
Still, Baylor's 61-point NBA Finals game is the greatest of his career, and one of the most impressive Finals performances in NBA history.
All stats courtesy of Basketball Reference