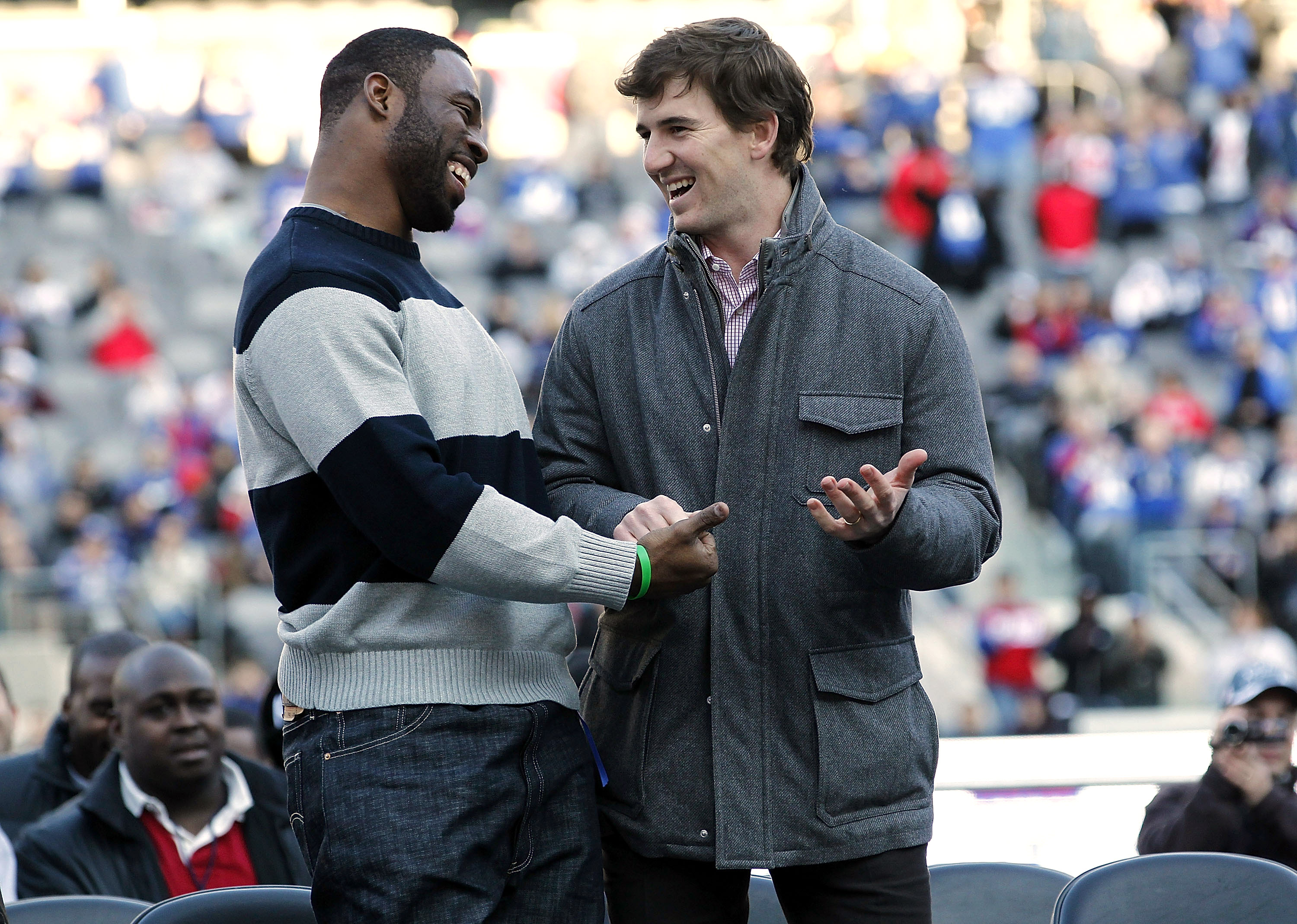 Eli Manning Once Pranked Giants Guard Will Hernandez With a $27,000 Dinner Bill
A broke Giants guard, Will Hernandez, faced one bill in particular, from none other than quarterback Eli Manning, made him panic.
The NFL is one of the few institutions where one can go from poverty to many millions. What the league offers is incredible for the few who can earn it. Will Hernandez is a great example. His childhood was a minefield of financial challenges. Today, he's paid back his family many times over for their sacrifices. But one bill in particular, from none other than quarterback Eli Manning, made Hernandez panic.
Will Hernandez fought his way into the NFL
Hernandez nearly fell off the path to the NFL. Acutely aware of how few players actually make it, he was never quite sure. At one point, he left his high school football team to focus on contracting work with his dad.
Coaches changed his mind and put him on the path to becoming an All-American guard at UTEP, reports the El Paso Times. From 2014-17, he never missed a game. That reliability was enough to have the Giants spend their second-round pick on him in 2018.
Hernandez joined the Giants at an awkward time. The end of Eli Manning's era transitioned to the question mark of Daniel Jones. Even the hope of one Saquon Barkley was quickly dashed by a torn ACL that ended the running back's season. But Hernandez himself is a bastion of consistency, staying healthy enough to play in all 16 games two seasons in a row, according to Pro Football Reference.
Hernandez learned to live on little
These days, Hernandez lives large. He has a beautiful sports car, large homes for himself and his family, and enjoys high-end dining regularly, according to an interview with GQ. But he heavily considers each purchase, and the bulk of his money goes to investments or savings. He's aware of the fact that NFL careers can and often do get cut short.
That careful approach to enjoying the opulence made possible by his four-year, $7.45 million contract comes out of his lived experience. Hernandez grew up in poverty, exacerbated by his father's Las Vegas contracting business collapsing after the 2008 economic crash. At one point, as Empire Sports Media reports, he was forced to live in a shed when the family could no longer afford their home.
Most of the Giants guard's money goes to the places that make financial advisors happy. But today, when it comes to his family, he's fully capable and willing to pay the bills. That said, there was one bill that he wasn't quite ready to take on.
The time Eli Manning hilariously pranked Hernandez
When Hernandez broke down how he spent his first million with GQ Magazine, it's more like a list of bills. Payments on a home for his family in Las Vegas, payments on his first car, investing in a bidet … Every anecdote comes with a justification for the spending and a reminder that the bulk of his cash goes to sensible investments.
One bill caught up to Hernandez at the exact wrong time. At an unnamed restaurant, Hernandez had his first dinner with his new teammates on the Giants. Money never came up, but the private room, wine, steaks, and more clearly added up. The bill, $27,000, was plopped in front of the wide-eyed rookie's face.
"The only money I had was a stipend that I've gotten from my agency. So I'm freaking out," Hernandez told GQ. "I just look up at Eli and he tells me, Thanks for dinner, Will."
It turns out $27,000 was just shy of Hernandez's entire stipend. Prepared to pay it, he calmly set his credit card on the table. His heart was racing. The room burst into laughter. It was all a joke. "Hey, man, just messing with you, Will," Manning said with a wry smile. "We already took care of it. It's all good."