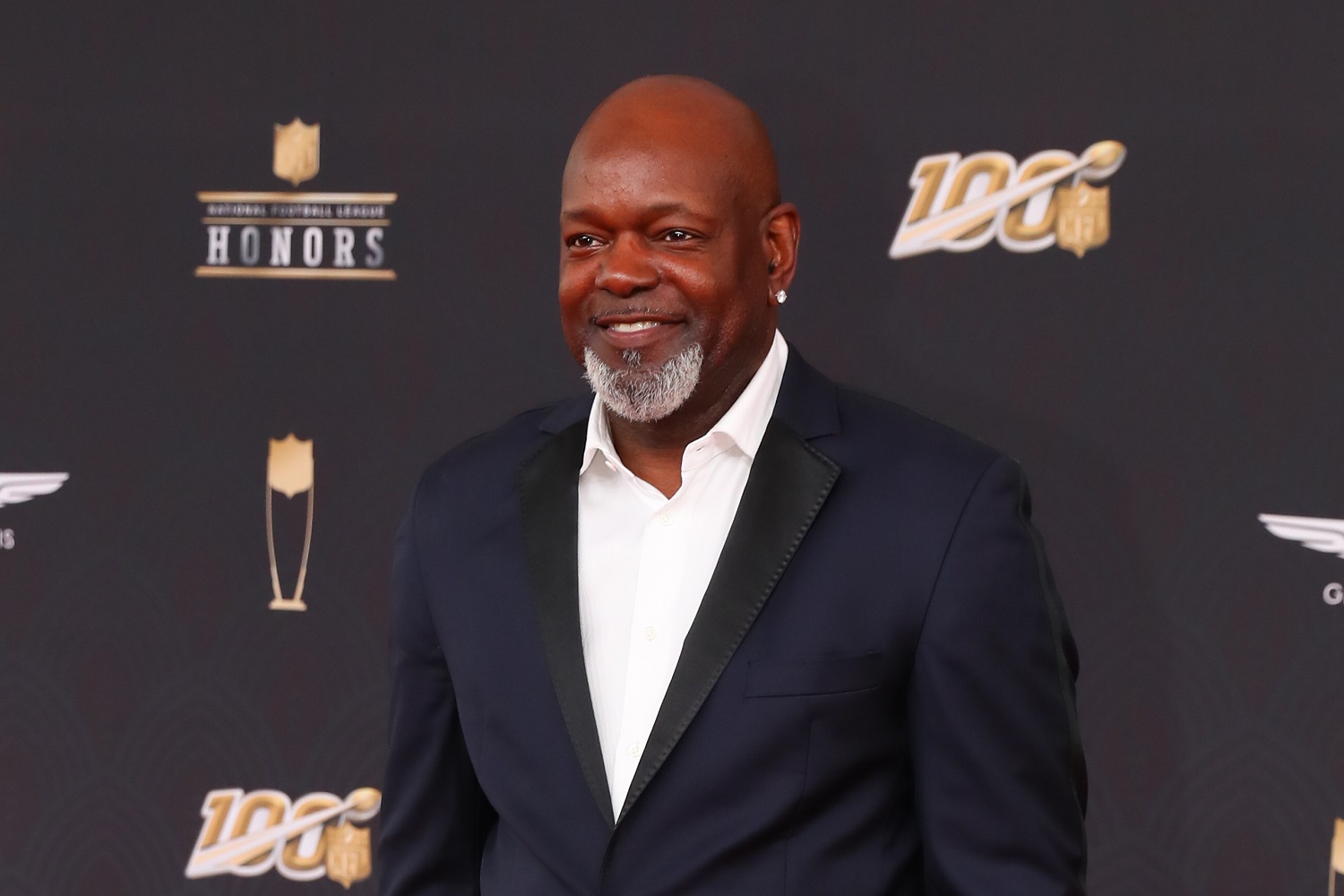 Emmitt Smith Is Naming Names for Improving the Dallas Cowboys' Defense
The Dallas Cowboys have plenty of room for improvement after a 6-10 season. Hall of Fame running back Emmitt Smith thinks outside linebacker is a position in need of an upgrade.
While the Kansas City Chiefs and Tampa Bay Buccaneers prepare for Super Bowl 55, the Dallas Cowboys are among the 30 teams focused on the 2021 NFL season. And focus they should since only one season in their past 18 has ended with something worse than their recent 6-10 mark. Emmitt Smith has solutions in mind – and he isn't bashful.
Emmitt Smith expects Ezekiel Elliott to rebound for the Dallas Cowboys
You don't become the NFL's all-time leader in rushing yards without knowing a little something about running backs, and Emmitt Smith isn't reluctant to share insight into the only player to lead the Dallas Cowboys in rushing five straight seasons since Smith left after the 2002 season.
Ezekiel Elliott ran for 979 yards this past fall, the first time he's fallen short of 1,000 yards in a full season. Elliott's 4.0 yards per carry was a career low, as was his average yardage (6.5) on pass receptions. Mitigating circumstances included losing quarterback Dak Prescott in Week 5. Smith was comfortably above a 1,000-yard pace at the quarter pole despite another obstacle up to that point.
"Many people forget that Zeke had COVID-19 before the season even got started," Smith said, according to the VegasInsider.com. "And no one knows what COVID-19 will do to your body until you go through it."
Smith might be on to something. After fumbling five times in the first six games, Elliott only fumbled once more over the remainder of the season.
"Zeke will be better for what he had gone through this year," Smith said.
The Dallas Cowboys legend calls for 'significant adjustments'
The Dallas Cowboys were awful on defense in 2020, particularly at the beginning of the season as the system installed by new coordinator Mike Nolan under former Green Bay Packers coach Mike McCarthy failed spectacularly. They were raked over for 380 or more total yards 10 times and finished fifth from the bottom of the NFL in scoring defense.
Smith called the 2020 season "an experimental year" for McCarthy to determine what he had in the way of coaches and players for the style of defense that he wants the Cowboys playing.
"I think if he wants to right this ship, he'd better make some significant adjustments this offseason," Smith said.
Interestingly, Smith's comment came after the Cowboys had already fired Nolan and replaced him with former Atlanta Falcons head coach Dan Quinn. So, Smith is clearly pointing to player personnel changes.
Emmitt Smith cites the problem at outside linebacker
Four of the Dallas Cowboys' seven leading tacklers (all 28 years old or younger, by the way) were safeties or cornerbacks, a reflection of a defense giving up 5.0 yards per rushing attempt as running backs were making it past the front seven too often.
Smith sees a fairly young defense that needs to get even younger through the draft.
"Sean Lee is getting a little long in the tooth, no disrespect to Sean Lee, he's going to give his very best effort," Smith said. "Leighton Vander Esch obviously has sustained a number of injuries over the last two years. (I) don't know how long and productive he will be."
Vander Esch and Lee were being counted upon as the outside linebackers but played 10 and nine games, respectively. Lee, 34, has missed 21 games over four seasons. Vander Esch, who is just 24, has missed 13 in the past two years.
"You've got to bring in some guys to replace and back these guys up," Smith said. "You just cannot depend upon them all season long."
All stats courtesy of Pro Football Reference.