Michael Irvin Laughed in Emmitt Smith's Face When the Cowboys RB Made His Boldest Prediction
When Emmitt Smith was drafted by the Dallas Cowboys in 1990, no one could have predicted he would eventually become the NFL's all-time leading rusher. Well, no one except Emmitt Smith.
As a wide-eyed, 21-year-old rookie, Smith actually predicted he would finish his career with the most rushing yards in NFL history. But when he shared his goal with teammate Michael Irvin at the time, the Hall-of-Fame wide receiver just laughed in his face.
Who's laughing now, Michael?
Emmitt Smith made a bold prediction as a rookie
Emmitt Smith was selected by the Cowboys with the 17th pick in the 1990 NFL draft out of Florida. He wasn't even the first running back taken in the draft, but Smith entered the NFL with an unmatched competitive hunger and the loftiest of goals. Smith didn't just want to become the greatest Cowboys RB ever. He had even bigger dreams.
The Cowboys legend recently spoke to fellow NFL Hall of Famer Morten Andersen on the Great Dane Nation Podcast presented by VegasInsider.com, and he revealed his boldest prediction as a rookie.
"Yeah. I told Mike [Irvin] one day, that night I think we were going to play the Rams and Mike and I were in a room and we was just talking and he said 'man, what you want out of this game? What you want to do?' I said 'Michael, I want to become the all-time leading rusher,'" Smith said on the podcast.
Michael Irvin laughed in his face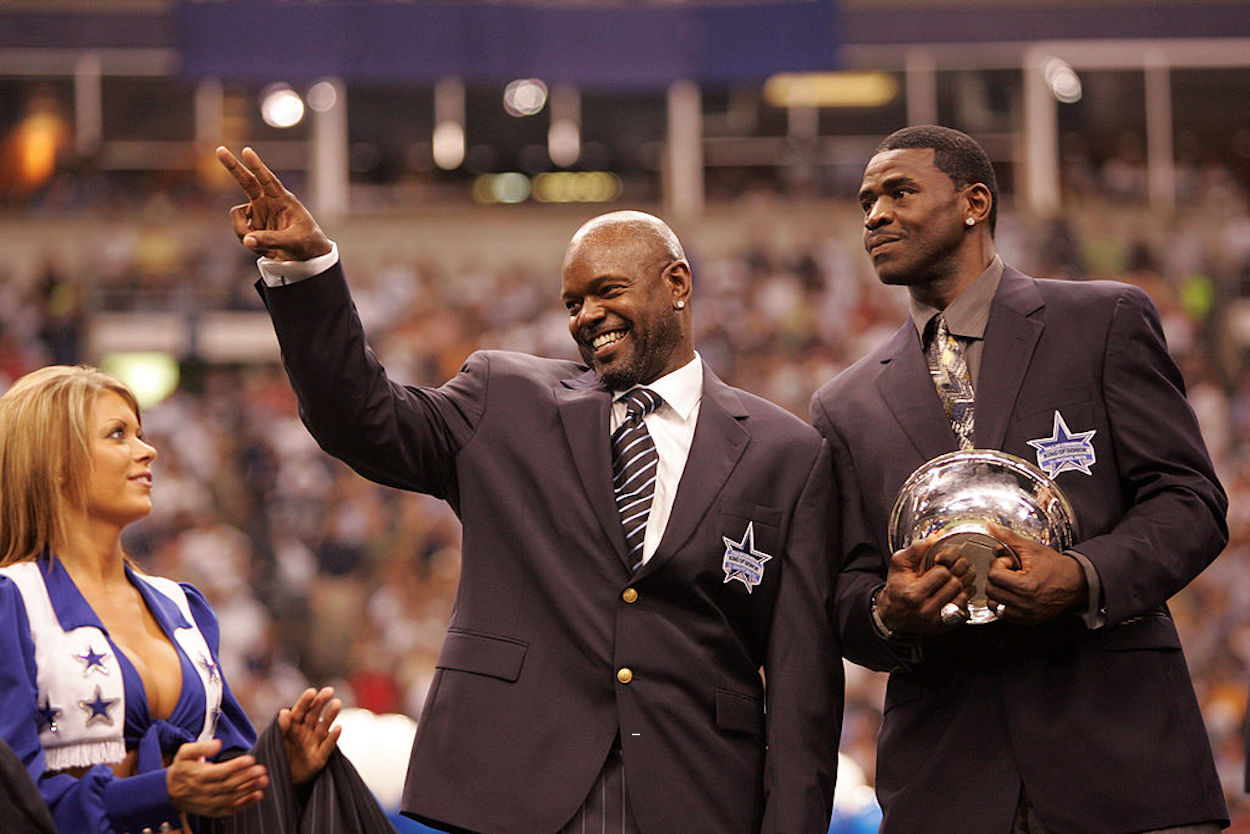 Emmitt Smith was hoping Michael Irvin, a budding star in the NFL at the time, would support him in his goal. But that's not exactly how he reacted.
"He looked at me and he laughed in my face," Smith said.
Thankfully for Smith, he did eventually find a teammate who believed in his vision — defensive back James Washington.
"[Washington] says 'let me see what you've got.' So he sees my paper, he sees my goal list and he doesn't say nothing," Smith said. "He says 'OK. It's good that you're writing down your goals.' And that was it. He walked out. Years later, he told me, he said 'I knew something was going to be special with you because of what you just did.' He said 'because I never saw many people do things like that. And to see the list that you were mounting up, I knew you had to have a focus and commitment. Then when I saw you starting to play,' — even though he played against me in college — 'once I saw you play at the pro level, I was like yeah, this dude is on his way.'"
Emmitt Smith got the last laugh
Incredibly, Emmitt Smith went on to accomplish that lofty goal he set as a young rookie. Smith finished his pro career with 18,355 rushing yards, the most in NFL history.
Michael Irvin, who couldn't help but laugh when Smith shared his prediction with him, wound up regretting ever doubting that 21-year-old rookie.
"Years later, Michael — Michael remembered as if it was just yesterday. It's like 'this man wrote down the things that he wanted to do. This man told me he saw this and wanted to do this and I didn't join at the time and now look at him," Smith said. "This guy sees things that he talks about as if it's going to happen.' And lord knows it ends up happening. And that's a beautiful thing to know that your teammates see things and saw things in you and they believed in you because of things that you talked about, these things that you dreamed about became your reality."