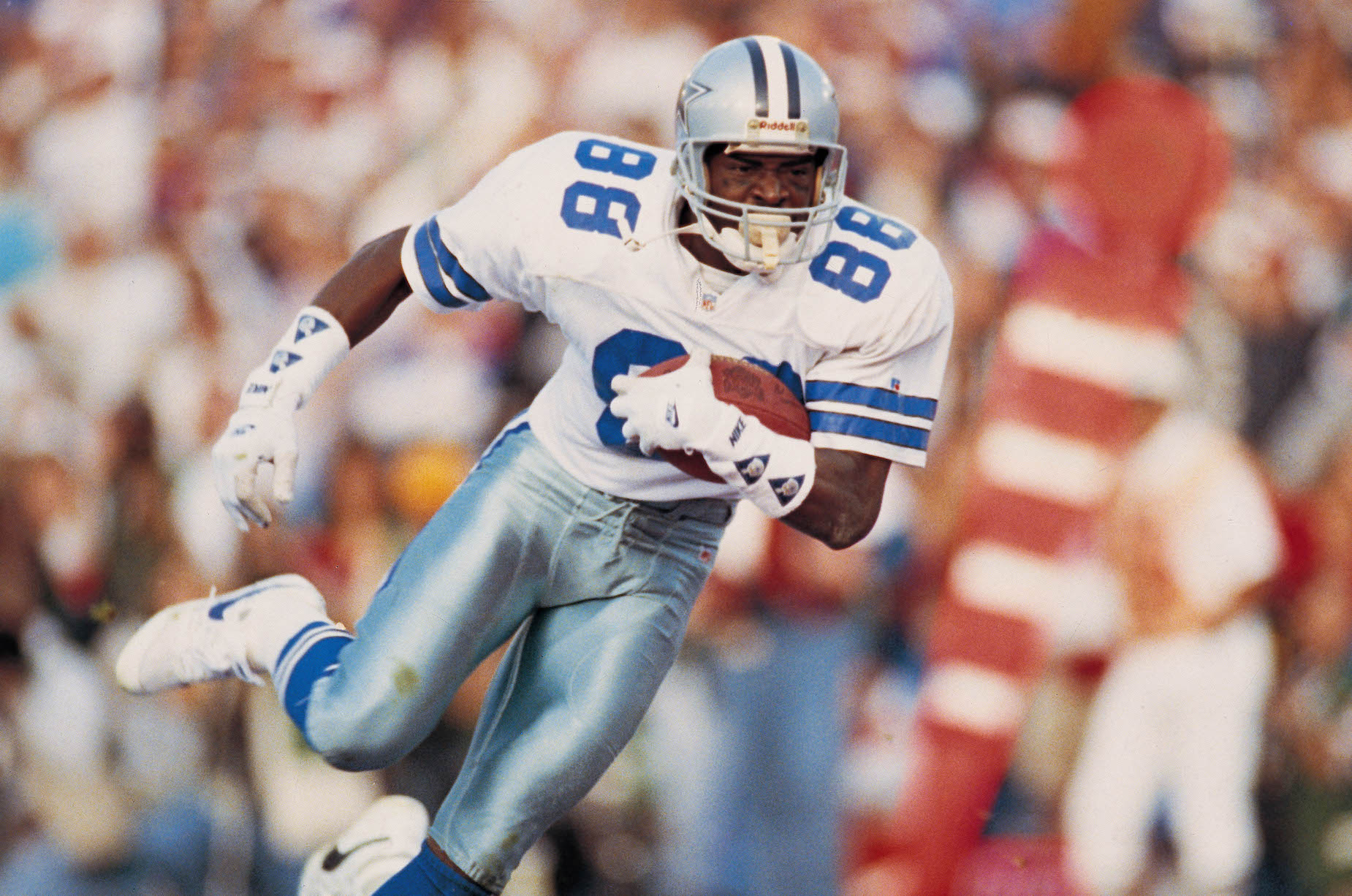 Michael Irvin Is Worth $15 Million but Refused To Cash His First Dallas Cowboys Paycheck
During his time with the Dallas Cowboys, Michael Irvin earned plenty of money. The receiver, however, wasn't in a rush to cash his first NFL check.
While salaries have gotten larger in recent years, the top NFL talent has always been able to command some sizable paychecks. During his time in the pros, Michael Irvin experienced that reality firsthand. In 1995, Jerry Jones and the Dallas Cowboys made Irvin the highest-paid receiver in league history; today, he has a $15 million net worth, thanks, in large part, to his NFL success.
Although Michael Irvin has plenty of money in the bank, not every check he received ever made it there. In fact, the receiver refused to cash his signing bonus after breaking into the NFL.
Michael Irvin's iconic NFL career
For better or worse, the Dallas Cowboys always find their way into the headlines. During the 1990s, however, those headlines were largely positive thanks to guys like Michael Irvin.
Irvin burst onto the football scene at the University of Miami, where he became a star for Jimmy Johnson's Hurricanes. After three years on campus, the receiver decided he was ready for the pros; he entered the 1988 NFL draft and joined the Dallas Cowboys as the 11th-overall pick.
While there were some growing pains—Irvin joined a terrible Cowboys team and, unaccustomed to losing, would cry after games—the wide receiver eventually found success. Before long, Jimmy Johnson, Troy Aikman, and Emmitt Smith arrived in Dallas; that core group would turn the club into a modern dynasty.
Although an untimely injury cut his career short, Irvin still built up quite a resume in the NFL. In addition to winning three Super Bowl titles, the receiver pulled in 750 catches for 11,904 yards and 65 touchdowns; that was enough to earn him a place in the Pro Football Hall of Fame.
Making plenty of money in the NFL
As Dallas Cowboys fans can confirm, Jerry Jones is no stranger to breaking out his checkbook. He certainly did that for Michael Irvin, on at least one occasion.
While all of Irvin's contractual details are lost to time, we do know that he signed a sizable deal in February 1995. According to a New York Times story from the time, the receiver inked a five-year, $15 million contract with the Cowboys; he had apparently been earning $1.25 million per season for the previous three campaigns.
"Michael has become tonight the highest-paid receiver in the history of the NFL, in the history of football," Jones explained. "In every way, he's got the most take-home pay, he's got the biggest gross dollars, he's got the biggest bonus that there's been."
More than two decades later, Irvin is still doing pretty well for himself. According to CelebrityNetWorth, the former Cowboy and current NFL Network analyst has built up an estimated $15 million fortune.
Michael Irvin refused to cash his first Cowboys paycheck
For all of Michael Irvin's money, one check never made it into the bank.
"When I got my first signing bonus, I left that check on the counter at the house forever," Irvin explained on the Dan Patrick Show. "My people were calling me every day, 'man, you've got to send in the check,' 'Michael, send in the check,' Michael, we're losing interest on this.' You're losing interest? Everybody walks in this house and sees that check, I'm getting a whole lot of interest."
"I must've been the brokest dude in the world, and they gave me a check like that," the receiver continued. "With that many zeroes behind it, there was no way I was running that right to the bank without showing it off first. So I showed it off for a little while."
Based on that "little while" comment, it seems like Michael Irvin eventually took that paycheck to the bank. For all we know, though, it could still be sitting on his kitchen counter.
Stats courtesy of Pro-Football-Reference