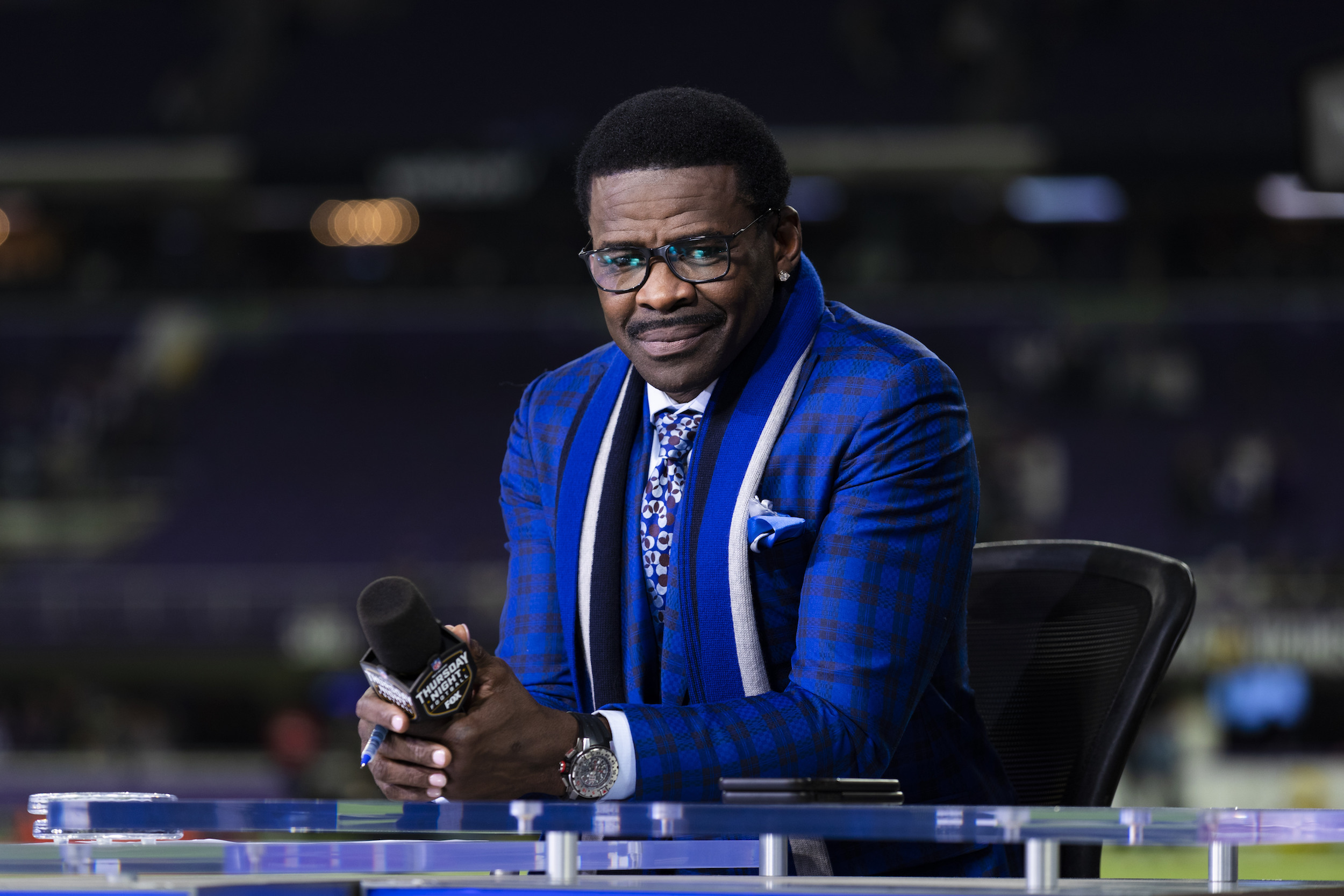 Michael Irvin Dropped His Pants and Mooned the Head of the NFLPA During a Financial Disagreement
Dallas Cowboys receiver Michael Irvin once dropped his pants and mooned the head of the NFLPA during a heated financial disagreement.
Even if you can't stand the Dallas Cowboys, you'll have to concede that their Super Bowl-winning teams in the 1990s were pretty talented. With Troy Aikman under center, Emmitt Smith in the backfield, and Michael Irvin at wide receiver, America's Team took the NFL by storm.
For all of Michael Irvin's talent, however, he was never the easiest player to work with. In fact, he once dropped his pants and mooned Gene Upshaw during a financial disagreement.
Michael Irvin's impressive football career
During their playing careers, most professional athletes pick up at least a nickname or two. As any Dallas Cowboys fan can tell you, there's a reason Michael Irvin was known as 'the Playmaker.'
Irvin burst onto the scene in college, playing for Jimmy Johnson's Miami Hurricanes. During his time in Florida, the receiver pulled in 143 receptions for 2,424 yards and 26 touchdowns; that was enough to make him the 11th overall pick of the 1988 NFL draft.
Life in the NFL, however, proved to be a bit tougher. Irvin joined a terrible Cowboys team; unaccustomed to losing, the receiver cried after almost every game. While Troy Aikman's arrival didn't immediately turn things around, everything eventually changed. Dallas turned into a dynasty.
While an unfortunate injury ultimately ended his career, Irvin spent 12 NFL seasons with the Dallas Cowboys. After a slow start, he piled up 750 total catches, 11,904 receiving yards, and 65 touchdowns. In addition to winning three Super Bowl titles, the receiver also earned a place in the Pro Football Hall of Fame.
Mooning Gene Upshaw over money
During his career, Michael Irvin was never short on confidence. While that probably helped him on the field, it also led to a conflict with Gene Upshaw.
As documented in Sally Jenkins' Sports Illustrated story, Upshaw and Irvin crossed paths during an NFLPA meeting in the Cowboys locker room. "Upshaw, the head of the NFLPA, was barnstorming around the league to campaign for the association's new settlement with league owners," Jenkins explained. "Irvin strenuously objects to the agreement, which, he says, sold out the wealthier players, in part because the pact will limit players' ability to negotiate independent licensing deals."
While both men told slightly different stories about what happened, it seems like Irvin confronted Upshaw and made a "vulgar gesture" before leaving the meeting. According to the Dallas Morning News, the receiver dropped his pants to moon the NFLPA boss.
"Irvin, with a smile, denies a report that he mooned Upshaw, and Upshaw won't confirm or deny it," Jenkins wrote. "Upshaw says only, 'What he did was immature, childish and juvenile.' He adds, 'What I saw was a bunch of his teammates looking at him and thinking, What a selfish son of a b—h."
Michael Irvin was no stranger to emotional outbursts
Michael Irvin's emotional outbursts weren't limited to that potential mooning, though. His time with the Dallas Cowboys included a handful of other episodes.
During 1998's training camp, for example, Irvin apparently took offense waiting behind Everett McIver for a haircut. The two men came to blows, and Irvin eventually stabbed the lineman in the neck with a pair of scissors; thankfully, he missed his teammate's carotid artery, avoiding a potentially fatal incident.
Ivrin also lashed out at reporters in 1994, shortly after Jimmy Johnson left Dallas. The receiver felt that the media was at least partially responsible for running the coach out of town and threw a trash can at the assembled crowd. "I tossed the garbage can to help them get out of there. All of this is garbage symbolically what it was saying," Irvin told Darren Woodson. "I'm tossing garbage at the garbage that just put me in a garbage situation. That's what that was in the media."
On the field, Michael Irvin's talent terrified opposing defenses. Away from the field, though, you probably wouldn't want to cross him, either.
Stats courtesy of Sports-Reference and Pro-Football-Reference