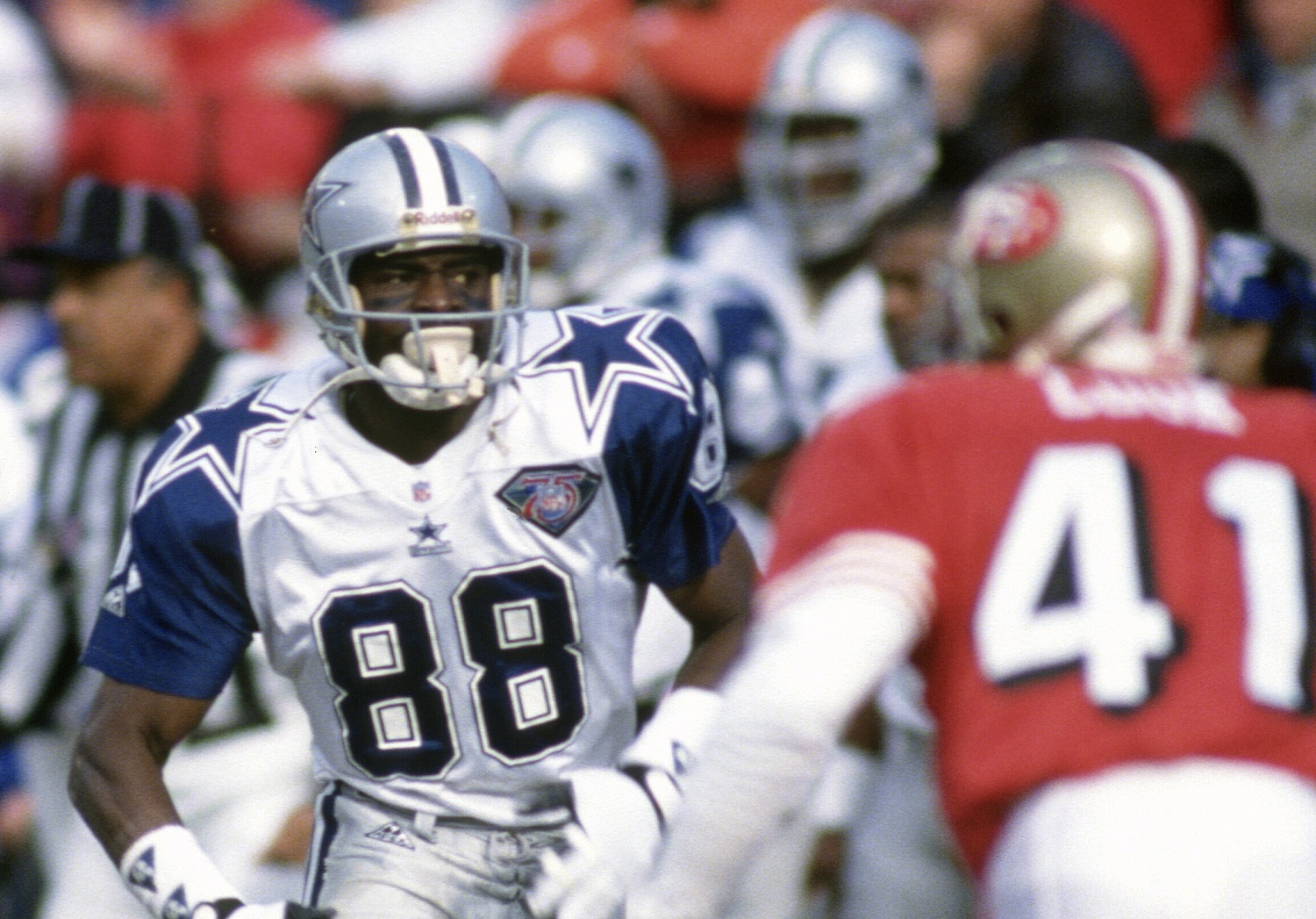 Jason Garrett Reveals Michael Irvin's Work Ethic That Set Him Apart
Dallas Cowboys receiver Michael Irvin impressed teammate Jason Garrett with his passion to become a better player.
The 165 completions that Jason Garrett threw in games pale in comparison to the thousands of passes he threw to Michael Irvin during Dallas Cowboys practices over seven NFL seasons.
But it is an offseason workout the two had with no one else present that has stuck with Garrett for more than two decades. It showed just how determined the receiver was to be the best in the game.
Michael Irvin and Jason Garrett had distinctly different careers
Michael Irvin formed the Dallas Cowboys' famed "triplets" alongside quarterback Troy Aikman and running back Emmitt Smith from 1990 to '99. He was selected for five consecutive Pro Bowls beginning in 1991, when he led the NFL with 1,523 receiving yards.
Irvin was a 1,000-yard receiver in seven of his 12 pro seasons after arriving as the Cowboys' first-round pick out of the University of Miami in 1988. By the time he retired, Irvin piled up 750 catches for 11,904 yards and 65 touchdowns. He was also part of three Super Bowl championship teams.
On the other hand, Jason Garrett was almost exclusively backup equipment for Aikman in his seven seasons in Dallas after arriving in 1993 as an undrafted free agent. Garrett was a member of two Super Bowl winners but appeared in just 25 games. He went 6-3 as a starter, finishing his career with 11 touchdown passes.
Jason Garrett reveals Michael Irvin's top-notch work ethic
Dallas Cowboys great Michael Irvin was selected to the Pro Football Hall of Fame in 2007, and Jason Garrett witnessed first-hand the hard work that Irvin did in paving the way to induction.
"Michael was a special player," Garrett said in an appearance on Morten Andersen's VegasInsider.com podcast. "Michael was the energy behind those teams — the competitiveness that he brought every day, the leadership that he provided. He was an amazing teammate, and he knew everybody. He made a conscious effort to get to know everybody and connect with everybody."
One of Garrett's favorite stories about the star receiver involved a string of messages Irvin left asking him to come to the Dallas Cowboys' training facility to work on pass routes as soon as he got back in town.
Garrett was used to throwing to Irvin often in practices as the coaches saved wear and tear on Troy Aikman's arm. But this workout was different. It was just Irvin and Garrett on a Sunday night in July, shortly before the start of training camp.
"I go up to Valley Ranch and Michael's there and he's got his weighted girdle on, his weighted vest on, his shoulder pads, his jersey, his helmet, and his Walter Payton mouthpiece that he used to wear," Garrett said. "And, you know, it's 7 o'clock at night, but it's 100 degrees out in Dallas."
This was no half-hearted workout in the Dallas heat
Jason Garrett said the Sunday night workout with Michael Irvin in July was grueling sets of 20 pass patterns with not much rest in between.
"We did five sets," Garrett said, "and we probably said three words to each other. We'd done the routine so much."
Garrett walked off that Dallas Cowboys practice field with a new appreciation of just how hard Irvin wanted to succeed. 
"He was such a substantive person, substantive player who worked so hard at his craft and wanted to be great and wanted us to be great. And, again, the experience to be around a guy like that was special."

Jason Garrett
All stats courtesy of Pro Football Reference.