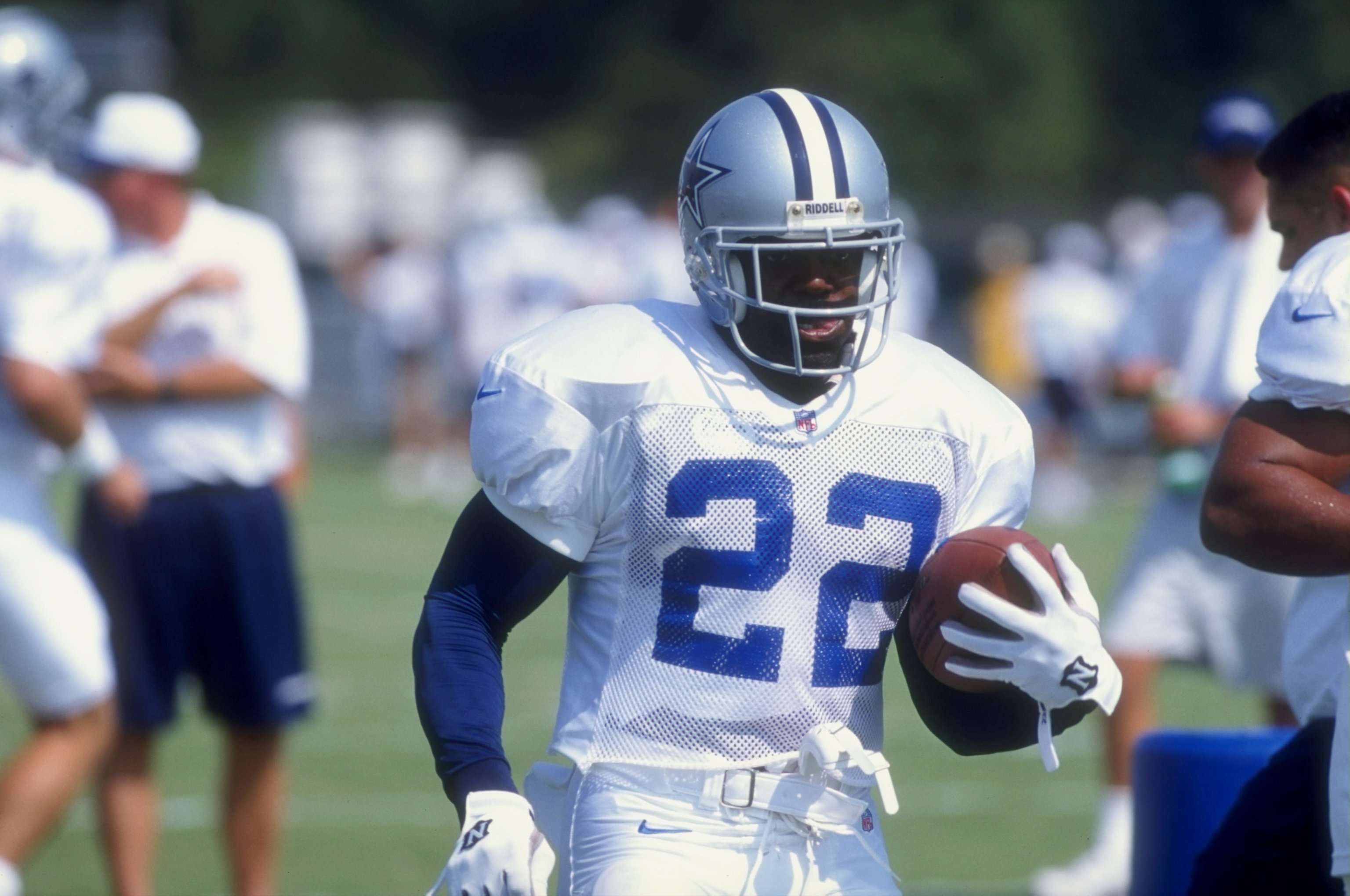 Cowboys Great Emmitt Smith Kept a Promise to a Dying Walter Payton
Emmitt Smith enjoyed a friendship with fellow NFL legend Walter Payton and pledged to fulfill a request from the Chicago Bears great.
Other than being great running backs born in southern states, NFL stars Walter Payton and Emmitt Smith didn't have much that connected them until Smith started moving within striking distance of the Chicago Bears great's career rushing record. As that moment grew closer, however, so too did the Hall of Fame players.
They became so close, in fact, that Payton asked an important favor of Smith, and the Dallas Cowboys legend was happy to oblige.
Two great NFL running backs
Being born 15 years apart meant that Walter Payton and Emmitt Smith did not have overlapping NFL careers playing a position in which they enjoyed overwhelming success.
Payton, a Mississippi native, came to the Chicago Bears by way of Jackson State. After a solid rookie season in 1975, he put together six consecutive 1,200-yard rushing years, only once averaging under 4.2 yards a carry in a season. By the time he was done, Payton would be selected first-team All-Pro five times and accumulate 16,726 yards on the ground. When he retired after the 1987 NFL season, he also had 110 rushing touchdowns and 492 receptions, with 15 of those going for scores.
Smith, born and raised in Florida, arrived in the NFL as the Dallas Cowboys' first-round pick out of the University of Florida in 1990. He would lead the NFL in rushing yards four of his first six seasons and string together an amazing 11 seasons of 1,000 or more yards.
Smith broke Payton's career rushing record early in the 2002 season and went on to play another two years, ending his 15-year career with the Arizona Cardinals. By the time he was done, Smith had rushed for 18,355 yards and 164 touchdowns. He also caught 515 passes for another 11 TDs.
Payton was enshrined in the Pro Football Hall of Fame in Canton, Ohio, in 1993. Smith followed in 2010.
Walter Payton, the man known as 'Sweetness,' died young
When Walter Payton did not appear at the February 1999 ceremony at which Jarrett Payton announced his college choice, the official explanation was that the retired NFL great did not want to take the spotlight away from his son.
However, there was more to it than that. Within days, Payton disclosed that he had been diagnosed with primary sclerosing cholangitis and bile duct cancer. The condition was discovered too late to make a liver transplant a viable option. He spent part of his remaining time promoting organ donation causes and working on his autobiography.
Payton died on Nov. 1, 1999, at the age of 45, and the NFL conducted ceremonies in his honor before each game that week. His funeral service attracted a long list of prominent players and elected officials.
The NFL had been honoring a Man of the Year each season since 1970. In 1999, the league announced that the award was being renamed the Walter Payton NFL Man of the Year Award.
Emmitt Smith and Walter Payton had mutual respect
We sometimes lose sight of the fact that it's possible for elite athletes to be both proud of their own achievements and appreciative of what their peers accomplish. Walter Payton and Emmitt Smith struck up a friendship over the years as the Dallas Cowboys great moved methodically toward breaking the NFL record for career rushing yardage.
After being diagnosed with a disease that he understood would kill him, Payton received a visit from Smith, who came away impressed with the calm and dignity exhibited by the retired Chicago Bears running back. In typical Payton fashion, he was more interested in talking about Smith than about himself.
"I had never seen a person with so much strength," Smith said.  "To face his situation the way he did. There he was, a man who was actually dying, encouraging me."
Emmitt Smith made a promise to Walter Payton
Last year, Jarrett Payton shared a video clip on social media as he wished Emmitt Smith a happy birthday. The clip was from an interview in which Smith recalled the conversation with Walter Payton.
"Basically, I had to ask the question if there was anything I could do," Smith said. "He said, 'No, I'm good. I'm at peace with where I'm at.' But he said, "Every now and then, just reach out to my son Jarrett and make sure that he is OK. Stay in touch with him and just be there for him if he needs you.'"
Smith said he would. True to his word, Smith began calling Jarrett regularly as the teen was early in his career at the University of Miami, a tough time in his life. Jarrett was dealing with the inevitable comparisons to his father and was still in mourning when he met Smith at a golf tournament.
"We really didn't talk that much," Jarrett said. "We said hello to each other and he said he would be looking out for me. I said, 'Thank you.' After that, I knew I had a friend I could look up to."
Smith kept his word to Walter Payton. Shortly after that first meeting, the two began exchanging phone calls on a regular basis.
"I love Emmitt," Jarrett said in an ESPN interview. "He reminds me a lot of my father."