Erin Andrews Candidly Admits Why She Worries About Getting Caught With Her Pants Down While Doing Her Job
When Erin Andrews and Charissa Thompson launched their podcast, Calm Down with Erin and Charissa, the Fox Sports personalities promised to provide an unfiltered look into their lives on- and off-camera. In a November 2021 episode, Andrews delivered just that when she provided a behind-the-scenes glimpse into her professional life and candidly admitted why she worries about literally getting caught with her pants down while on the job. 
Erin Andrews and Charissa Thompson are co-workers and close friends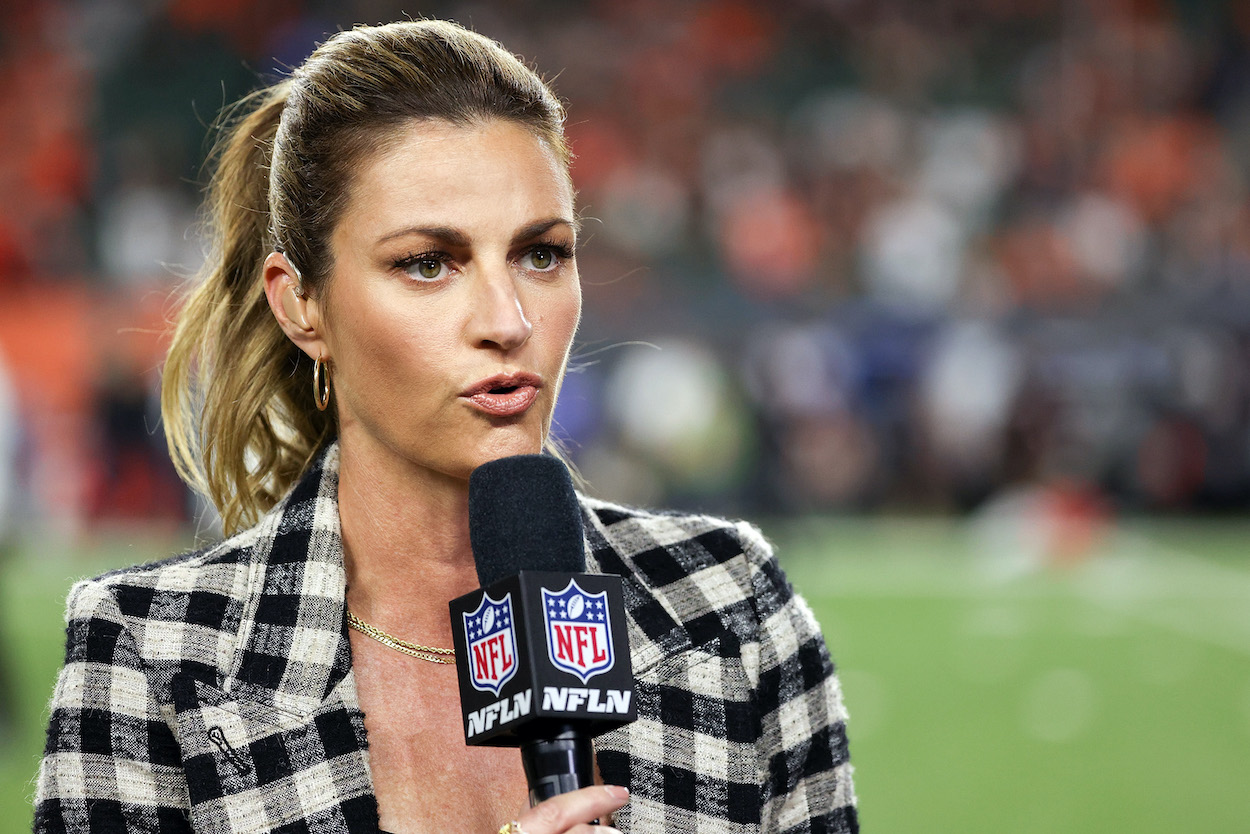 Erin Andrews and Charissa Thompson worked their way up through the ranks to their current jobs. Andrews is in her 22nd season as a sports reporter and her ninth as the primary sideline reporter for Fox's top NFL team. Before joining Fox, she worked at ESPN. 
Conversely, Thompson started in the Fox Sports family before moving to ESPN in 2011. She stayed with the Worldwide Leader for a couple of years before returning to Fox, where she now is the host of the Fox NFL Kickoff show and also interviews players and coaches for the Fox NFL Sunday pregame show. 
While the two women have been co-workers for years, they've also become close friends. Launching a podcast has provided them with the perfect opportunity to show how close they are and to share with fans some of the more entertaining stories from their careers and personal lives. 
Erin Andrews admits she worries about getting caught with her pants down on the job
Erin Andrews gets paid to provide compelling reports before, during, and after the game.
Going into each contest, she has a good idea of what questions she might ask because of her pregame preparation that happens during the week when she has conference calls with the teams. During a recent episode of the podcast, the 44-year-old reporter detailed what those meetings are like and surprisingly admitted why she sometimes worries that she might literally get caught with her pants down.
"We do these conference calls every week," Andrews said. "We do them with the away team and the home team. A lot of crews do Zoom, but our crew, thank God, we don't do that. We do these conference calls with the coaches and the players. They're long. They're like an hour and a half long, but it's how we get our prep done and it's great.
"But sometimes, I got to pee during them. I got to go to the bathroom, and it's like it doesn't matter if it's so and so or so and so. So it's like I'm always holding the phone as I pee because I don't want to A, miss anything, and B, like I always have this crazy feeling like what happens if I get a text and it accidentally hits the unmute button and I'm flushing the toilet and Aaron Rodgers is going over like, why they've struggled on third downs. They could never prove it's me, but I would always just be afraid or I would say something like, 'We're out of toilet paper,' or something like that."
Charissa Thompson has shared her own embarrassing moment
Erin Andrews confessed to her fear of a possible embarrassing moment with the Green Bay quarterback. Earlier this year, Charissa Thompson shared on the podcast her own Green Bay-related embarrassing moment that she experienced during the 2007 NFC Championship Game at Lambeau Field. 
Before the game, with temperatures hovering around zero, Thompson roamed the field and decided to get Giants quarterback Eli Manning involved in a feature story she was producing for The Best Damn Sports Show.  
"So I see Eli Manning and I'm like, hey, let's catch a few passes from Eli Manning because he's not like trying to concentrate on, I don't know, winning the game to go to the Super Bowl," Thompson joked with Andrews.
"Is this pregame you're doing this?" Andrews asked.
"Oh yeah, this is pregame," Thompson confirmed. "I'm out on the field and Eli is so nice. He's like throwing me the ball and I'm running around the field like a complete jackass when all of a sudden, out of the corner of my eye, I see Mike McCarthy at midfield with Green Bay security around him, and he's pointing at me. I'm like, 'Uh-oh.'"
"I would, too. You're on the field?" Andrews questioned in disbelief.
"Oh yeah, running around like an idiot," Thompson said. "I'm like, this is going to be a great feature. It's the whole environment of what's happening. I get escorted off the field by Green Bay security. Mind you, I'm working for Fox. And still, Mike McCarthy had me escorted off the field because I was out of control."
Thompson's embarrassment is a thing of the past. Andrews' is potentially a thing of the future. And despite her suggesting that no one could ever "prove it's me," if it does ever happen, her podcast confession has effectively blown her cover. At least she won't have to worry about getting kicked out of the stadium.
Like Sportscasting on Facebook. Follow us on Twitter @sportscasting19.