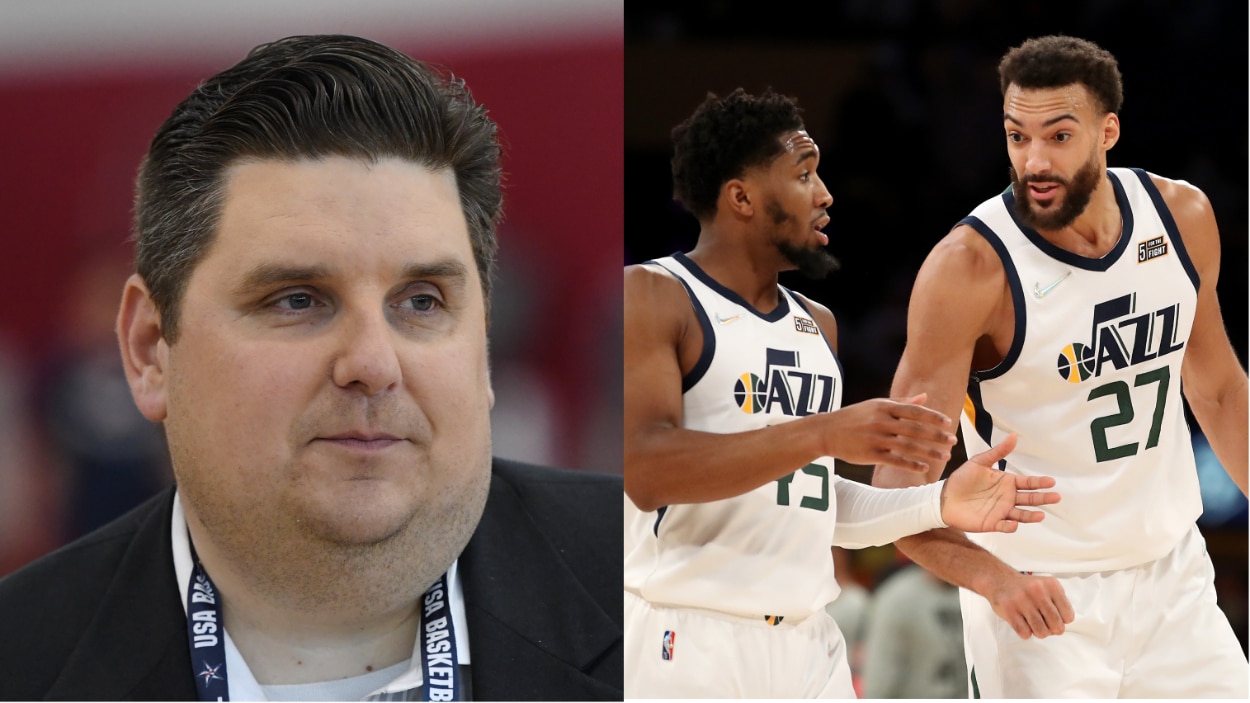 ESPN Insider Brian Windhorst Bizarrely Hints at NBA Conspiracy Theory That Could Affect Kevin Durant Trade: 'What's Going on In Utah?'
ESPN's Brian Windhorst cryptically laid out a theory that something fishy is going on with the Utah Jazz and it may affect a major NBA trade between the Phoenix Suns and Brooklyn Nets for Kevin Durant.
ESPN NBA insider Brian Windhorst usually has the pulse of the league. After years of being LeBron James' personal insider at ESPN, Windhorst now writes and talks about the entire league. He uses his connections within league circles to share nuggets and tidbits others don't have. That's why it's worth sitting up and taking notice after Windhorst went on a bizarre and cryptic rant yesterday that may (or may not) involve Kevin Durant's Brooklyn Nets trade request and definitely involves something fishy with the Utah Jazz.
Brian Windhorst's Utah Jazz conspiracy theory
In a performance worthy of Masterpiece Theater, NBA insider Brian Windhorst went on ESPN yesterday and laid out the case that there is something amiss with the Utah Jazz. And it might affect Kevin Durant, the Brooklyn Nets, and the Phoenix Suns.
In dramatic fashion, Windhorst started by saying, "I'm going to tell you something happened yesterday that league executives are wondering what the heck it means."
The Akron, Ohio native slowly and methodically laid out the case for his conspiracy theory. The broad strokes are this:
Right before the Nets/KD news broke, the Jazz traded mid-level starter Royce O'Neal to Brooklyn for a future first-round pick. Windhorst called this "a very strange trade."
He then (rhetorically) asked why a team like the Jazz, with two stars in Rudy Gobert and Donovan Mitchell, traded a starter in a "salary dump move"?
The next question was, "Why would [former head coach] Quin Snyder walk away from that job?"
Windhorst then noted that Danny Ainge, now an executive with the Jazz, gave first-time head coach Brad Stevens a six-year deal when he hired him to coach the Boston Celtics.
Ainge just gave Will Hardy a five-year contract to coach the Jazz. That is "very rare for a first-time head coach."
Windhorst summed up with a flourish:
Why? What's going on in Utah? And that's what people in the league are watching right now. What's going on in Utah? I think the Brooklyn Nets and Phoenix Suns need to find out what's going on in Utah as well. Because what else happened that first year when Brad Stevens got hired? Danny Ainge Ainge traded Kevin Garnett and Paul Pierce. That Royce [O'Neal] trade yesterday was a very strange trade. A very strange trade.

NBA insider Brian Windhorst on the Utah Jazz
Huh?
What Windhorst's theory could mean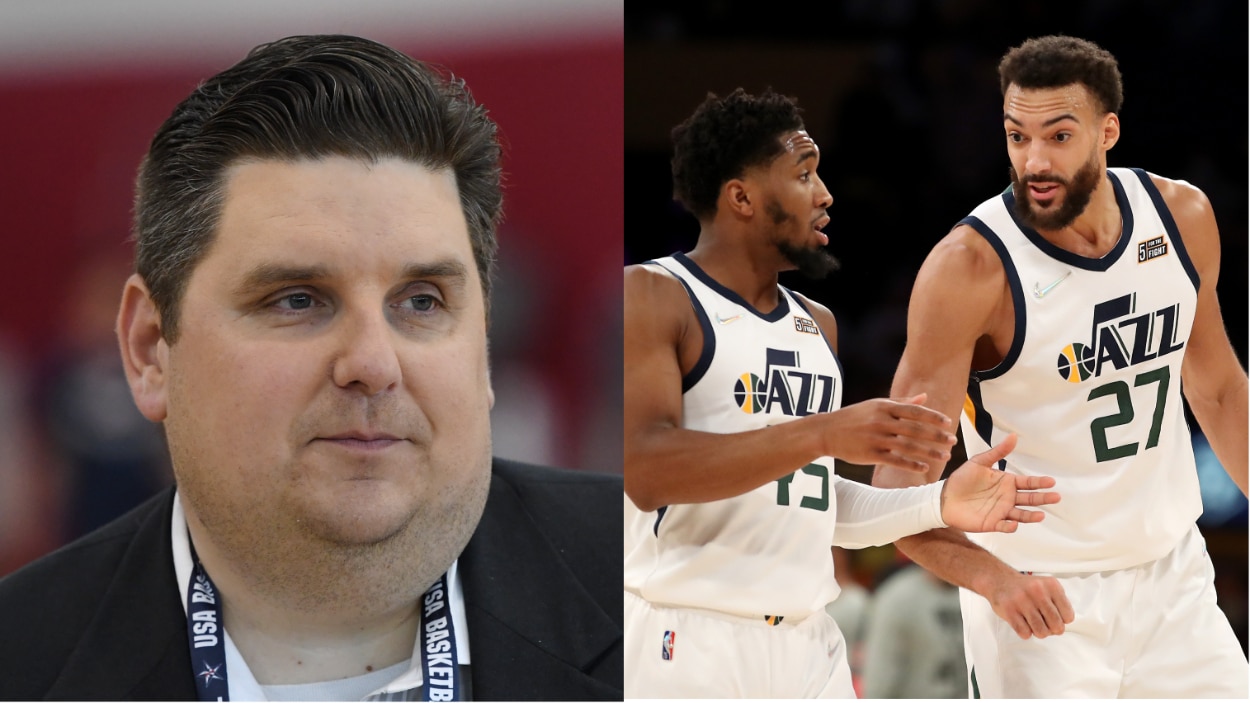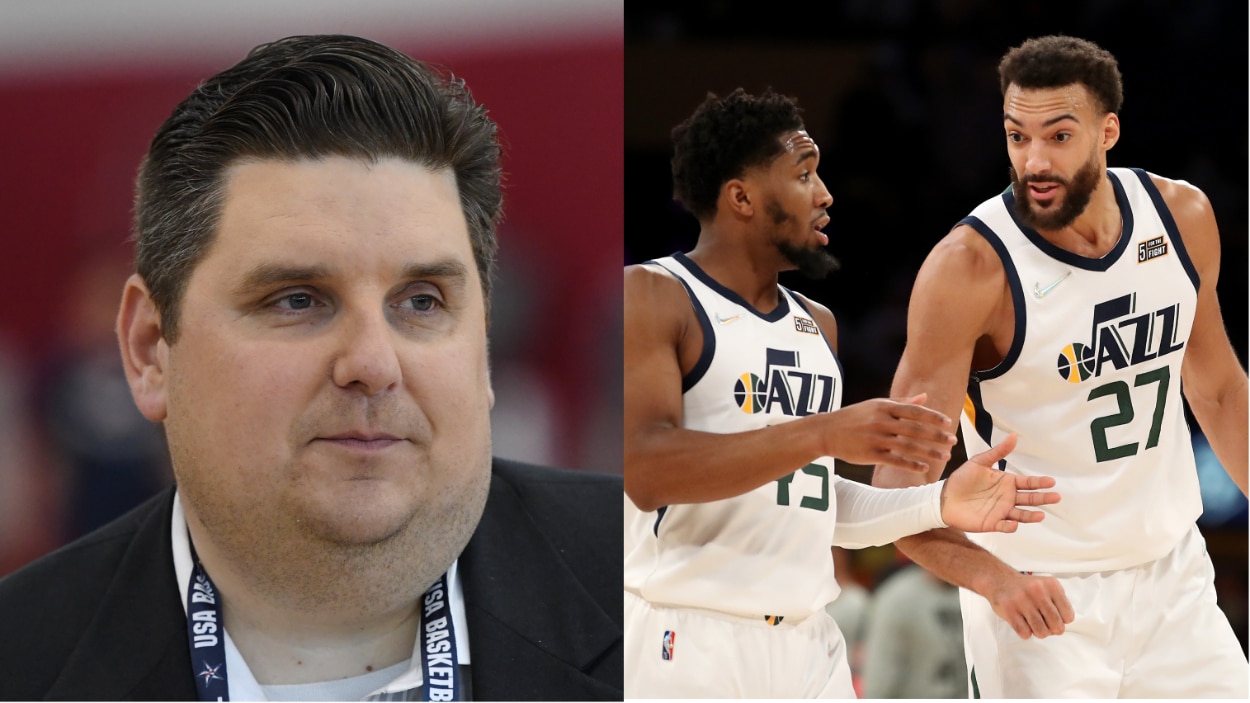 After dumfounding his fellow ESPN commentators with his meandering observations, Brian Windhorst admitted he doesn't know what the Utah Jazz are doing.
Trying to decode Windhorst's cryptic ramblings, it seems like he's suggesting that Danny Ainge and the Jazz are on the verge of blowing up the team and sending both Donovan Mitchell and Rudy Gobert out of town.
It's no secret that the two Utah stars have a rocky history. And, after yet another early-round playoff exit last season, the pairing seems to have reached its ceiling.
If Ainge did give Will Hardy a long-term deal because he knew a long-term rebuild was in the works, that makes sense. It is what he did in Boston with Brad Stevens. Although luring the highly coveted Stevens from Butler was another reason for the lucrative deal.
Saying that the Phoenix Suns and Brooklyn Nets "need to find out what's going on in Utah" suggests that Mitchell, Gobert, or both are available. That would be an interesting wrinkle in the Kevin Durant trade saga.
Right now, the Suns are one of Durant's two preferred destinations (along with the Miami Heat). However, the Nets reportedly are only interested in Devin Booker, who the Suns won't part with.
Phoenix wants to offer Deandre Ayton to Brooklyn, but the Nets want a legit star in return for Durant, not a younger prospect.
This is where the Utah Jazz (could) come in.
A three-team trade that sends Ayton to Utah to start its rebuild, New York native Mitchell to Brooklyn, and Durant to Phoenix (along with draft picks going every which way), could make a lot of sense.
The plot just thickened on Friday afternoon, too, as the Jazz are trading Gobert to the Minnesota Timberwolves, per an Adrian Wojnarowski tweet.
So, all NBA fans should now be wondering, "what's going on in Utah?"
Like Sportscasting on Facebook and subscribe to our YouTube channel.