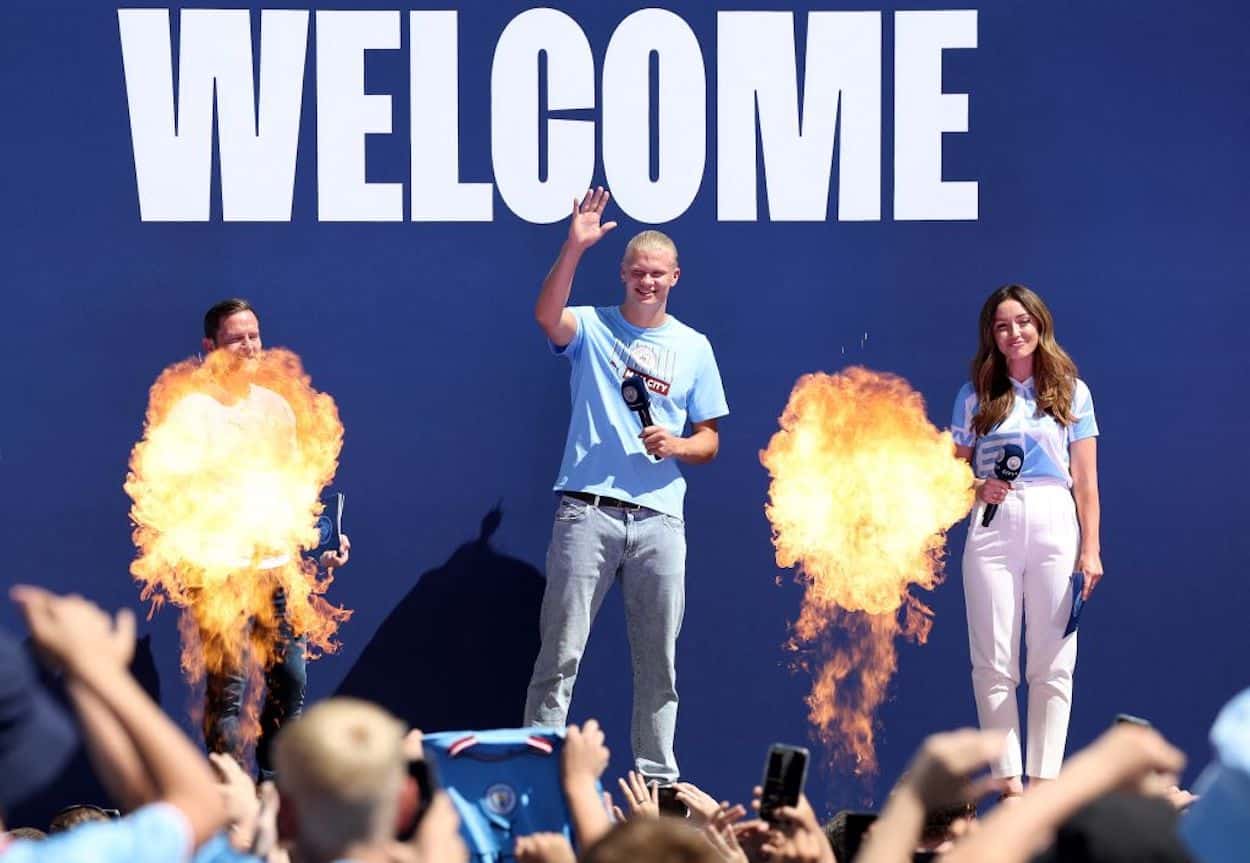 European Soccer Spent More Than $4.4 Billion During the 2022 Summer Transfer Window
Yes, you read that correctly. During the summer transfer window, Europe's biggest clubs ran up a massive bill.
While American sports fans are familiar with free agency windows and trading deadlines, things work slightly differently in world soccer. A deal can technically happen at any time, new players can only be registered during certain windows. That leads to the vast majority of business taking place during the summer, with some more desperate deals happening in January.
Although finances haven't fully rebounded from COVID-19, especially within continental Europe, that hasn't stopped the spending. During the summer 2022 window, clubs with Europe's big five leagues (the Bundesliga, La Liga, Ligue 1, Serie A, and the Premier League) shelled out roughly $4.47 billion.
The traditional giants did plenty of business during the transfer window, but they weren't the only ones
For the most part, financial spending correlates pretty cleanly with footballing success. Big clubs are able to spend lots of money, and that, in turn, helps keep them at the top of the food chain.
Take the 2022 summer window as an example of that reality.
Chelsea led the way with approximately $353 million spent. Manchester United came in second, shelling out a little more than $396million. While you could argue that the third and fourth-place teams, West Ham United and Tottenham Hotspur, aren't traditional powers, they're still London-based clubs capable of flexing their monetary muscles.
After that, though, things get (marginally) more diverse. Nottingham Forest, who just stepped back up to the Premier League this season, spent an eye-watering $205 million essentially rebuilding their entire roster. After some giants in the form of Barcelona and Bayern Munich, Wolverhampton Wanderers finished 10th in gross spending. 
The newly wealthy Newcastle United, Leeds, Everton, and Atalanta also finished inside the top 20.
In total, clubs spent just under $4.5 billion, with the Premier League accounting for roughly half of that money. Like it or not, soccer is a big business.
What were the best buys of the transfer window?
In fairness, some deals can take a bit of time to play out; a player, especially a young one moving up from a smaller league, could need a season to settle in their new home. With that caveat out of the way, though, there are some early candidates for the best deals of the summer 2022 transfer window. For the sake of argument, let's exclude free transfers and focus on paid deals.
Arsenal buying Gabriel Jesus and Oleksandr Zinchenko for $95.92 million
In an era where one player can break the $100 million mark, the Gunners got two Premier League-proven players for a comparative bargain. They both have a familiarity with Mikel Arteta and have already brought some quality to a young Arsenal squad.
While it's only a handful of games into the campaign, Gabriel Jesus has completely changed the dynamic of the Gunners' attack with his willingness to get on the ball, run at defenders, and get back into the box to finish chances. Zinchenko, by tucking into midfield from his left-back role, gives the club another creator who can help beat opposition presses and progress the ball.
Aurelien Tchouameni to Real Madrid
While win-win deals can be tough to come by, this one seems to work for everyone. Monaco cashed on a promising young player, and Real Madrid added some quality to an aging midfield. The move also allowed Los Blancos to flip Casemiro to Manchester United, helping to balance the books.
If things go as planned in the Spanish capital, this one will only look better as time passes. While rebuilding on the fly is never without a couple of growing pains, Tchouameni could be the midfield anchor for a new generation of Real Madrid success.
Erling Haaland to Manchester City
At the risk of being reductionist, goals win games. Erling Haaland is going to score lots of goals, making him incredibly valuable for any team. Add him onto Pep Guardiola's successful City side, and you've got either a dream scenario or a nightmare, depending on your perspective.
And, even if the deal is a bit more expensive than it might initially appear, the club didn't have to pay a massive transfer fee for the young striker. While the finances don't really matter for Manchester City, saving some money is the icing on the cake.
Darwin Nunez to Liverpool
This one might take some time to develop but bear with me.
Spending $82.5 million on a striker who had one successful season in Portugal may seem excessive (a recent red card could also cloud immediate judgment), but Nunez will theoretically allow Liverpool to somewhat evolve the way they attack. With Sadio Mane gone and Roberto Firmino falling down the pecking order, the young Uruguayan will provide a focal point for Jurgen Klopp's attack, allowing the likes of Mohamed Salah and Luis Diaz to play off of him. 
Can things go wrong? Of course, but if everything goes according to plan, Darwin Nunez could be a key factor in keeping Liverpool's window open.
Could these deals look much differently by the start of next season? Of course, but until then, we'll just have to see how things play out. For better or worse, the transfer window and its $4 billion worth of European business is now a thing of the past.
Transfer fees courtesy of Transfer Markt and all currency conversions are accurate as of 9/1/2022.