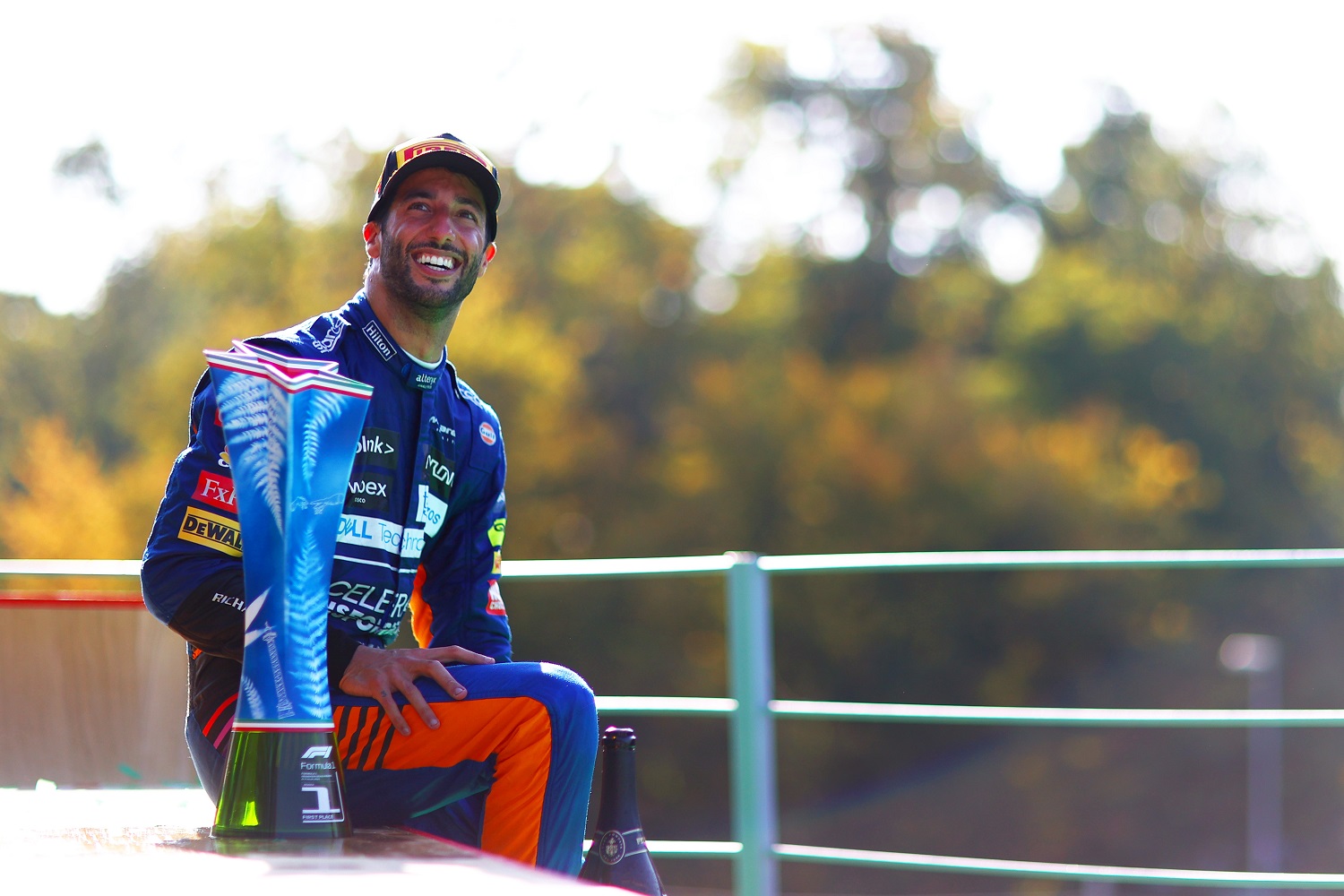 Every Dale Earnhardt Fan Is About To Fall a Little in Love With Formula 1 Racing Thanks to Daniel Ricciardo
Daniel Ricciardo will take a joyride in a Dale Earnhardt 1984 NASCAR Monte Carlo before getting down to business at the United States Grand Prix on Oct. 24 at the Circuit of the Americas.
Coming to the United States off a 13th-place finish isn't exactly the formula for captivating the crowd. But coming to NASCAR country and expressing your admiration for Dale Earnhardt will generally do the trick, so Daniel Ricciardo will be growing his fan base in the coming days.
Ricciardo is a talented Formula 1 driver who grew up with an appreciation for other forms of racing. He even managed to keep track of NASCAR while growing up in Australia, which explains his affection for Earnhardt, one of the legendary figures of American racing.
Daniel Ricciardo's finest moment of the season didn't get maximum attention
Daniel Ricciardo, 32, has been driving in Formula 1 since 2011 and has scored enough victories and podium finishes to make an impression. His most recent victory came in the midst of the epic battle between Max Verstappen and seven-time series winner Lewis Hamilton for the World Drivers' Championship.
In fact, that victory on Sept. 12 at the Italian Grand Prix was only the second-biggest story of the day in Formula 1. That's because Verstappen and Hamilton collided midway through the race, ending the day for the best-known drivers from the sport's hottest teams and leaving fans understandably stunned. Even as Ricciardo took command and scored a victory by 1.747 seconds over McLaren teammate Lando Norris, the chatter was overwhelmingly about the dramatic crash between the points leaders.
Being overshadowed by a wreck was a heck of a way to score career F1 victory No. 8, but Ricciardo scored a treasured consolation prize: the promise of a ride in a 1984 Monte Carlo that Dale Earnhardt drove.
Daniel Ricciardo made a deal with his new boss
It's no coincidence that Daniel Ricciardo has almost always driven the No. 3 car in his racing career, nor that his next ride will be in a No. 3 Monte Carlo before he settles into preparations for the United States Grand Prix.
It stems from last offseason as Ricciardo negotiated his move from Renault to McLaren to replace Carlos Sainz, who jumped to the Ferrari team. Ricciardo bonded with McLaren Racing executive Zak Brown, another student of racing history. Brown has assembled an impressive collection of race cars, and one of them is Dale Earnhardt's 1984 No. 3 Chevrolet Monte Carlo from his early days on the Richard Childress Racing team.
As the two sealed their deal, Brown promised his new driver that he could take the Earnhardt car for a spin if he scored a podium finish this season. Such performances became the exception rather than the rule for McLaren once Lewis Hamilton left after the 2012 season, so Brown likely didn't expect to have to pay off so soon.
Brown reportedly stores the Earnhardt car in Europe, but media outlets that regularly cover Formula 1 report that he is shipping the vehicle to Circuit of the Americas, the venue for the United States Grand Prix on Oct. 24. Ricciardo said in a recent podcast that he suspected as much.
The Australian driver looks to put Turkey behind him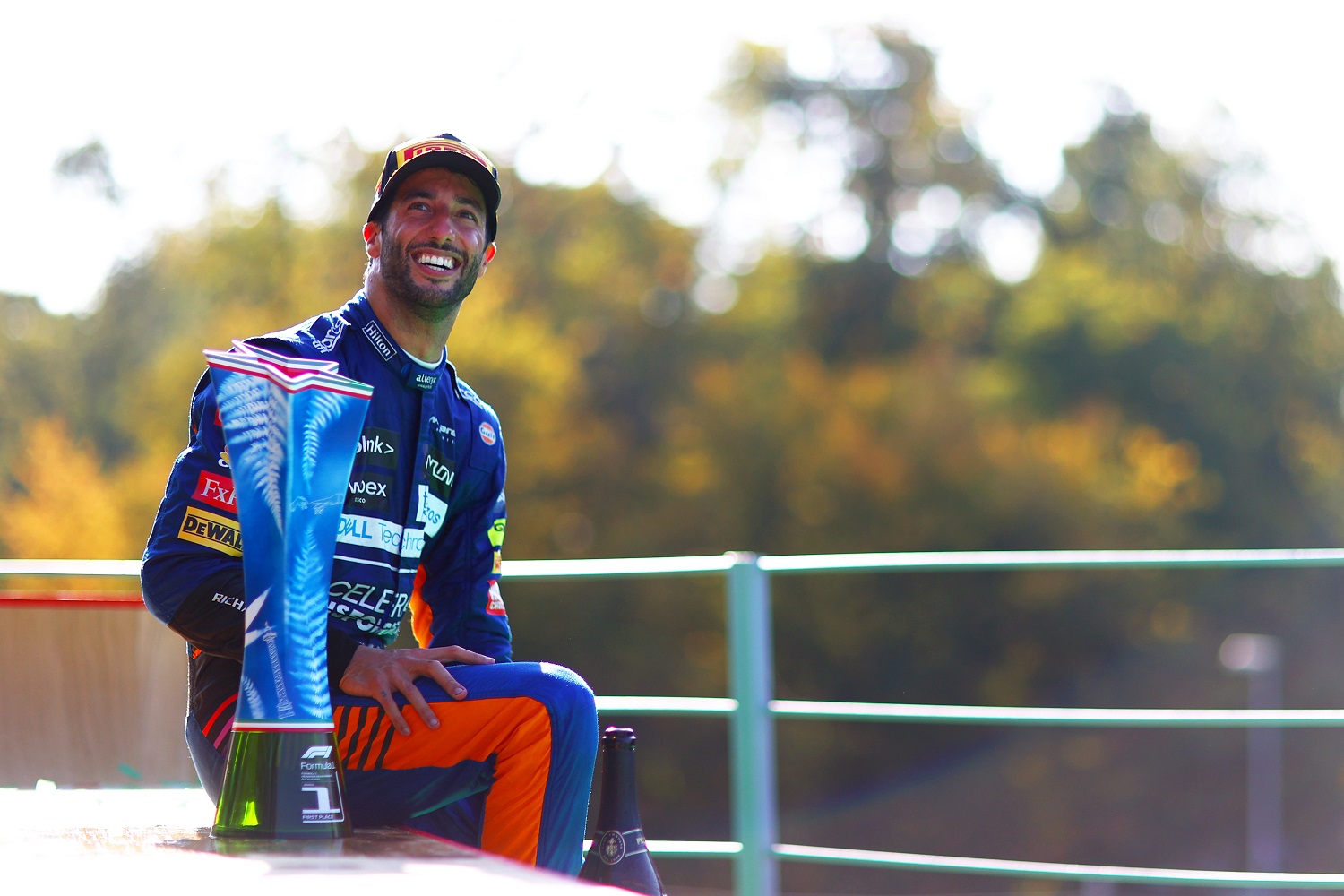 McLaren driver Daniel Ricciardo will be coming to the United States Grand Prix on the heels of a 13th-place finish at the Turkish GP his last time out. It matched his worst finish of the Formula 1 season, though Ricciardo was starting from the last position in the 20-car field after swapping out his engine. Still, he'd followed the Monza victory with fourth place in Sochi, so 13th place was not an optimal outcome.
"I don't want it to get our spirits down. It's one of those weekends that wasn't good," Ricciardo conceded to Motorsport.com.
He added: "As long as we can learn, we'll move on."
Yes, first in an '84 Monte Carlo and then in the McLaren Formula 1 car.
Like Sportscasting on Facebook. Follow us on Twitter @sportscasting19.