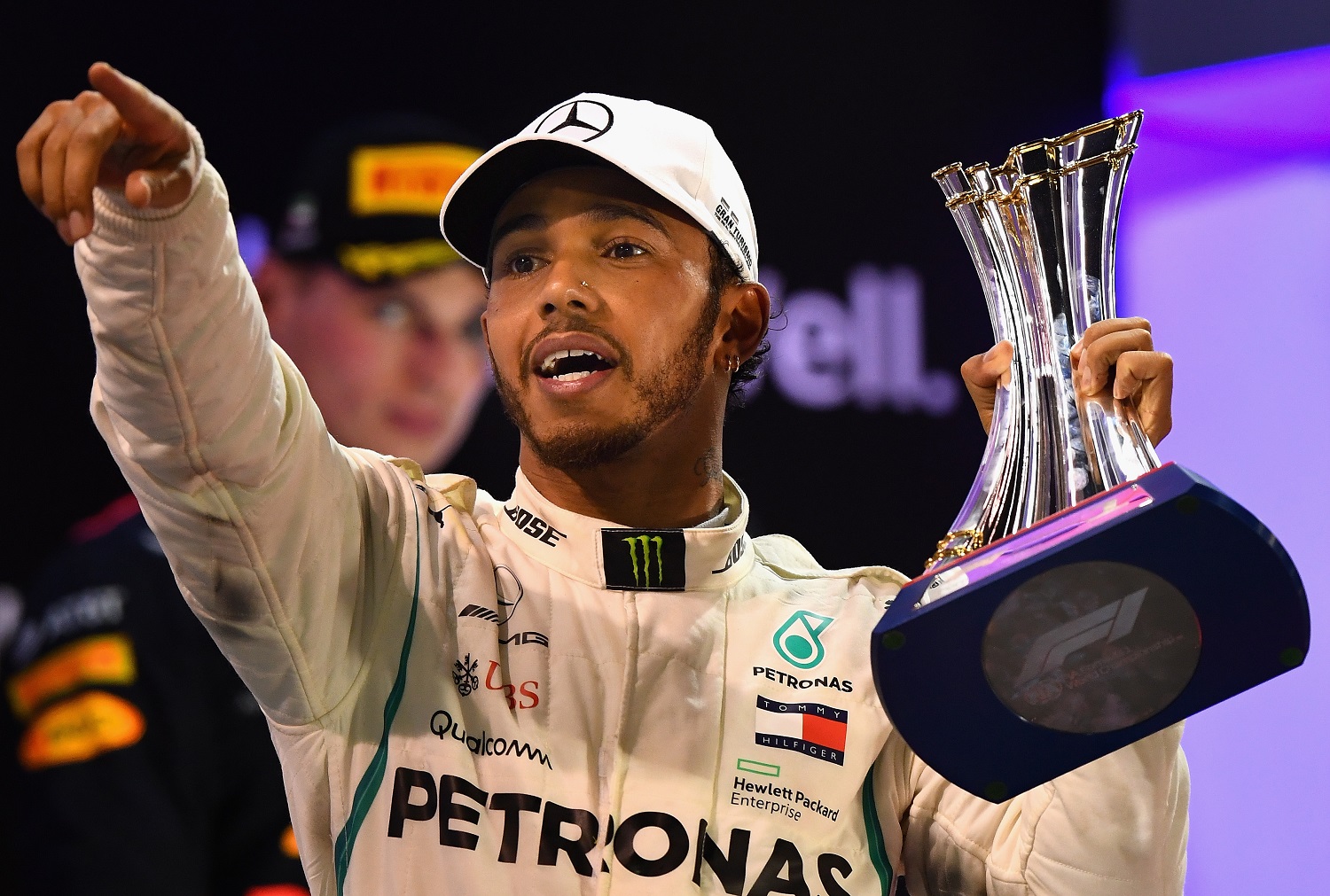 Lewis Hamilton's Victory at the 2008 British Grand Prix Ranks as the Greatest of His First 100 Formula 1 Wins
Lewis Hamilton is the first Formula 1 driver to chalk up 100 race victories. His finest moment came in a dominating victory at the 2008 British Grand Prix.
When it comes to victories in Formula 1 racing, Lewis Hamilton possesses an embarrassment of riches. The 2021 Russian Grand Prix in Sochi marked the 100th time in his illustrious career that the British driver had taken the checkered flag.
That record-setting figure has propelled Hamilton to seven World Drivers' Championships, tying him with Michael Schumacher. But the Italian legend retired in 2012 with "only" 91 victories, itself an amazing accomplishment.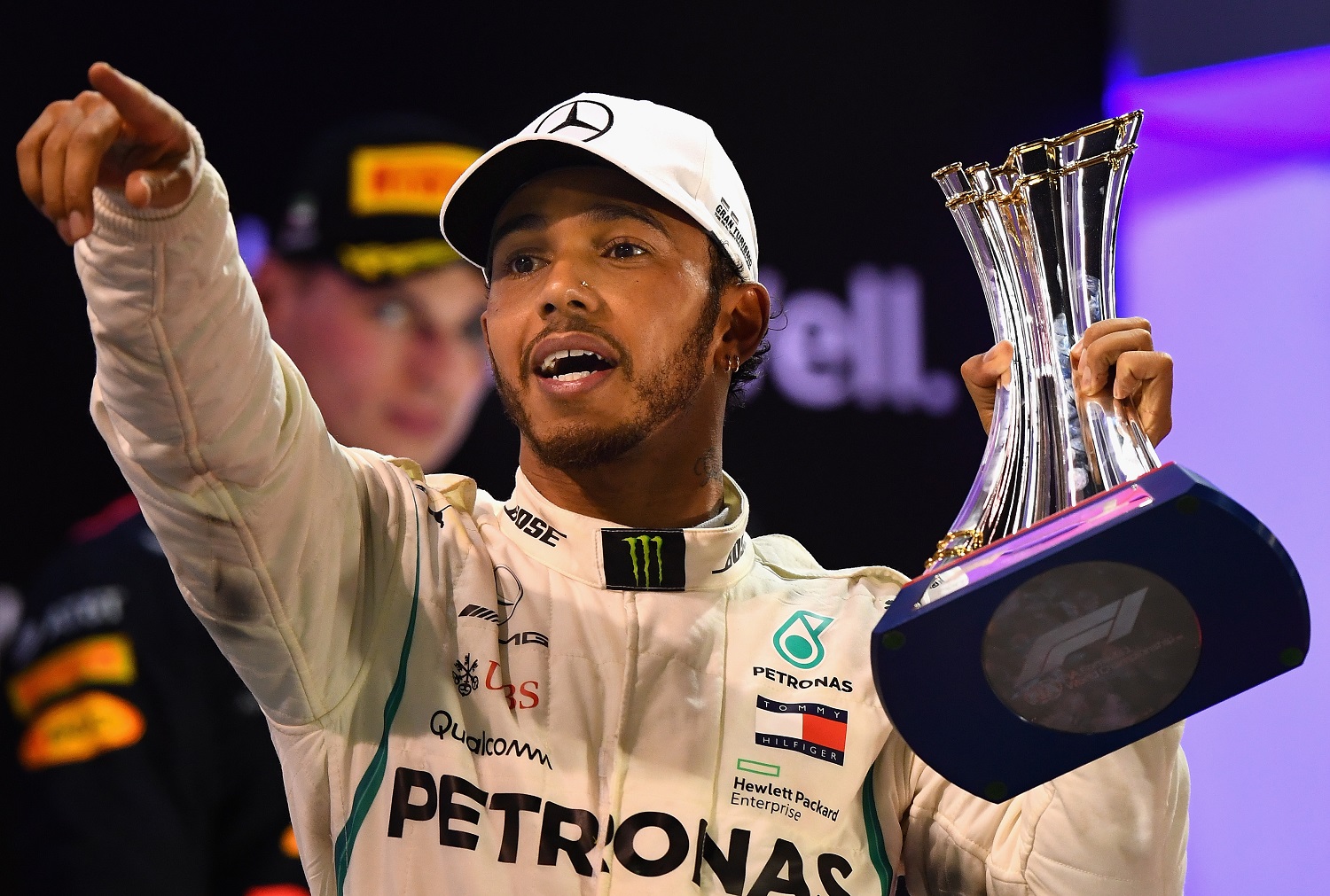 Hamilton surpassed that number in the 2020 Portuguese Grand Prix. He'll look to start on his second hundred on Oct. 10 at the Turkish Grand Prix, the competition that clinched his fourth consecutive series championship a year ago. That alone might qualify the 2020 race as one of the most memorable from Hamilton's perspective, but it doesn't necessarily make it his finest moment.
So, which Lewis Hamilton victory ranks as his greatest? Without a doubt, his seventh triumph, at the 2008 British Grand Prix, tops the list because it checks all the important boxes:
Major names in the sport like Fernando Alonso and Kimi Raikkonen, the previous two series champions, were competing, as were future titlists Sebastian Vettel, Nico Rosberg, and Jensen Button.
Hamilton overcame adversity in the form of a disappointing qualifying result and poor racing conditions.
The result erased memories of an embarrassing mistake two races earlier.
Winning at Silverstone, his home track, adding significance at a personal level.
Most of all, however, what the world witnessed on July 6, 2008, was a dominating performance. It wasn't Secretariat at the 1973 Belmont, but it was close.
First, a step back for the sake of perspective:
The Turkish Grand Prix plays into the discussion of Hamilton's greatest victory. On Nov. 14, 2020, Hamilton qualified a disappointing sixth, and that's where he sat for much of the first half of the race the following day.
With the surface wet from early rain, Hamilton was going deep into the rubber on his intermediate tires without much success. In a dicey strategic call, the Mercedes team kept the car on the circuit while the leaders pitted for tires, anticipating better conditions for the remainder of the afternoon.
With Vettel out of his way due to the decision to pit, Mercedes gambled again by scrapping Hamilton's schedule tire change and leaving him out there to hunt down Sergio Perez. Hamilton took the lead not quite two-thirds of the way in, never bothered to pit, and won by 31.633 seconds.
It served as a reminder that Hamilton gets as much out of a set of tires as anyone in Formula 1 when a change in conditions sends others to the pits for a change.
That was true, too, a dozen years earlier on the day he cemented himself as a national hero by winning at Silverstone in a bit of redemption. Two races earlier, Hamilton, then 23 years old, had rammed Raikkonen's Ferrari in the pit lane, an embarrassing incident.
After qualifying fourth in the ninth race of his second F1 season, Hamilton woke up to rain on race day. That didn't stop him from making an aggressive move to overtake Mark Webber and Raikkonen on the first turn. He zoomed past teammate Heikki Kovalainen on lap 5 and posted a series of blistering laps while others struggled with the slick track.
Nick Heidfeld briefly took the lead a third of the way through, but only two cars remained on the lead lap behind Hamilton when it was over. He beat Heidfeld to the checkered flag by an astonishing 68.577 seconds.
According to acclaimed racing writer David Tremayne, Hamilton roared around the track with such speed early on that his McLaren crew implored him to slow down at one point.
"I said, 'Hold on a second, what's going on? I'm not even pushing,'" Hamilton recalled. "I didn't want to slow down, because the moment you do that you lose concentration."
Hamilton followed up with a triumph in the German Grand Prix next time out and won once more later in the season in Shanghai. In total, it was enough to earn him his first World Drivers' Championship.
With the crucial push beginning on his home track, the 2008 British Grand Prix will likely go into the books as his all-time bit of work.
All stats courtesy of Racing Reference.