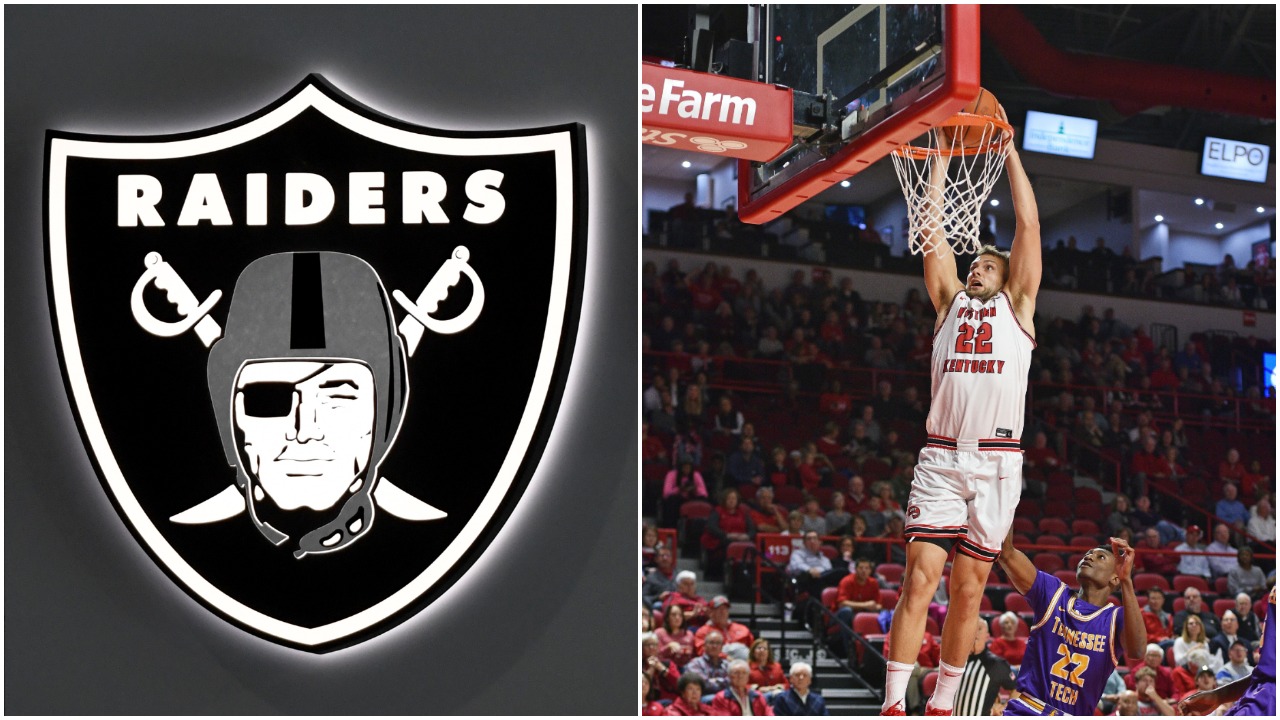 Everything You Need to Know About Carson Williams, the New Raiders Tight End Who Hasn't Played Football Since Eighth Grade
The Las Vegas Raiders have signed tight end Carson Williams, a college basketball player who hasn't played football since eighth grade.
You just have to love the Las Vegas Raiders, don't you? While most teams will typically wait until after the NFL draft, which begins on Thursday night, to sign a few undrafted free agents, the Raiders got their ball rolling early by inking tight end Carson Williams to a contract.
Now, if you haven't heard of Williams, you're certainly not alone. After all, he didn't play for a big-time college football program as he attended Northern Kentucky for two years and finished up at Western Kentucky. Oh, there's that one other thing. He didn't actually play college football. Or even high school football for that matter.
No, Williams was actually a basketball player at both levels (and a solid one at that) and apparently hasn't played football since the eighth grade. But he was determined to play in the NFL and the Raiders have now made his dream a reality.
The Raiders are getting a former Mr. Basketball in Carson Williams
So who are the Raiders getting in Carson Williams? Let's dive in, shall we?
Over the course of his high school basketball career at Owen County High School in Owenton, Kentucky, Williams scored 2,967 points and grabbed 1,671 rebounds, the fifth-most in state history. As a senior in 2015-2016, Williams averaged 26.3 points and 10.7 rebounds per game, which earned him the title of Kentucky's Mr. Basketball.
He chose to stay in his home state to play his college ball and enrolled at Northern Kentucky, where he played two seasons and averaged 11.4 points, shooting 60.5% from the floor, and added 5.8 rebounds per game. After sitting out the 2018-2019 season due to transfer rules, Williams played the final two seasons of his collegiate career at Western Kentucky, averaging 10.9 points and six rebounds per game.
Williams had a solid Pro Day
With his basketball career at an end, Williams, who stands 6'5″ and weighs in at a solid 240 pounds, turned his attention to trying to make the NFL and was able to show off his athleticism at Western Kentucky's Pro Day earlier this month and performed well.
He ran a 4.73-second 40-yard dash, posted a 38-inch vertical jump, a 9-7 broad jump, and went for 18 reps on the 225-pound bench press. Solid numbers all the way around. A number of teams seemed to show interest but the Raiders have officially nabbed him and he'll likely spend time on special teams as he develops his skills as a tight end.
The Raiders are hoping they've found the next Antonio Gates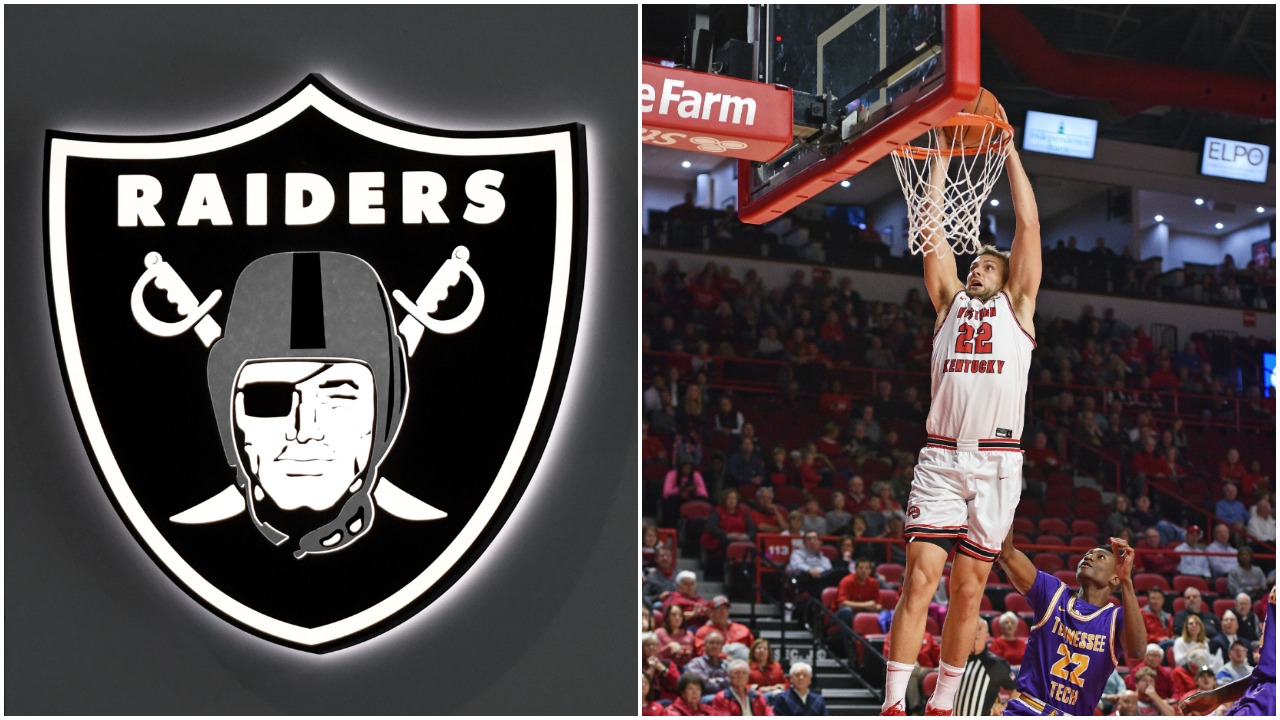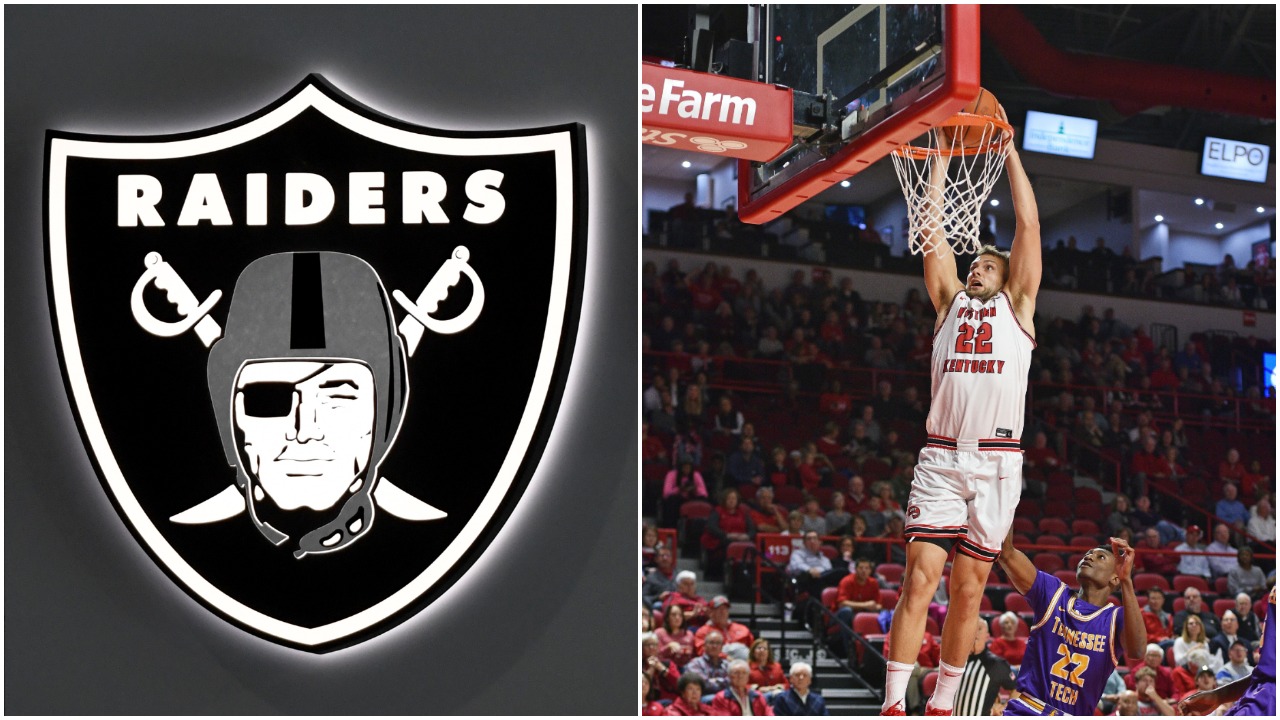 It's not as if Williams is the first person to ever play in the NFL after not playing college football so there certainly is a precedent for this, the most notable being legendary Chargers tight end Antonio Gates.
Gates had actually planned to play football when he enrolled at Michigan State but Nick Saban didn't want him playing basketball and Gates wanted to do both. So he transferred to Eastern Michigan and then to a junior college in California and then to Kent State, only playing basketball. But as he didn't have a future in the NBA, he returned to football and went on to play 16 seasons for the Chargers, earning eight trips to the Pro Bowl and five All-Pro selections.
Longtime Colts tight end Marcus Pollard, who also suited up for the Lions, Seahawks, and Falcons over the course of a 14-year NFL career, is another good example as the Alabama native played college basketball at Bradley University in Peoria, Illinois, which doesn't even have a football program.
But the difference between those two and Carson Williams is that Gates and Pollard played high school football, which Williams did not. So the Raiders will definitely have some work to do with their new prospect.
Stats courtesy of Sports Reference