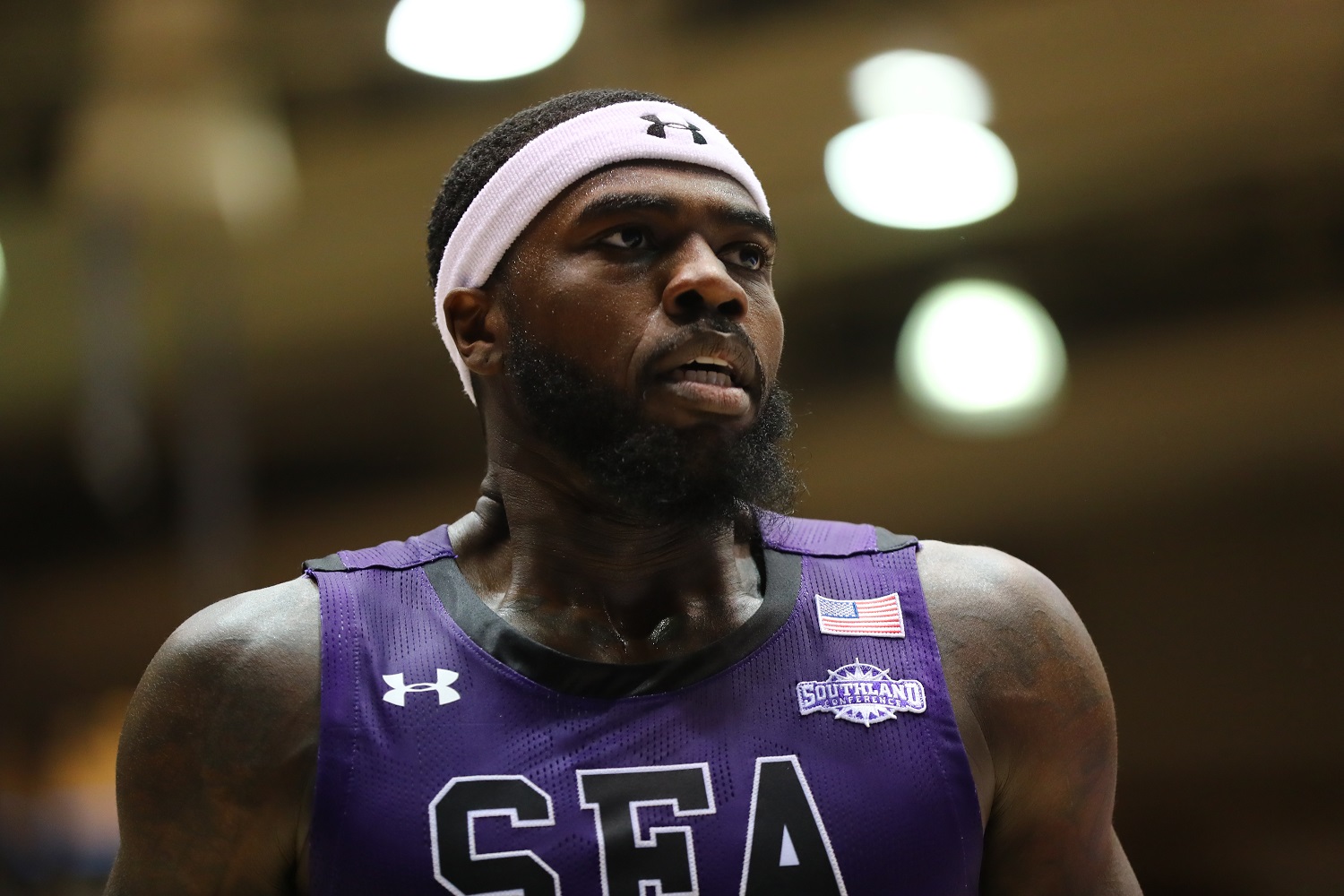 Everything You Need to Know About the LA Lakers' Undrafted Free Agent Pickup, Kevon Harris
The LA Lakers' new undrafted free agent, Kevon Harris, played his college ball at Stephen A. Austin and recently signed an Exhibit 10 contract.
On the night of the 2020 NBA draft, former Stephen F. Austin star Kevon Harris, like so many others, was sitting and watching, obviously hoping his name would be called. But, like so many others, he had to deal with the disappointment when it wasn't. However, unlike the others, Harris didn't have much time to sit and dwell on the disappointment. You see, Kevon Harris was in a hospital room while 60 names that weren't his were being announced and a disappointing day soon after turned into a glorious week as he welcomed a newborn daughter to the world and then signed as an undrafted free agent with the Los Angeles Lakers.
While it might take some time for the 6'6″, 216-pound guard/forward to actually make it to the Lakers' roster to play alongside the likes of Anthony Davis and LeBron James, he's ready to put in the work to make that happen.
Here's a quick look at LA Lakers undrafted free agent, Kevon Harris.
Kevon Harris is the all-time leading scorer at Stephen A. Austin at the Division I level
Born in Georgia in 1997, Kevon Harris led Martin Luther King Jr. High School in DeKalb County to a 24-6 record as a senior and the Class 5A state semifinals, averaging 15.8 points and 11.8 rebounds per game. After spending a postgraduate year at the DME Academy in Daytona Beach before accepting a scholarship offer to Stephen F. Austin.
Harris started 13 of 33 games as a true freshman for the Lumberjacks in 2016-2017 and averaged 8.5 points and 3.6 rebounds. He became a full-time starter as a sophomore and had a breakout season, averaging 14.5 points and 5.5 rebounds, earning Second Team All-Southland Conference honors while helping the team to a conference tournament title and an NCAA Tournament berth.
As a junior, Harris again earned Second Team All-Southland Conference honors, averaging 17.8 points per game while shooting 52.1% from the floor. In 2019-2020, he was a First Team All-Southland selection and was named Conference Player of the Year, averaging 17.5 points, 5.7 rebounds, 2.1 assists, and 1.5 steals. When Stephen F. Austin recorded the biggest win in the program's history last November over top-ranked Duke, the Blue Devils' first home loss to a nonconference opponent in 150 games, Harris led the way 26 points, shooting 11-for-19 from the field.
Kevon Harris ended his career at Stephen F. Austin with 1,833 career points, the most in the school's history at the Division I level. James Silas, who went on to become a two-time All-Star in the ABA, is the Lumberjacks' all-time leading scorer with 1,884 points, which were scored when the university still played at the NAIA level.
Kevon Harris recently signed an Exhibit 10 contract with the LA Lakers
Kevon Harris originally declared for the NBA draft in 2019 but opted to return to Stephen F. Austin for his senior season. While some thought he might go in the second round in 2020, he went undrafted but quickly received interest from a number of teams, including the Dallas Mavericks and Detroit Pistons. In the end, however, he ended up signing with the Lakers just days after his daughter was born.
Harris is signed to an Exhibit 10 deal with the Lakers, which means he's on a one-year contract for the league minimum and has been invited to training camp to compete for a job on the Lakers' regular-season roster or the team's G League affiliate, the South Bay Lakers. These types of deals don't come with any type of compensation protection but can include a bonus of up to $50,000.
So let's say that Kevon Harris is waived by the Lakers at the end of camp and is designated as an affiliate player so that the team can retain his G League rights. If Harris chose to play for South Bay and stayed with the team for at least 60 days, he would receive that bonus.
Exhibit 10 contracts can be converted into two-way deals so if that were to happen and Harris ended up splitting time between South Bay and LA, which is certainly a possibility, that bonus would turn into a salary guarantee. However, Exhibit 10 contracts can only be converted to two-way deals before the season begins.
He has plenty of NBA upside but certainly could improve in a number of areas as well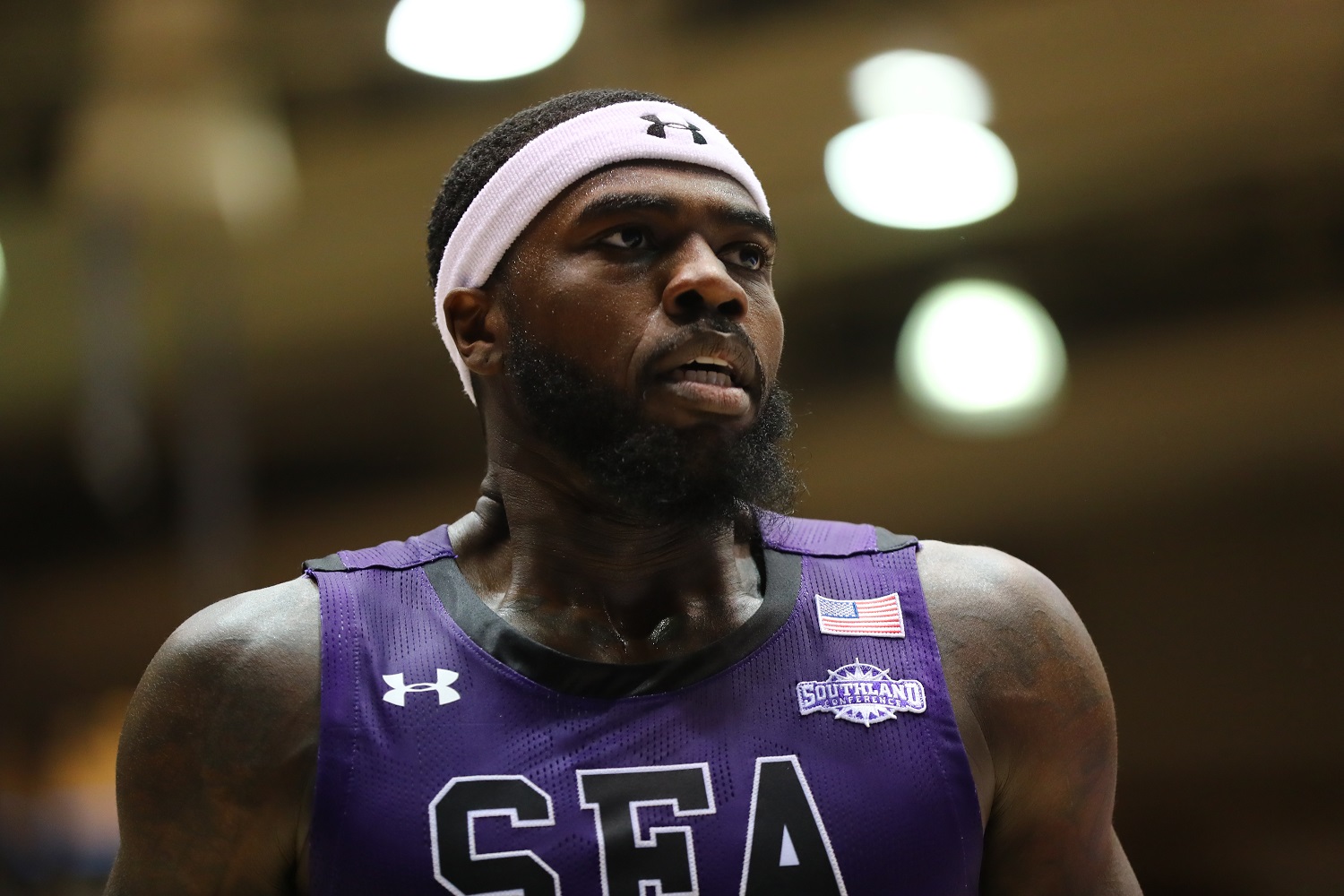 There is certainly plenty of NBA upside to Kevon Harris. He's obviously proven that he can score and is a very solid outside shooter. As a senior at Stephen F. Austin, he shot 41.3% from the 3-point line, which only helps him as LeBron James loves having guys that can spot up and drain the long ball off of his drives to the rim. Harris can also score off the dribble and knows how to get to the free-throw line as well. He averaged 6.2 foul shots per game in 2019-2020 and shot 77.1%.
While Kevon Harris' size is certainly an asset as he can body up with just about every position on the floor, his defense does need some work. Lakers head coach Frank Vogel is a big defensive guy so if Harris wants to impress, he'll certainly have to work hard to prove that he can get better in that regard. Harris also has a bit of a problem with turning the ball over (he averaged 3.5 turnovers in 2019-2020) but that might not be as much of an issue given the fact he likely wouldn't be handling the ball all that much. But it's still a bit of a cause for concern.
Harris will likely spend some time in the G League developing his game but down the line, he could become a decent threat off the bench for the Lakers.
All stats courtesy of Sports Reference