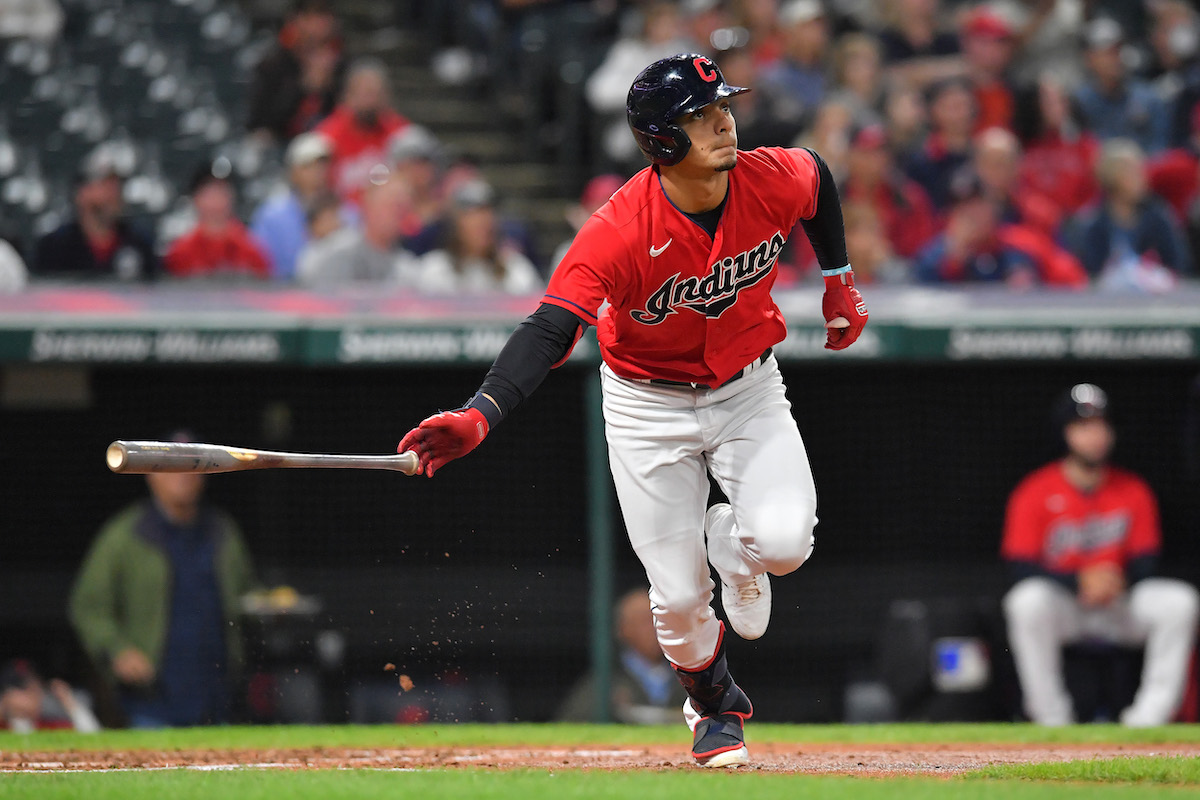 Fantasy Baseball Sleepers: 3 Late-Round Second Basemen Who Could Carry Your Middle Infield
If you're trying to win your fantasy baseball league, you should be paying attention to these three sleepers at second base.
The goal of a fantasy baseball draft is typically to land the best MLB players you can — and ideally ones who can buffer your teams in certain notable categories. At second base, you're usually looking for a bit more speed than you might at first base, though you're likely accepting a tradeoff in the power department.
Of course, the most notable contributors are exceptions. Trea Turner might still smash 20 homers as part of a star-studded Los Angeles Dodgers lineup. Ozzie Albies, Marcus Semien, and Jose Altuve are aiming even higher.
But if you fail to land one of the true stars at the position, fear not. You can still find talent later in the draft, and we're here to identify some late-round contributors who could help you make noise in the title chase by virtue of either all-around production or excellence in one scarce category.
Each of these players has an average draft position (ADP) outside of the top 200 and could yield dividends on such a minimal investment. But we're also looking past the most obvious candidates — consistent veterans such as Jonathan Schoop or Enrique Hernandez and top prospects such as Vidal Brujan — in favor of players who fall well beneath the radar.
Andres Gimenez, Cleveland Guardians
ADP: 313.6
Age: 23
2021 Stats: 210 PA, 23 R, 10 2B, 0 3B, 5 HR, 16 RBI, 11 SB, .218/.282/.351
On Jan. 7, 2021, the New York Mets completed a deal with the Cleveland Guardians that sent Carlos Carrasco and Francisco Lindor to the Big Apple in exchange for a package of young players headlined by Amed Rosario and Andres Gimenez. That alone says a lot since quite a bit is expected of an up-and-comer tied to an established star in a blockbuster transaction.
Gimenez, who should be eligible at both middle infield positions even if he settles in primarily as a shortstop, underwhelmed during his first season in Cleveland, but compiling five homers and 11 steals in 68 games still put him on pace for 12 and 26 during a full 162-game campaign. That volume alone would make him a coveted commodity even if he doesn't improve upon his .218 batting average and .282 on-base percentage.
But those season-long numbers are deceiving. Gimenez completely failed to fill Lindor's cleats early on and was slashing only .180/.226/.308 in 29 games before he was demoted to Triple-A Columbus. After he was recalled, he put up a .271/.307/.457 line with three homers and four steals over 23 appearances in September.
The 23-year-old Venezuelan never showed much pop in the minors, except for rare stretches like the one shown in the above tweet. His hit tool was more advanced, and his glove should guarantee him significant leeway at the plate. But even at this early point in his career, any power numbers or batting average boosts would be gravy for a player whose primary fantasy calling card is his speed.
Gimenez is one of a few players with a legitimate chance to lead baseball in stolen bases after going 11-of-11 in his first season with Cleveland and posting a sprint speed in the 93rd percentile. Securing steals is next to impossible in today's power-happy MLB, so finding a late source of them with this much upside should be tantalizing.
Nick Madrigal, Chicago Cubs
ADP: 305.6
Age: 25
2021 Stats: 215 PA, 30 R, 10 2B, 4 3B, 2 HR, 21 RBI, 1 SB, .305/.349/.425
Last season, Tony La Russa's Chicago White Sox attempted to steal 77 bases (57 successfully), which beat out only the Minnesota Twins, Houston Astros, Boston Red Sox, Cincinnati Reds, and Arizona Diamondbacks. David Ross' Chicago Cubs checked in at No. 7 in the majors, trailing only the Cleveland Guardians, Tampa Bay Rays, Texas Rangers, Miami Marlins, San Diego Padres, and Kansas City Royals with 123 attempts, 86 of which were successful.
That's a big shift — not the now-outlawed kind — that should work in Nick Madrigal's favor as he transfers from the south side to the north side of the Windy City.
Though the batting order is far from settled, Madrigal is a realistic option to bat leadoff given his mind-blowing contact skills. He almost never strikes out or walks, but that's because he manages to make contact with just about every pitch at which he offers. Through two years at the MLB level, he has a 95.3 zone contact percentage and 77.9 chase contact percentage that blow away the MLB averages of 82.0 and 58.5%, respectively.
Madrigal offers almost nothing from a power standpoint, but his ability to slap the ball into all fields should yield plenty of positive results in the rate stats, and he should be on base for a far more aggressive manager often enough to rack up a steals tally that goes well beyond the three he's recorded through 83 career games in the majors.
Given his potentially elite production in two major categories (batting average and steals), it's downright baffling that he's coming off the board behind at least 300 players in a typical draft. His lack of base-stealing track record might provide the explanation, but it's so easy to get behind a steal explosion given his speed and favorable situation.
Jeff McNeil, New York Mets
ADP: 295.8
Age: 29
2021 Stats: 425 PA, 48 R, 19 2B, 1 3B, 7 HR, 35 RBI, 3 SB, .251/.319/.360
Even in a crowded New York Mets outfield (which is where Jeff McNeil is expected to play even though he retains second base eligibility in most leagues), do we really want to write off a player with this much demonstrated success at the big league level who hasn't even celebrated his 30th birthday?
McNeil hit over .300 in each of his first three season before batting just .251 over 120 games in 2021, and that can easily be explained away by a .280 BABIP that fell significantly below his .324 career average. Maybe his 23 homers over 133 games during his All-Star season were an aberration considering he has just 14 in his other 235 career appearances at the MLB level, but his HR/FB% fell off a cliff in 2021 and should progress toward his career mean even if he doesn't get away from the soft contact that proliferated last year.
Now, take a step back and just imagine McNeil falling somewhere in the middle of the extremes for both categories.
If you were able to land a second base-eligible player likely to record at least 500 plate appearances who was going to hit between .270 and .280 with 10-14 homers, isn't that worth way more than the investment it takes to secure someone with an ADP nearing three bills?
Last season, only the following players recorded at least 20 games at second base, batted at least .270, and slugged double-digit home runs (and that's saying nothing of McNeil's ability to rack up a handful of stolen bases or get on base via walks): Jose Altuve, Trea Turner, Jonathan Schoop, Ty France, Brendan Rodgers, Kolten Wong, Jean Segura, Ketel Marte, and Whit Merrifield.
You don't have to be inordinately high on McNeil to view him as a sleeper. You just have to think some improvement is coming for a 29-year-old who has gone from flying squirrel folk-hero status to the attention backburners, likely in the form of better results against the fastballs in the zone he used to mash.
All stats, unless otherwise indicated, courtesy of Baseball Reference, Fangraphs, and Baseball Savant. ADP data courtesy of FantasyPros.