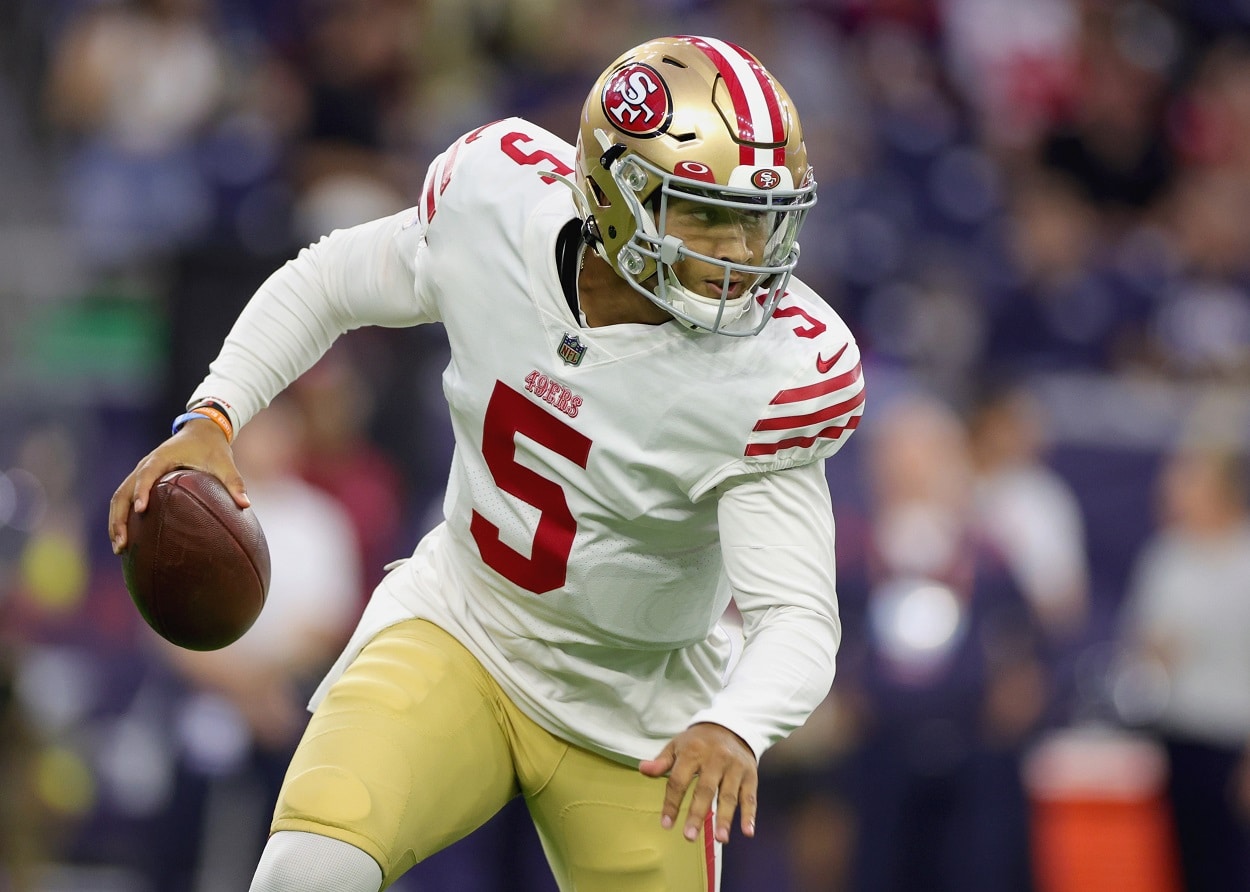 Fantasy Football 2022: Trey Lance Is the Longshot QB His Closest NFL Comparison Was a Season Ago
San Francisco 49ers QB Trey Lance could be a surprise asset for fantasy football owners.
Fantasy football owners – and most notably the folks who advise them – like to say to mitigate risks whenever possible with draft picks.
And that is sage advice. But ….
It's just that hitting that longshot on draft day and watching it come in throughout the NFL season has its rewards beyond fantasy points accrued.
With these picks, it's all about "the upside," and 49ers QB Trey Lance has a lot of it.
That's why he's rostered in nearly 89% of ESPN leagues and is a Week 1 starter in 31.8% of them despite a limited NFL track record.
Will Trey Lance be the next Jalen Hurts for fantasy football owners?
Lance arrived in San Francisco as the No. 3 overall pick in the 2021 NFL Draft and was given a season to sit behind starter Jimmy Garoppolo for on-the-job training.
The NFL comparison for Lance is Jalen Hurts. And if Lance can live up to that comparison, fantasy owners will be pleased.
In the 2020 NFL Draft, Philadelphia selected Hurts in the second round with the 53rd overall pick despite having Carson Wentz on the roster.
Both players sat for most of their rookie seasons only to be named starters the following year. The Eagles jettisoned Wentz, and the 49ers attempted to do the same with Garoppolo but found a cold market for the veteran. So he's back with the team as Lance's backup after leading San Francisco to a Super Bowl and two NFC Championship games.
Hurts started four games as a rookie, averaging 22.9 fantasy points per game over that stretch. In 2021, Hurts became a top-10 fantasy quarterback as Lance filled in twice for Garoppolo, going 1-1 while passing for 603 yards, rushing for 168, and accounting for six touchdowns.
In starts against Arizona (Week 5) and Houston (Week 16), Lance averaged 16.9 fantasy points per game and scored a season-high 20.4 points in extended action against Seattle.
That was enough for San Francisco to give the nod to the second-year signal-caller despite having a team already set to contend for an NFC Championship with Garoppolo.
Fantasy owners are drafting him ahead of established NFL quarterbacks such as Derek Carr, Kirk Cousins, and Matt Ryan. Lance has a 12th-round ADP or 113.3 overall.
The 49ers are betting on Lance's considerable upside, and fantasy owners are also.
So what's the downside for Lance?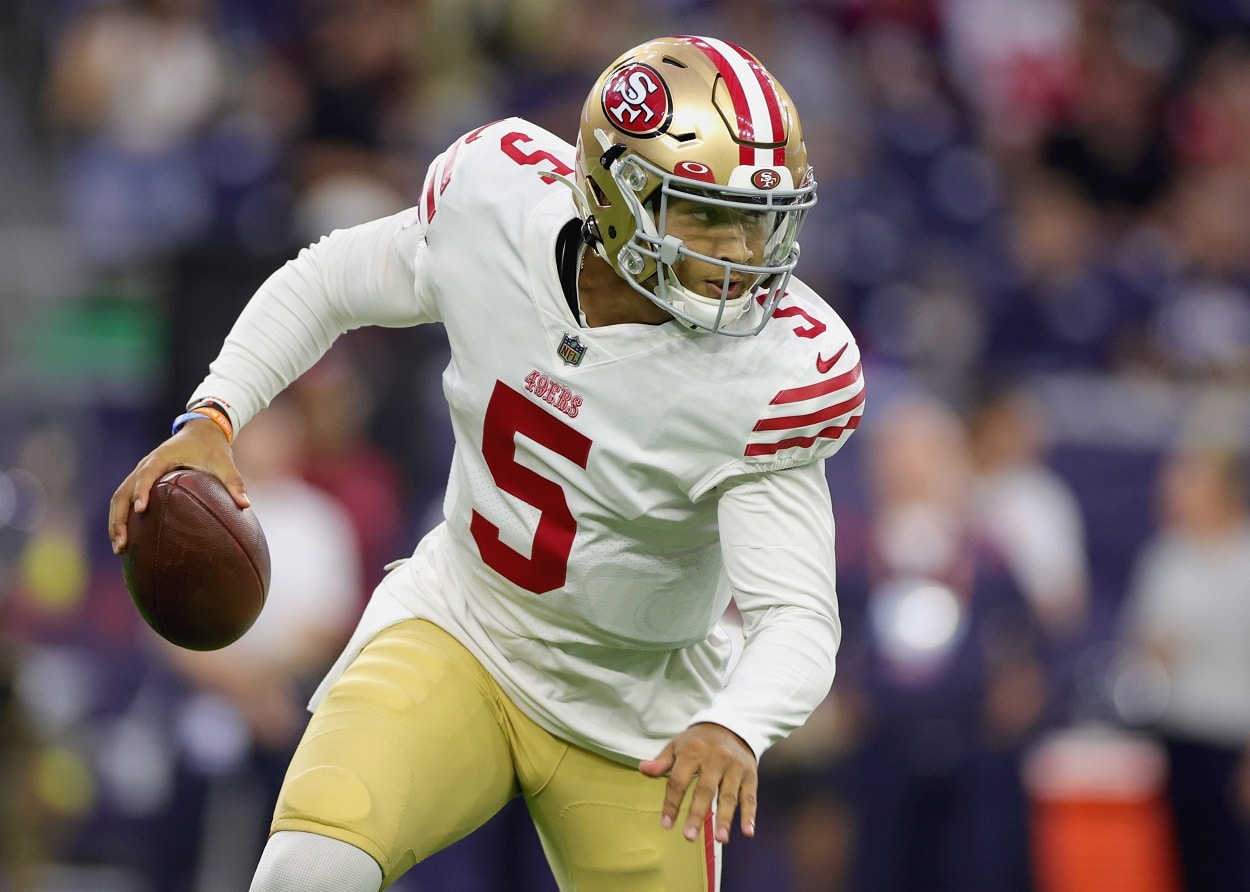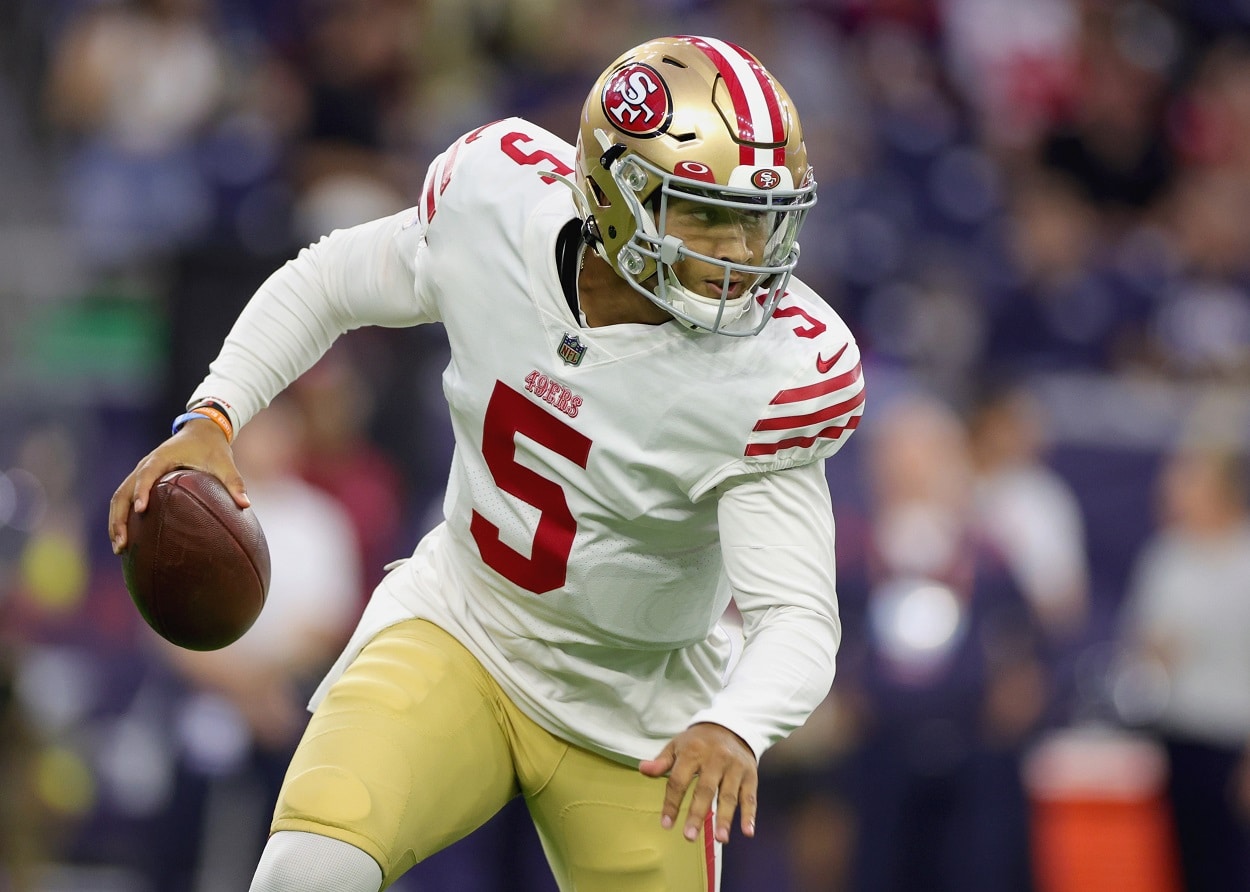 Most NFL scouts agree that Lance has better arm talent than Hurts and similar ability as a runner. But there are still concerns about Lance's accuracy in the passing game.
As NFL defenses begin to scheme around Lance, it will be interesting to see if he can adjust his game to meet the lofty expectations that surround him. Critics point to his limited experience as a college starter – COVID-19 canceled his 2020 season – at FCS North Dakota State.
ESPN projects Lance will put up 282.9 fantasy points this season with 22 passing touchdowns and four on the ground as part of a talented offense that also includes multipurpose WR Deebo Samuel, TE George Kittle, and RB Eli Mitchell.
Under creative offensive head coach Kyle Shanahan, Lance's development should at least mirror that of Hurts, if not eclipse it. Lance has much more talent around him than Hurts did last year with the Eagles. 
Even with the specter of Garoppolo looming, the 22-year-old Lance will be given plenty of rope with Shanahan, and fantasy owners should do the same.
About a third of ESPN fantasy owners believe he is a fantasy QB1 already, and if the Hurts comparison holds up, he should be a breakout fantasy star.
Stats courtesy of Pro Football Reference
Like Sportscasting on Facebook. Follow us on Twitter @sportscasting19 and subscribe to our YouTube channel.