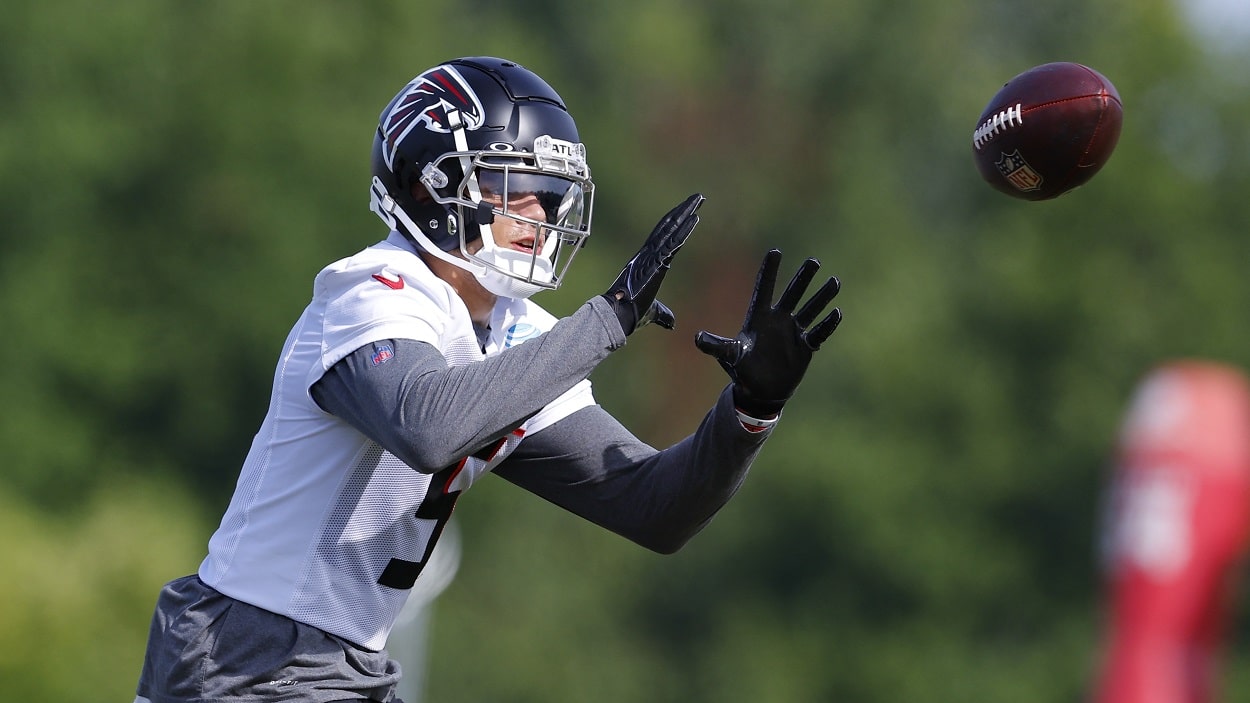 Fantasy Football 2022: Why Falcons Rookie Wideout Drake London Won't Be the Next Ja'Marr Chase
Atlanta Falcons rookie wideout Drake London could be a fantasy football bust.
Every fantasy football owner is looking for the next Ja'Marr Chase or Justin Jefferson – the middle-round NFL rookie who performs well above his ADP and helps turn a fantasy team into a contender.
Chase (Bengals), Jefferson (Vikings), and Michael Thomas (Saints) established themselves quickly in the NFL during their respective rookie seasons. Last year, Chase caught 81 passes for 1,455 yards and 13 touchdowns. As a rookie in 2020, Jefferson's receiving line was 88-1,400-7.
But rookies can be dangerous bets for fantasy managers. For every Jefferson and Chase, there's a Mike Williams (No. 10 overall to the Lions, 2005) or David Terrell (No. 8 overall to the Bears, 2001) – players who enter the league with first-round grades, train cars of hype, and the burden of expectations rarely live up to any of it.
Jefferson and Chase have ADPs this year in the first round of fantasy drafts, along with fellow receiver Cooper Kupp.
It wouldn't be surprising if none of the six first-round receivers from the 2022 draft class or other skill position players such as Steelers QB Kenny Pickett or Jets RB Breece Hall will have that kind of impact. But who among them will be the most likely fantasy bust as a rookie?
Atlanta Falcons fans won't like the answer as we're going with Drake London.
Is Drake London set up for a rookie fail with the Falcons?
USC product Drake London has a lot of buzz, and many believers say the Atlanta Falcons wideout is poised to be the NFL Offensive Rookie of the Year.
Maybe it's regional bias. Perhaps it's skepticism of the Falcons' run-heavy offense and QB Marcus Mariota, but I'm not going all-in on London, who has a seventh-round ADP in most fantasy leagues – about the same as Chase a year ago.
That signals that expectations are high among fantasy owners as they hope to find this year's Ja'Marr Chase.
I'm just not one of them.
Again, maybe it's regional bias, but both Jefferson and Chase came out of LSU. Miami WR Jaylen Waddle, another 2021 rookie, had 104 catches for 1,015 yards and six touchdowns. He's another SEC product out of Alabama.
At USC, London, who has the body to be physical in the NFL at 6-3, 219 pounds, played in a watered-down PAC-12. The pre-draft critics – and there are always many – said London had trouble separating from defenders, which could be a problem in the NFL. 
In 2021, he had 88 catches for 1,084 yards and seven touchdowns after moving to the outside most of the time as a junior. He spent 96% of his snaps in the slot his first two seasons at USC, so the versatility should pay dividends for the Falcons.
If they can get him the ball.
The Falcons' passing game could hamper London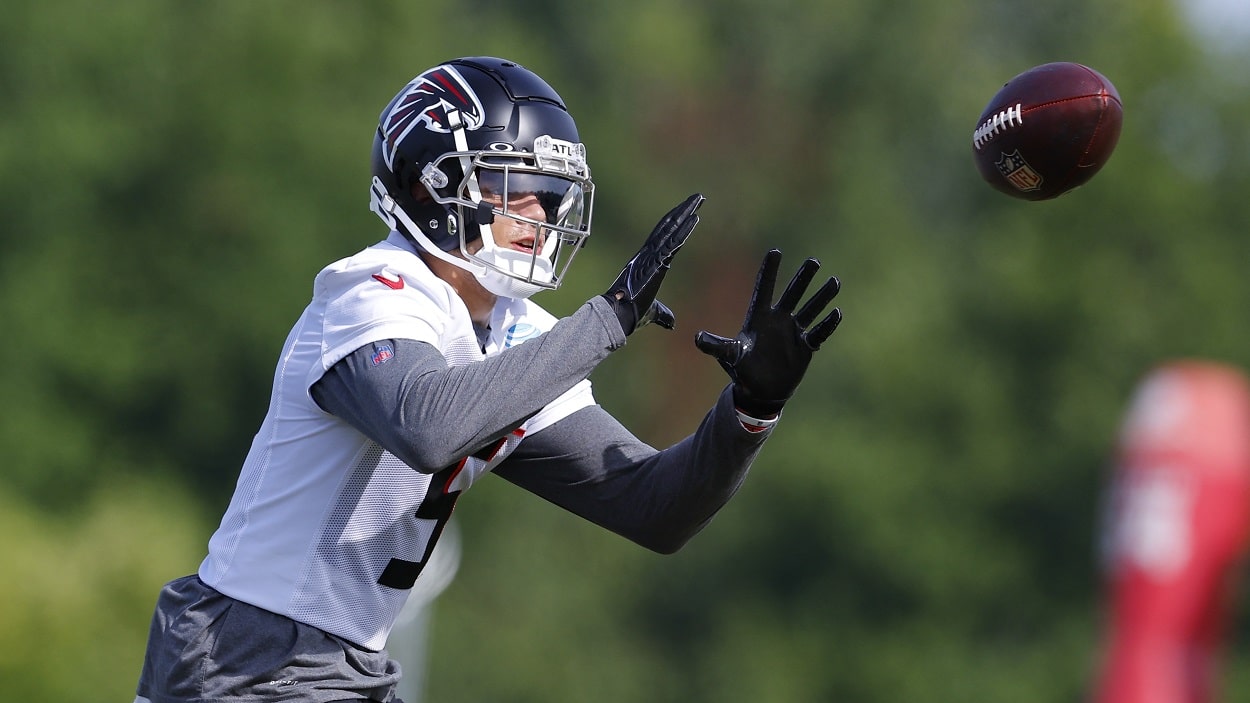 Head coach Arthur Smith arrived in Atlanta with a plan to run the football, and the Falcons did that with a converted wide receiver, Cordarrelle Patterson, at running back most of the time last year.
With Marcus Mariota at quarterback, the Falcons' playbook will feature a zone-read scheme Mariota executed well enough to win the Heisman Trophy at Oregon. Smith won't try to turn him into an NFL pocket passer.
Mariota spent the past couple of seasons as Derek Carr's backup with the Raiders after losing his starting job in Tennessee to Ryan Tannehill, and he arrives in Atlanta along with WR Bryan Edwards, a former third-round pick who has 45 catches for 764 yards and four touchdowns over two seasons in silver and black.
So, there is familiarity with Mariota, and Edwards is a projected starter opposite London.
Beyond the arrival of the two former Raiders, TE Kyle Pitts is a matchup nightmare for opposing defenses and projects to be the Falcons' No. 1 receiver. In addition, I think Pitts will be the No. 1 tight end in fantasy football this season.
So, London, who has already been slowed by a hamstring injury during training camp, arrives in Atlanta as part of a run-heavy offense led by a quarterback attempting to re-establish himself as an NFL starter. Despite his lofty NFL Draft status, London won't be this year's Chase or the 2020 Jefferson.
Instead, I expect the numbers will be closer to Michael Pittman's 2020 rookie numbers with the Colts – 40-503-1. Pittman was chosen No. 34 overall in the NFL Draft.
It seems too much to overcome for London, who could prove to be a fantasy bust for owners hoping for, if not expecting, a breakout rookie campaign.
Stats courtesy of Pro Football Reference
Like Sportscasting on Facebook. Follow us on Twitter @sportscasting19 and subscribe to our YouTube channel.