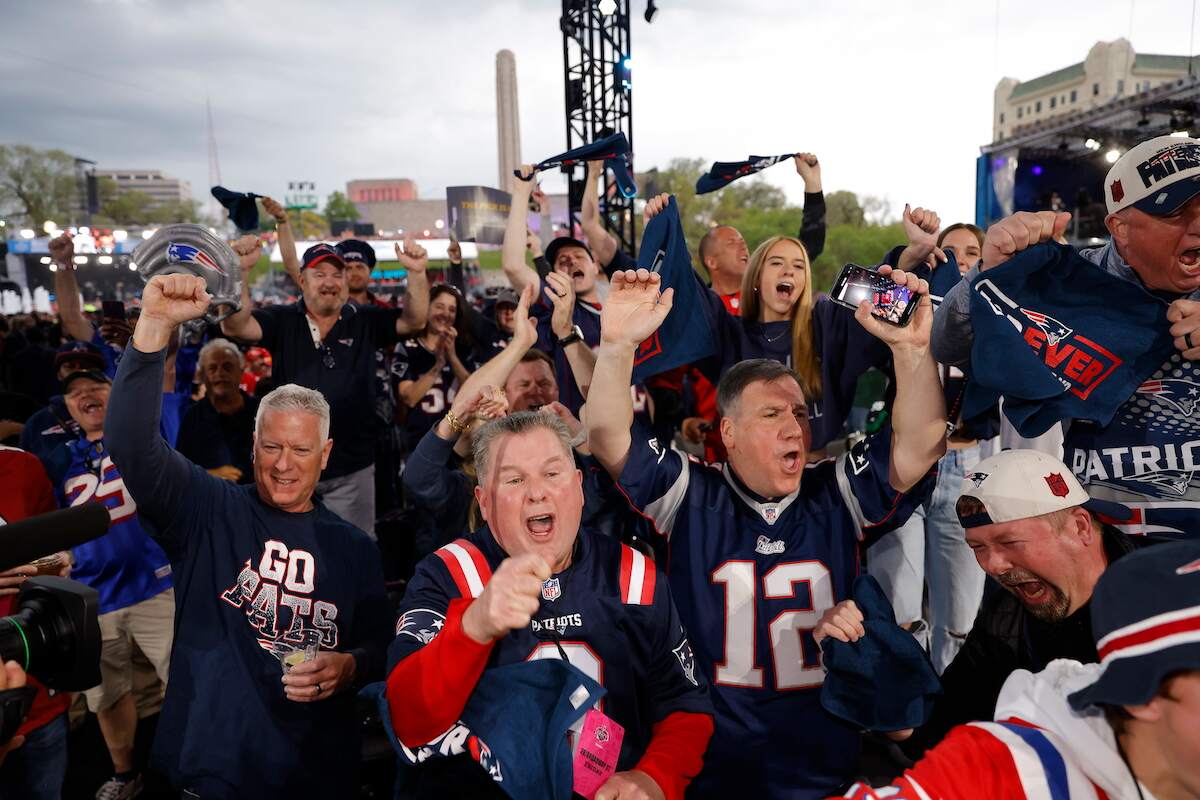 Fantasy Football Cheat Sheet: The Best Fantasy Football Team Names for New England Patriots Fans in 2023
The best fantasy football team names for New England Patriots fans add some humor and joy to a not-so-hopeful NFL season.
The New England Patriots are one of the most successful football teams ever, but it's not looking too good right now. As such, fantasy football can be a great way for Pats fans to enjoy the sport and have fun while the team undergoes its rebuild. Some of the best fantasy football team names for New England Patriots fans add some humor and joy to a not-so-hopeful NFL season.
Fantasy football team names for Patriots fans
Choosing a fantasy football team name can be a fun, though difficult, process. Fantasy owners can utilize a lot of easy names, but that takes away a lot of the fun and creativity that goes into coming up with a good team name. One of the most common names is to simply draw inspiration from the current Patriots roster.
For example, you could use Bill Belichick as inspiration, as he's been with the team for decades. Some options that refer to him include Belichick's Brigade, Belichick's Ballers, and the Belichick Blitzers. Fans of the Pats' current players can also use names like Bad JuJu, Hide and Zeke, or Mac Attack. 
And, of course, Pats fans can also dig deep into the team's history for inspiration. The biggest one, unsurprisingly, is Tom Brady. There are a lot of options available to fantasy owners here. Some good names that refer to Brady include The Brady Bunch, Brady's Legacy Lives On, and Brady Nation. Fantasy owners should feel free to sit down and brainstorm more ideas by playing with common phrases and player names.
Funny fantasy football names for Patriots fans
The best fantasy football team names are almost always going to be the funny ones, as they can lighten the mood and allow groups of friends to have a good time. These are also some of the toughest names to come up with. Not everybody is a comedian, and not every team name will make folks laugh. Additionally, it's a good idea to keep these names family-friendly, just in case. 
Funny fantasy football team names take the same principles of coming up with a name and then it adds some humor, usually by making a pun. An example is The Deflatriots, which makes fun of Brady and the Deflategate scandal. Some good puns involving promising prospect Mac Jones include the likes of Big Mac, Mac n' Cheese, and Game of Jones.
Other options Patriot Nation may want to consider include Zeke's Geeks, What Would JuJu Do?, The Belly Chickens, and The Boston B-Boys. Once again, though, fantasy football team names should be original so that these names can be a good starting point for a more original fantasy football team name.
Fantasy football team names: Avoid these common mistakes
Using the same name you used in a prior season. Creativity is king, so it's good practice to come up with a new team name for each new fantasy football season.
Using a name that was already too overused two years ago. It might be tempting to look back and use a fun or popular name, but this is not the most creative option.
Using your actual birth name. Many fantasy owners go to this generic option, but we say it's a missed opportunity.
Using a fantasy football team name generator.