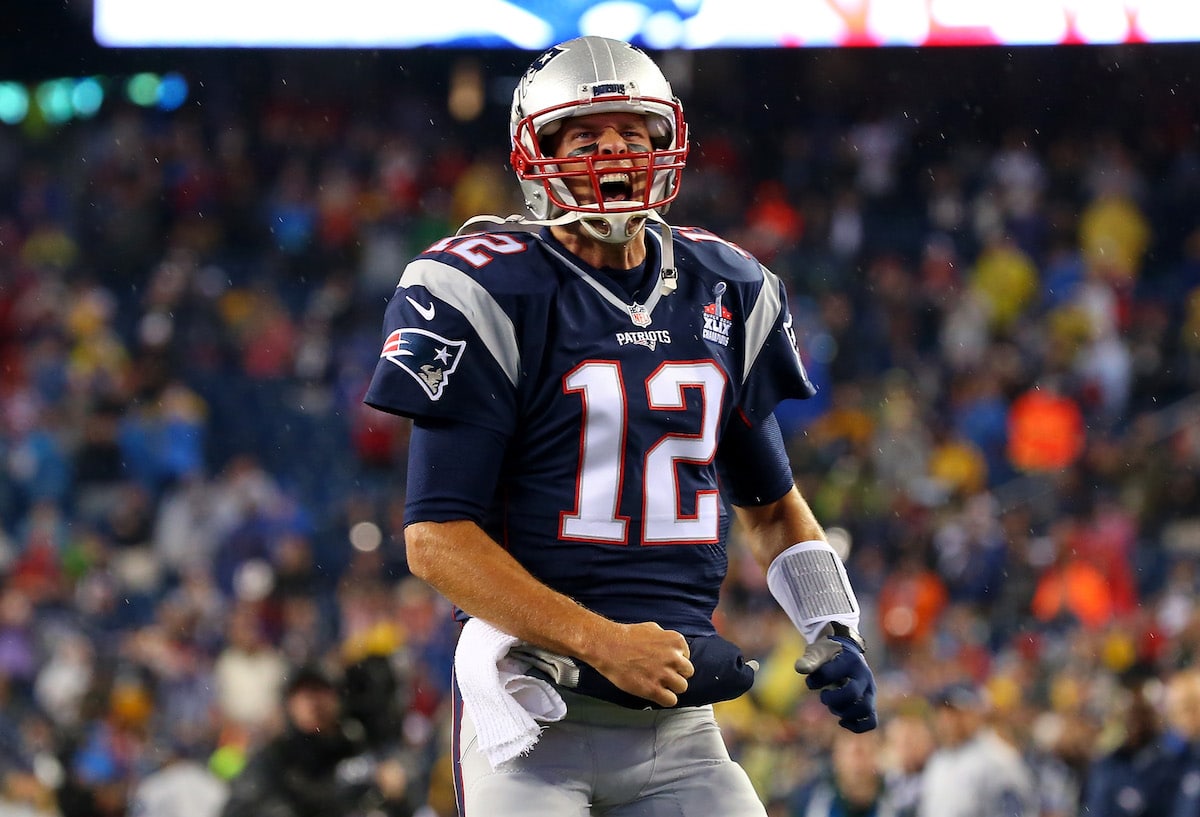 The Best Athletes to Ever Wear a Number 12 Jersey
Tom Brady leads the pack of number 12 jersey wearers.
Tom Brady threw what felt like millions of touchdown passes for the New England Patriots and Tampa Bay Buccaneers while wearing the number 12 jersey, and he's far from the only NFL quarterback who represented those digits with aplomb.
But the representation doesn't stop at football as we highlight standout athletes in plenty of other sports, as well.
For our list of the 10 best to ever wear a number 12 jersey, presented alphabetically by first name, we highlighted their professional careers only while donning the double ones. These athletes were selected based on their accolades, statistical accomplishments, and talent while wearing a number 12 jersey.
Aaron Rodgers
Aaron Rodgers had to bide his time before becoming the Green Bay Packers' starting quarterback, but he soon proved himself one of the best players of his generation. While leading his team, he won one Super Bowl and four MVP trophies and earned a place on the NFL's All-Decade team for the 2010s.
The number 12 jersey was good to him, but he had to switch following his trade to the New York Jets because it was retired in honor of another member of this list. 
Dwight Howard
It's easy to see why Dwight Howard's personality quirks have rubbed many people the wrong way. But at his peak, he was the NBA's most dominant big man, primarily on defense. With the number 12 jersey on his back, he won three Defensive Player of the Year awards and was named to seven All-NBA teams and eight All-Star rosters. 
Jarome Iginla
Jarome Iginla is one of the finest hockey players to grace NHL ice. The six-time All-Star is the Calgary Flames' all-time leader in goals, points, and games played. He is also one of seven players in league history to score 30 goals in 11 straight seasons. While he never won a Stanley Cup, he did win two gold medals for Team Canada.
He was inducted into the  Hockey Hall of Fame in 2020. 
Joe Namath
Joe Namath is the reason Aaron Rodgers can't wear the number 12 jersey for the New York Jets. His numbers don't stack up with modern greats, but the Alabama alum was a top-class passer for his era, leading both the AFL and NFL in passing yards and touchdowns across multiple seasons. Broadway Joe also led the Jets to their only Super Bowl championship in 1968. 
John Stockton
Though he never won a ring, John Stockton remains one of the best point guards of all time. The Gonzaga product spent his entire 19-year career with the Utah Jazz, leading the team to the NBA Finals twice and racking up several individual accolades. Stockton was an 11-time All-NBA selection and a 10-time All-Star, and he holds the league records for most career assists and steals. 
Roberto Alomar
Roberto Alomar wore the number 12 jersey for seven teams across a 16-year MLB career defined by consistent excellence. The 12-time All-Star won 10 Gold Gloves, a league record for second basemen, and four Silver Slugger awards. He was inducted into the Hall of Fame in 2011. 
Roger Staubach
The Dallas Cowboys didn't accomplish anything of note until Roger Staubach lined up under center. After graduating from the Naval Academy and completing a tour of duty in Vietnam, he led them to four Super Bowls as a starter, winning two. He was also the first player to win both the Heisman and Super Bowl MVP, as well as the first quarterback to win the Heisman and later enter the Pro Football Hall of Fame. 
Tom Brady
Tom Brady is probably the first person you think of when picturing the number 12 jersey. There isn't much left to say about the seven-time champion. Nothing emphasizes his legendary status more than the fact he arguably put together separate Hall of Fame resumes in his 20s, 30s, and 40s. 
Wade Boggs
The Boston Red Sox retired the number 26 jersey in honor of Wade Boggs, but his five-year stint with the New York Yankees was also worthy of praise. While wearing 12, the third baseman won two Gold Gloves, two Silver Slugger awards, and a World Series with the Bronx Bombers. Boggs later signed with the Tampa Bay Rays for their first two seasons as a franchise, hitting the team's first-ever home run in its inaugural game and registering his 3,000th hit in the majors. 
Yvan Cournoyer
Yvan "The Roadrunner" Cournoyer was a star for the Montreal Canadiens for the entirety of his 16-year career. He led the team to 10 Stanley Cup victories and was named league MVP in 1973. Cournoyer was inducted into the Hall of Fame in 1982. 
Best athletes to wear a number 12 jersey: honorable mentions
We considered so many great athletes who've worn a number 12 jersey. The following didn't quite make it on our top-10 list, but they're worth mentioning due to their incredible talent and prolific careers. More will join them as new talents distinguish themselves.
Alfonso Soriano
Andrew Luck
Bob Griese
Chelsea Gray
Derek Harper
Dickie Moore
Dusty Baker
Eric Staal
Fat Lever
Francisco Lindor
George Yardley
Giovanni van Bronckhorst
Jeff Kent
Jim Kelly
Joe Ferguson
John Brodie
John Obi Mikel
Ken Stabler
LaMarcus Aldridge
Lauren Holiday
Lynn Dickey
Marcelo Vieira da Silva
Mark Langston
Olivier Giroud
Patrick Marleau
Randall Cunningham
Steve Finley
Terry Bradshaw
Thierry Henry
Vlade Divac
Stats courtesy of Basketball Reference, Pro Football Reference, Transfermarkt, Baseball Reference, and Hockey Reference