Is Joe Namath the Most Overrated Hall of Famer in All of Sports?
Joe Namath is famous for making a guarantee and following through. The man known as "Broadway Joe" confidently stated his New York Jets would beat the heavily-favored Baltimore Colts in Super Bowl 3. The Jets won 16-7, and Namath was named the game's MVP.
That game made Namath. Statistically, he was nothing special in his 13 years in the NFL, 12 of those coming with the Jets. Off the field, he was a big personality who was wildly popular with the media. Namath was inducted into the Pro Football Hall of Fame in 1985, despite his less-than-spectacular numbers. Do his Hall of Fame accolades make Namath the most overrated player in all of sports?
Broadway Joe Namath should be known as Average Joe Namath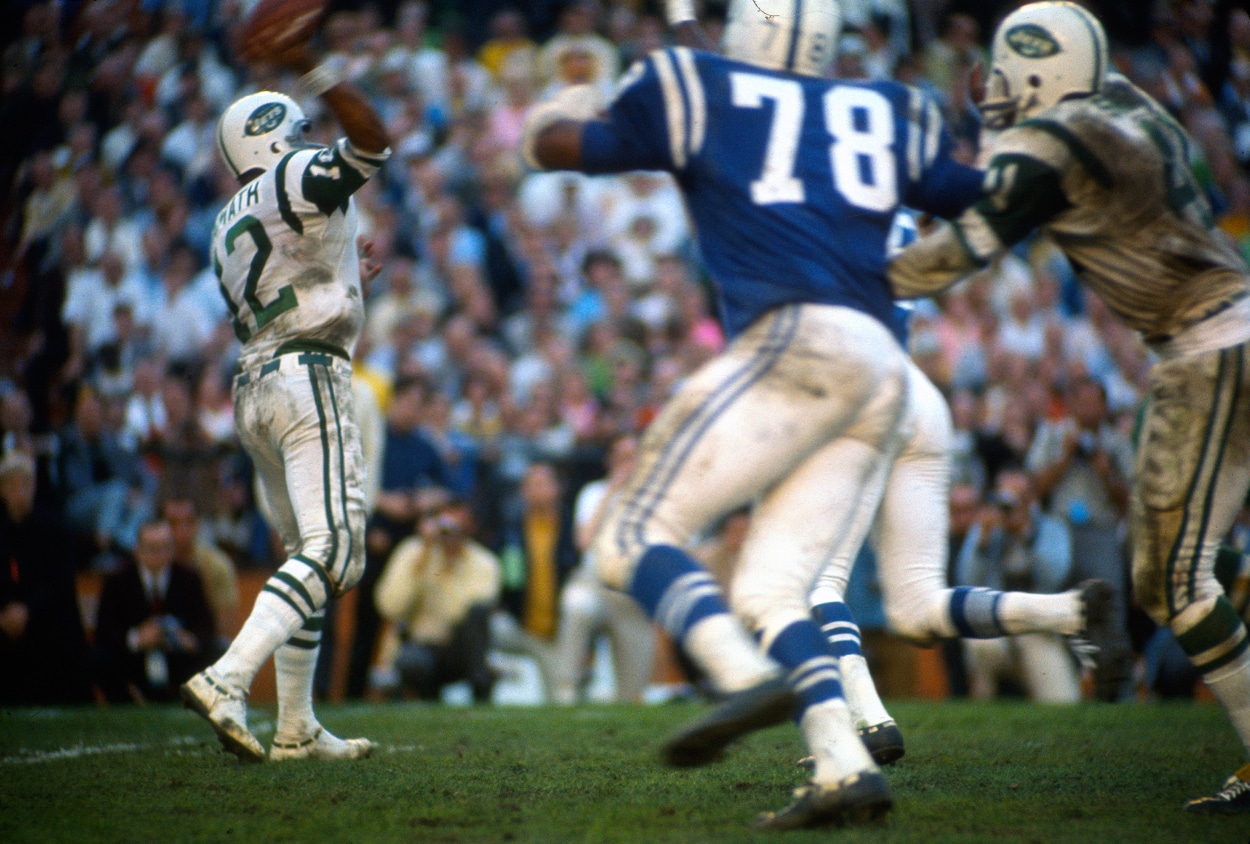 Namath was a solid quarterback whose legacy was enhanced by his bold prediction. He had one All-Pro season in 1968 when he went 11-3 and threw for 3,147 yards. He finished the season with 15 touchdown passes and 17 interceptions.
Three times, Namath led the league in passing yardage. He threw for a career-high 4,007 yards in 1967, but he also added a career-high 28 interceptions that season. It wasn't uncommon for Namath to throw for more interceptions than touchdown passes in a season. That happened in 11 of his 13 seasons.
Twice in his career, Namath had 28 interceptions in one season. For his career, Namath threw 220 picks. He had 173 touchdown passes.
Although he won Super Bowl 3, it's tough to call Namath a winner based on his numbers. In those 13 seasons, he had a winning record five times as the team's starting quarterback. One of them came in 1971 when he started three games and went 2-1. For his career, Namath went 62-63-4 as a starter.
Namath played his final season with the Los Angeles Rams, going 2-2 as a starter. In his career, he had just six seasons where he completed better than 50% of his passes.
Bill Walton, Lynn Swann join Namath on the list of overrated Hall of Famers
It's tough to justify Namath as a Hall of Fame quarterback, but he's not the only professional athlete who cracked the Hall of Fame with less-than-stellar numbers.
Bill Walton might be the greatest college basketball player ever. He's certainly in the conversation. All the college hype from his UCLA days followed him through his 10-year NBA career. The Portland Trail Blazers made him the top pick in the 1974 NBA Draft.
As a rookie, Walton averaged 12.8 points and 12.6 rebounds before stringing together three strong seasons. He made his only two All-Star appearances in 1977 and 1978. In '77, he helped guide the Blazers to a championship when he averaged 18.6 points and a league-leading 14.4 rebounds. The following year, he was named the league's MVP.
After that, Walton's career was derailed by injuries. He played a total of 14 games in the next four years, missing three full seasons, and was never the same. Walton never started more than 46 games in a season after that. He played 80 games during the 1985-86 season as a reserve with the Boston Celtics. That year, he won Sixth Man of the Year honors and was a key piece to Boston's third championship of the decade. Are four good seasons enough to get you in the Hall?
Former Pittsburgh Steelers wide receiver Lynn Swann is another standout whose HOF credentials can be argued. He's a four-time Super Bowl champion who played nine years with the Steelers. While Swann was known for his acrobatic catches, he had one All-Pro season (3 Pro Bowls). He only had more than 50 catches in a season one year.
Swann's All-Pro season came in 1978 when he posted career-highs in catches (61), receiving yards (880), and touchdowns (11). That came in a 16-game season. He finished with 5,462 yards and 51 touchdowns in his career.
While there are certainly other questionable Hall of Famers, Namath is the one who stands out the most.