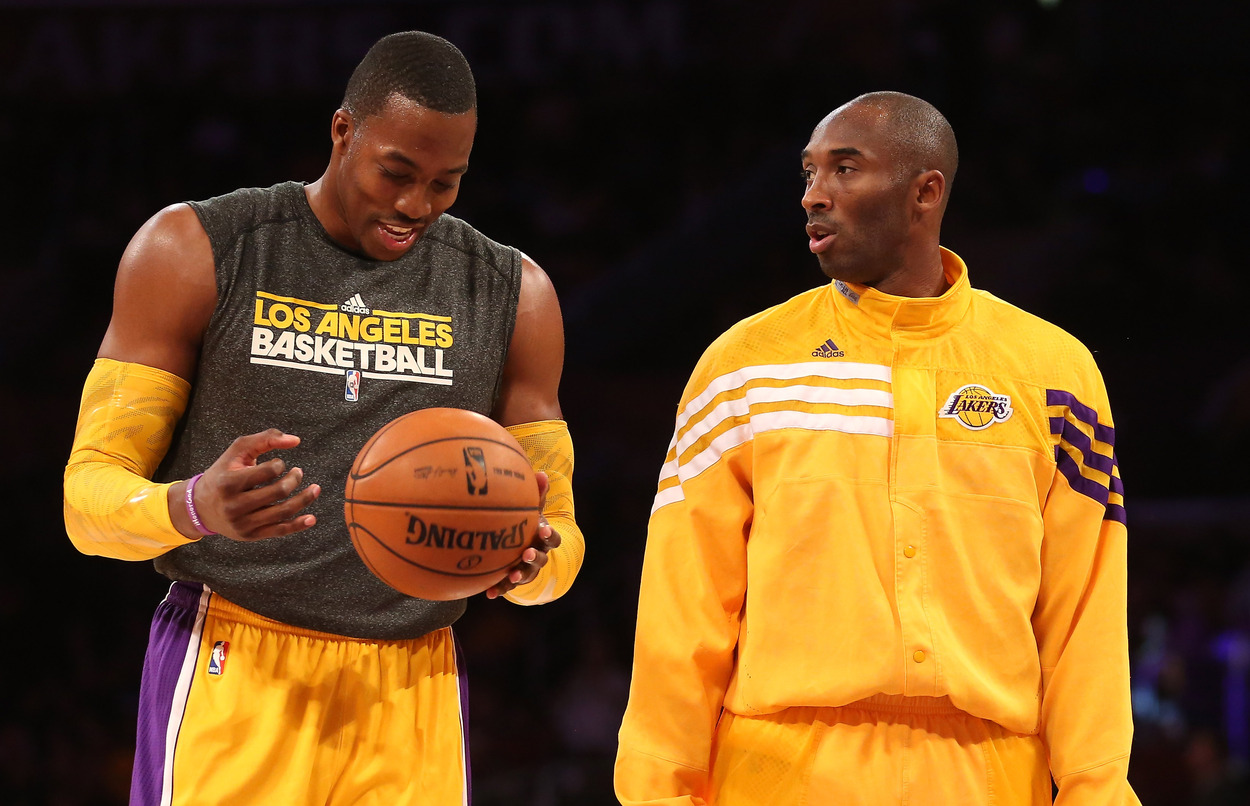 Kobe Bryant Knew the Los Angeles Lakers' Dwight Howard Experiment Was Headed Toward Disaster After a Single Phone Call
Many people thought Dwight Howard would flourish with the Los Angeles Lakers. Kobe Bryant was not one of them.
Following back-to-back second-round exits, Kobe Bryant and the Los Angeles Lakers wanted to make a splash. Perhaps, they even needed to make a splash. With an aging Bryant still playing at a high level, the Lakers wondered what it would take to win their star his sixth championship. The answer was none other than Dwight Howard, the transcendent center of the Orlando Magic.
Howard's arrival in LA made the Purple and Gold instant contenders. However, Kobe was skeptical of D12 even before the two All-Stars stepped on the floor together.
The Los Angeles Lakers envisioned Kobe Bryant and Dwight Howard winning a championship together
In the summer of 2012, LA was two years removed from winning back-to-back titles. Worse yet, it had just watched the Miami Heat trio of LeBron James, Dwyane Wade, and Chris Bosh win their first of two championships.
As you can expect, the mission to form a superteam of its own was on. And acquiring Howard was the way to make it happen.
At the time, Howard was a 26-year-old with six consecutive All-Star appearances. He was a three-time Defensive Player of the Year winner with an offensive arsenal capable of carrying a team, as he did in 2009 when his Magic lost in five games to Kobe's Lakers. And best of all, he was demanding a trade out of Orlando.
After months of speculation and years of wishing, the Lakers secured the game's best center. LA acquired Howard in a four-team deal involving the Philadelphia 76ers and Denver Nuggets. The most significant player the Purple and Gold lost was Andrew Bynum, who missed the entire 2012-13 season with the Sixers and played just 26 more games for the rest of his career.
Howard joined Bryant and Steve Nash, who signed with the Lakers a month earlier, to form a trio ready to win a title … or so we thought.
Kobe knew Howard wasn't cut out for LA after a brief phone call
Heading into his 17th season, the 34-year-old Bryant was running out of time to secure at least one more championship. The Lakers tried to pair him with Chris Paul in 2011, but the deal was famously vetoed by commissioner David Stern. But Kobe now had two perennial All-Stars in Howard and Nash, who —along with Pau Gasol and Metta World Peace — could help him return to the mountain top.
But it wasn't long before Kobe realized Howard wasn't going to be the teammate to get him there.
Former NBA veteran and current ESPN personality Jalen Rose recently appeared on an episode of All the Smoke to discuss all things basketball. During the interview, Rose shared a story about a time he and Bryant were hanging out after the trade went down. Kobe received a call from Howard, his new teammate.
"So Kob' take the call. I'm sitting there, and I might've heard some of the conversation. And I might've heard Dwight asking him about LA, some of the off-the-court things.

Kobe got off the phone and said, 'This s*** ain't gon' work.' That's exactly what he said. And this is before he even laced up with him one time. He said, 'His head ain't right. MoFo, I'm here to help you get championships. You're asking me about producers?'"

Jalen Rose
Rose's story highlights a couple of interesting points. First, Kobe was the ultimate competitor whose sole focus was on championships (let's be honest, we already knew that). Second, KB immediately knew Dwight wouldn't work on the Lakers. And boy was he right.
Dwight Howard had a nightmare season and proved Kobe Bryant right
Given his ultra-competitive nature, Bryant would've loved to see Dwight prove him wrong and help deliver a ring. But soon after Howard suited up for his new team, everyone saw what Kobe saw months prior.
The superstar center struggled all season in developing chemistry with Bryant and other teammates. The disconnect, along with a torn labrum he managed to play through, led Howard to average 17.1 points, his lowest total since his second season in Orlando. He also averaged 3.0 turnovers and 3.8 personal fouls, the latter of which was a career high.
Despite getting off to a putrid 17-25 start and firing head coach Mike Brown, the Lakers had a big second half under new coach Mike D'Antoni to finish the year at 45-37. But the seven-seed Lakers were no match for the San Antonio Spurs, who swept LA in four. With Bryant out after tearing his Achilles nine days before the postseason, Howard averaged a team-high 17.0 points against San Antonio before getting ejected in the third quarter of Game 4.
After a poor performance on the court and feuds with Bryant off it, Howard left the Lakers in free agency in 2013 to sign with the Houston Rockets. Eventually, the big man returned to LA in 2019 — three years after Kobe's retirement — and won his elusive ring as a role player rather than franchise star.
Even though Howard eventually redeemed himself in the eyes of Lakers fans, the failure of the 2012-13 season will live on forever. And while that season surprised many, Kobe was not one of them.
All statistics courtesy of Basketball Reference.