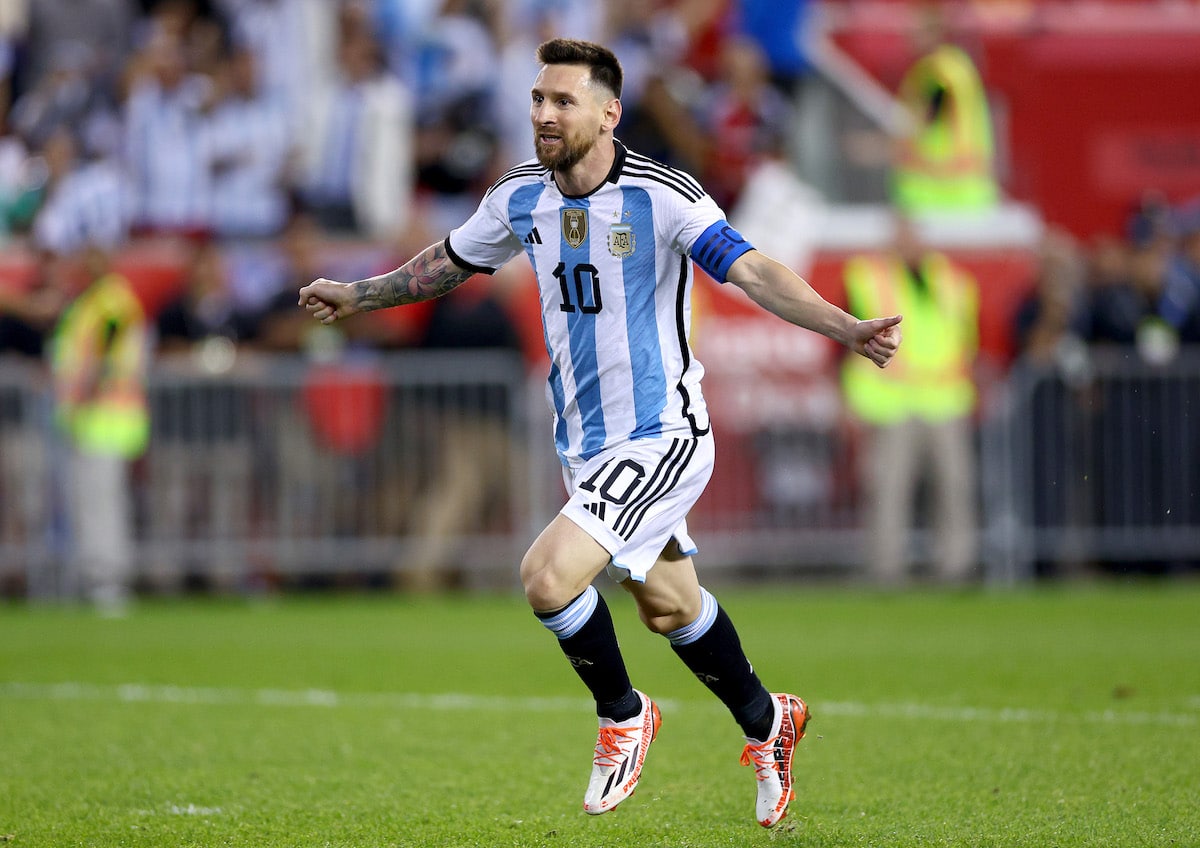 The Best Athletes to Ever Wear a Number 10 Jersey
Allow us to present the 10 best number 10 jersey wearers.
When determining the best athletes of all time, the "best" will always be subjective. However, we've given it our best shot to categorize the best of the best who had the honor of repping the number 10 jersey.
Chipper Jones smacked home runs for the Atlanta Braves from both sides of the plate. Lionel Messi dazzled en route to becoming arguably the greatest player in soccer history. Sachin Tendulkar became a household name all around the world. And that's just a smattering of the legends represented here.
For our list of the 10 best to ever wear a number 10 jersey, presented alphabetically by first name, we highlighted their professional careers only while donning the smallest double-digit number. These athletes were selected based on their accolades, statistical accomplishments, and talent while wearing a number 10 jersey.
Chipper Jones
One of baseball's greatest athletes to ever sport the number 10 jersey, Chipper Jones rocked it throughout his 20 years with the Atlanta Braves. He spent his entire professional career in Atlanta after the organization selected him with the first overall pick in the 1990 MLB Draft. 
The third baseman won the 1995 World Series with the Braves, and he ended his career in 2014 with a .303 batting average and 468 home runs. Jones was the first qualified switch hitter in MLB history to hit at least .300.
The Braves retired the number 10 jersey in Jones' honor in 2013. 
Diego Maradona
A free kick specialist and nutmeg connoisseur, Diego Maradona knew how to put on a show. 
The Argentinian was capped 91 times for his country and scored 34 international goals from 1977 to 1994. In addition, Maradona made four World Cup appearances. During the 1986 edition, he captained his team and led it to a World Cup victory over West Germany. 
Guy Lafleur
A prolific scorer, Guy "The Flower" Lafleur was the first player in NHL history to score 50 goals in six consecutive seasons and the only player to score 50 goals and 100 points in six consecutive seasons. 
Lafleur had a 17-season NHL career and wore the number 10 jersey the entire time. He played a total of 1,126 games and scored 560 times. He also won five Stanley Cup championships with the Montreal Canadiens in 1973, 1976, 1977, 1978, and 1979. 
Lionel Messi
Currently playing his club football at Inter Miami, Lionel Messi is one of the greatest athletes on the planet and is still repping the number 10 jersey. An Argentine international, he has been representing his country since 2005.
As of September 2023, Messi has 175 caps and 103 goals to his name at the international level. He also has a record seven Ballon d'Or wins and became a World Cup champion with Argentina in 2022.
At 36 years old, he is proving that he still has a lot left in the tank. 
Marta
A legendary forward on the Brazilian national team, Marta has been sporting the number 10 jersey on the world stage since she was a teen. She made her World Cup debut as a 17-year-old in 2003 and scored three goals throughout the tournament.
Fouryears later, she returned and become an international icon. At just 21 years old, Marta earned the Golden Boot with seven goals scored, was named Player of the Tournament, and helped Brazil earn the silver medal. 
In 2019, Marta became the first footballer, male or female, to score at five different World Cups. At the next iteration, Brazil was knocked out of the 2023 Women's World Cup during the group stage, marking a bitter end to her World Cup run.
However, her legacy at the international level is unmatched. 
Marta currently has 175 caps for Brazil and has scored 115 international goals throughout her career. Seventeen came during World Cup play, which means she still holds the record for most goals scored in any World Cup, men's or women's.
At 37 years old, Marta isn't ready to hang up her boots just yet. The Brazilian still plays in the NWSL for the Orlando Pride and might just make another Olympics appearance in 2024. 
Michel Platini
French footballer Michel Platini was a force to be reckoned with on the pitch. A midfielder in his day, he made 72 international appearances for France from 1976 to 1987, recording 41 goals along the way.
Platini took Ballon d'Or honors for three consecutive years in 1983, 1984, and 1985, all while wearing the number 10 jersey for Juventus. 
Pele
Another iconic Brazilian footballer, Pele inspired not only a generation but also the generations to follow through his style of play. The forward made 92 appearances for Brazil from 1957 to 1971, scoring 77 international goals. He also won three World Cups in 1958, 1962, and 1970. 
While Pele spent most of his professional career in Brazil playing for Santos, he came stateside in 1975 to play two seasons for the New York Cosmos. Years later, Marta's prowess on the football field was often compared to Pele's. Per CNN, he enjoyed hearing these comparisons in his later years.
Pele remains the only male footballer to win three World Cups. 
Sachin Tendulkar
An Indian cricket star, Sachin Tendulkar is widely regarded as one of the greatest batsmen in the sport's history.
Per ESPN, he is the all-time highest run-scorer with more than 18,000 ODI runs and 15,000 Test Format runs. Tendulkar repped the number 10 jersey proudly during his professional cricket career, which spanned from 1988 to 2013. 
Sue Bird
Sue Bird is quite the decorated hooper.
She played her college basketball at Connecticut under legendary coach Geno Auriemma, who has since become the most successful coach in women's college basketball with 11 NCAA championships to his name. Bird helped add two of these titles to his collection.
In 2002, the Seattle Storm selected the 5-foot-9 guard with the first overall pick in the WNBA draft. Aside from her national team duty and stints overseas in Russia, she remained with the Storm throughout her 20-year professional career.
Bird played 580 games in the WNBA and averaged 11.7 points, 2.5 rebounds, and 5.6 assists. Seattle retired the number 10 jersey to honor her historic playing career in 2023. 
Zinedine Zidane
Zinedine Zidane enjoyed a 22-year international career. He repped France 108 times between 1994 and 2006, scoring 31 goals, and helped his country win the 1998 World Cup.
The attacking midfielder also had an impressive club career, winning the Ballon d'Or the same year. Playing for Cannes (1989-92), Bordeaux (1992-96), Juventus (1996-2001), and Real Madrid (2001-06), he suited up in 339 matches during his club career and racked up 67 goals and 57 assists.
Best athletes to wear a number 10 jersey: honorable mentions
We considered so many great athletes who've worn a number 10 jersey. The following didn't quite make it on our top-10 list, but they're worth mentioning due to their incredible talent and prolific careers. More will join them as new talents distinguish themselves.
Andre Dawson
Bob Dandridge
Carli Lloyd
Cooper Kupp
Dale Hawerchuk
DeAndre Hopkins
DeMar DeRozan
Dennis Bergkamp
Dennis Rodman
Dick Snyder
Eli Manning
Fran Tarnkenton
Francesco Totti
Gary Sheffield
George Armstrong
Homare Sawa
Jo Jo White
Joe Fulks
Johnny Mize
Juan Roman Riquelme
Justin Herbert
Kelly Smith
Kylian Mbappe
Lefty Grove
Maurice Cheeks
Mesut Ozil
Michelle Akers
Mookie Blaylock
Nate McMillian
Neymar
Norm Nixon
Pavel Bure
Ron Cey
Ron Francis
Ron Santo
Ronaldinho
Syl Apps
Tim Hardaway
Trent Green
Tyreek Hill
Walt Frazier
Wayne Rooney
Stats courtesy of Basketball Reference, Pro Football Reference, Transfermarkt, Baseball Reference, and Hockey Reference