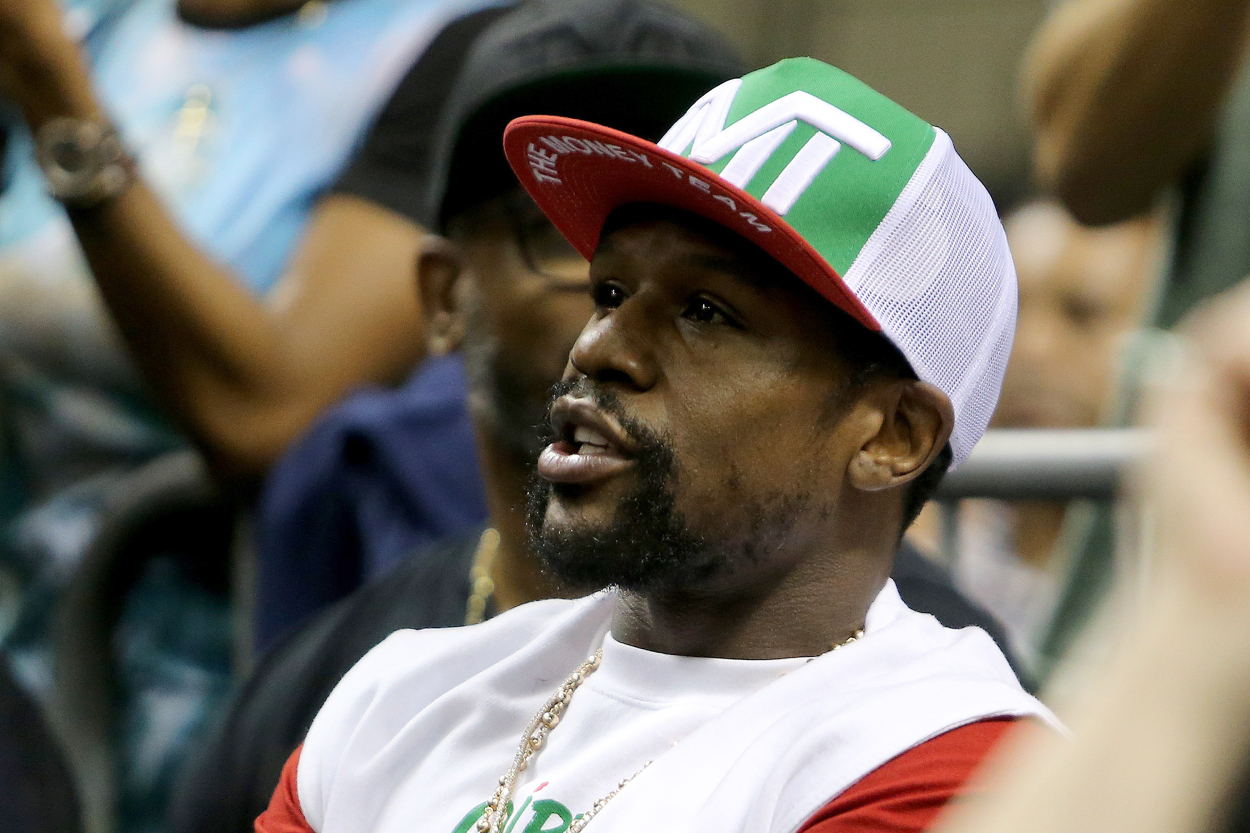 Floyd Mayweather vs. Logan Paul Postponed, but 'Money' Accepts Another Challenge
Floyd Mayweather may have another celebrity in mind to fight after his exhibition with Logan Paul was postponed.
The return of Floyd Mayweather to the boxing ring has been put on hold. His upcoming exhibition fight with YouTuber Logan Paul has been postponed, according to Fanmio, the company putting on the event. While Mayweather may have to wait to fight Paul, he's apparently accepted the challenge from another celebrity who wants a shot at the undefeated boxer.
Floyd Mayweather was perfect in the boxing ring
When it comes to boxing, there isn't a whole lot left for Floyd 'Money' Mayweather to prove. He fought 50 professional fights and he won all of them. Mayweather won 27 of his 50 fights via knockout.
Mayweather didn't shy away from some of the biggest fighters in his weight class. He earned victories against Shane Mosley, Oscar De La Hoya, and Manny Pacquiao, to name a few. He captured 15 world titles in his career and the Boxing Writers Association of America named him the Fighter of the Decade from 2010-2019.
In 2016, ESPN named Mayweather the top boxer in the last 25 years, writing Mayweather will go down as one of the best boxers in history. In his era, he had no peer defensively and is perhaps the greatest defensive fighter in history. But he also beat a who's who of his era and usually did so with ease. Mayweather has retired from the sport on three different occasions.
Mayweather's fight with Logan Paul postponed
Floyd Mayweather was supposed to step back into the boxing ring on Feb. 20 against YouTuber Logan Paul. It was recently announced the exhibition match is postponed. No rescheduled date has been announced.
Fanmio – a company that connects fans with celebrities through online fan experiences – was to host the fight. The bout was scheduled to be a pay-per-view event. While no specific reason was given for the postponement, Fanmio CEO Solomon Engel said the fight will go on.
Engel said there was a whole lot of buzz surrounding the fight and those people won't be disappointed. "After an absolutely tremendous response to the fight announcement, we're hoping to announce a new date very soon along with some new exciting details," Engel said in a statement, according to ESPN.
Mayweather ready to add another opponent to his list
Logan Paul insists the fight with Floyd Mayweather will still go on. "The Mayweather fight is pushed (back) which I am completely OK with," Paul said on his YouTube channel, according to CBS Sports. "The fight's still happening. We want to have a packed arena somewhere and then the business side of things, we have to iron them out."
Whether that fight plays out or not, Mayweather, in multiple Instagram posts Wednesday, mapped out his year. Mayweather said he'd even want to face Logan Paul's brother at some point. But the big name on Mayweather's list is rapper 50 Cent, who said he wanted a crack at Mayweather. Appearing on V-103's "The Morning Culture" show, the rapper was asked who he'd like to fight in a celebrity boxing match. "I'd fight Floyd," 50 Cent said. "I don't think I can make weight though."
On Instagram, Mayweather said challenge accepted, but with one condition. "I also heard that 50 Cent would fight me but claims I'm too small," Mayweather wrote. "If he wants to lace up at the end of the year we can do an exhibition then. I don't care about weight class with any of these guys. The Paul brothers will make great money with the events, but with 50 Cent It has to be Winner Takes All."