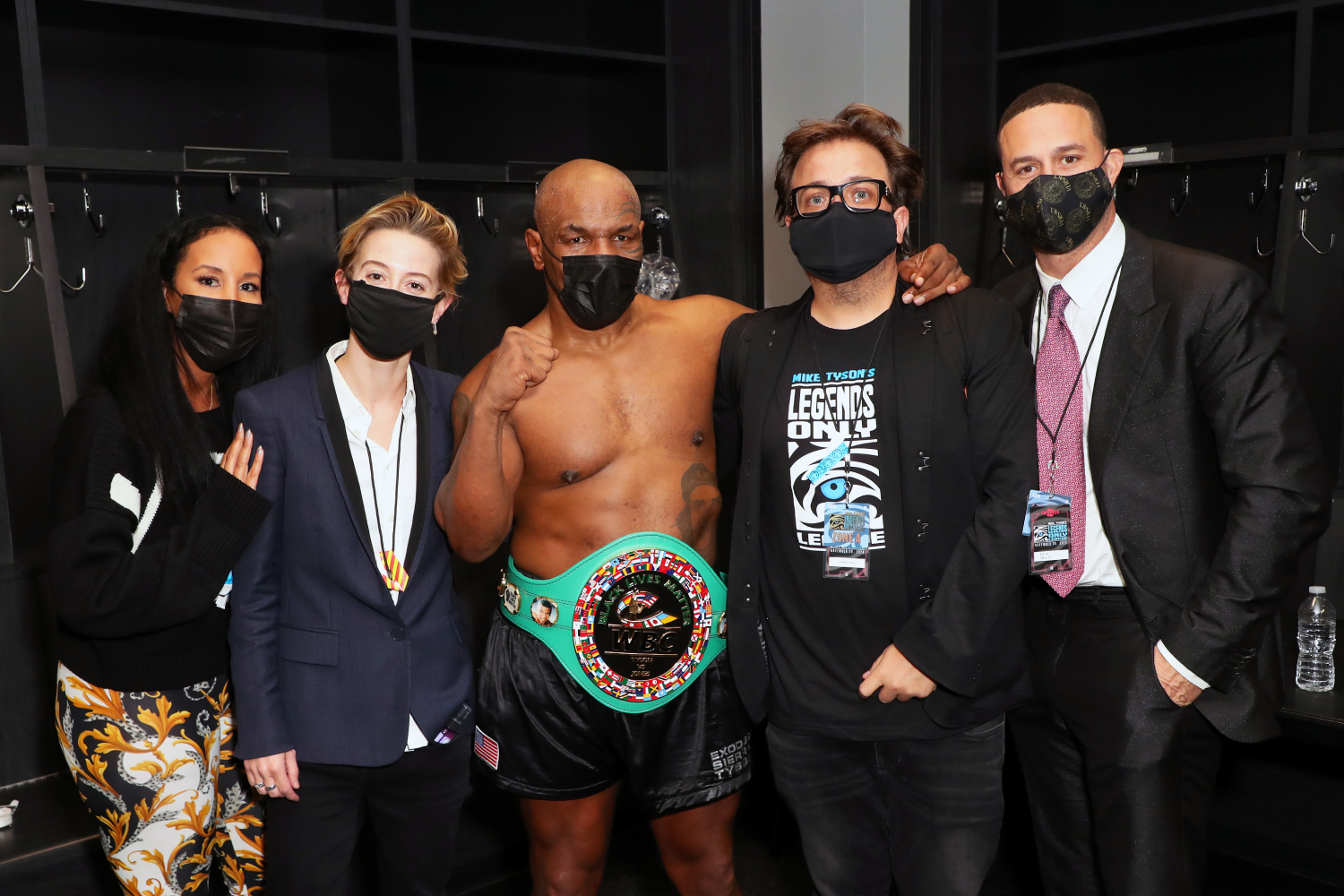 Mike Tyson Pulls No Punches About Logan Paul's Chances vs. Floyd Mayweather
Mike Tyson gets blunt with Logan Paul about his chances of beating Floyd Mayweather in a bout scheduled for February.
Mike Tyson is a tell-it-like-it-is kinda guy. He did just that during his latest talk with Logan Paul, the man supposedly getting into the boxing ring with Floyd Mayweather in February. During a recent episode on Paul's podcast, IMPAULSIVE, the former heavyweight champion was brutally honest when he was asked his thoughts about who would win the fight.
Floyd Mayweather scheduled to fight Logan Paul in February
In another one of those pay-per-view exhibition boxing matches, Floyd Mayweather is scheduled to take on YouTuber Logan Paul in a bout set for Feb. 20, 2021. Exhibition matches have recently become a thing. Paul's brother, Jake, just took part in one when he knocked out former NBA player Nate Robinson.
The Jake Paul vs. Nate Robinson fight was on the undercard of the Mike Tyson vs. Roy Jones Jr. exhibition bout that took place on Nov. 28. According to ESPN, Fanmio Boxing, the company putting on the fight, has declined to put out details of the event. How many rounds and what size gloves are anybody's guess at this point.
ESPN notes that the event will be on PPV and Fanmio is a company that specializes in meet-and-greets with celebrities. Those who purchase the PPV event will be entered to win a virtual meet-and-greet with both Mayweather and Paul.
Does Logan Paul have any shot at beating Floyd Mayweather?
Floyd Mayweather has a 50-0 record as a professional boxer. Logan Paul makes videos on YouTube. Why would anyone in their right mind believe Paul has any chance at defeating Mayweather in their exhibition fight that's scheduled for Feb. 20, 2021? Former boxing champ Victor Ortiz believes Paul has a shot.
Ortiz, a longtime friend of Paul's, told MMA Fighting that he watched Paul knock out the last of his three training partners in preparation for the Mayweather fight. Ortiz was very impressed. "Mind you, these are full-on professional boxers," Ortiz said. "I sat back in shock and awe. He was so composed and relaxed. He used his reach perfect – took a little step, hook down the middle, sleep. Night-night. My only complaint there is that he didn't read him a bedtime story."
Ortiz, who fought Mayweather in September of 2011, goes against what most people believe – that Paul has no chance. "I'm telling you, it's going to be an interesting fight," he said. "I've talked to him about Floyd a few times. … I give him the simple things: 'Floyd is Floyd, but you're unstoppable. You're on another level.' I strongly believe Floyd will have trouble. Logan can box, and he has power, reach speed, and he can move now."
Mike Tyson is blunt when asked if Paul can beat Mayweather
Mike Tyson was a recent guest on the IMPAULSIVE podcast, co-hosted by Logan Paul and Mike Majlak. Majlak asked Tyson what he thought of Paul's scheduled fight against Floyd Mayweather. Tyson didn't hold back at all. "Floyd is going to beat his f—ing ass," Tyson said."It's going to be good. He's going to fight back, though."
Paul then jumped in and asked if Tyson thought there would be any opportunity for him to land a punch on Mayweather. "Let me tell you something about Floyd," Tyson said. "This is what I don't like about him, either. No matter whatever we say about him, he's in that gym. He's retired, but he stays in that gym. He can't help it. He don't do drugs. That's his heroin."
Paul then pressed again, asking Tyson if he could land one big shot on Mayweather. "He might let you hit him a couple of times to make the show look good," Tyson said. The former heavyweight champ then eased up a bit, saying, "When two people get into the ring, anything can happen," he said. That was what Paul needed to hear.