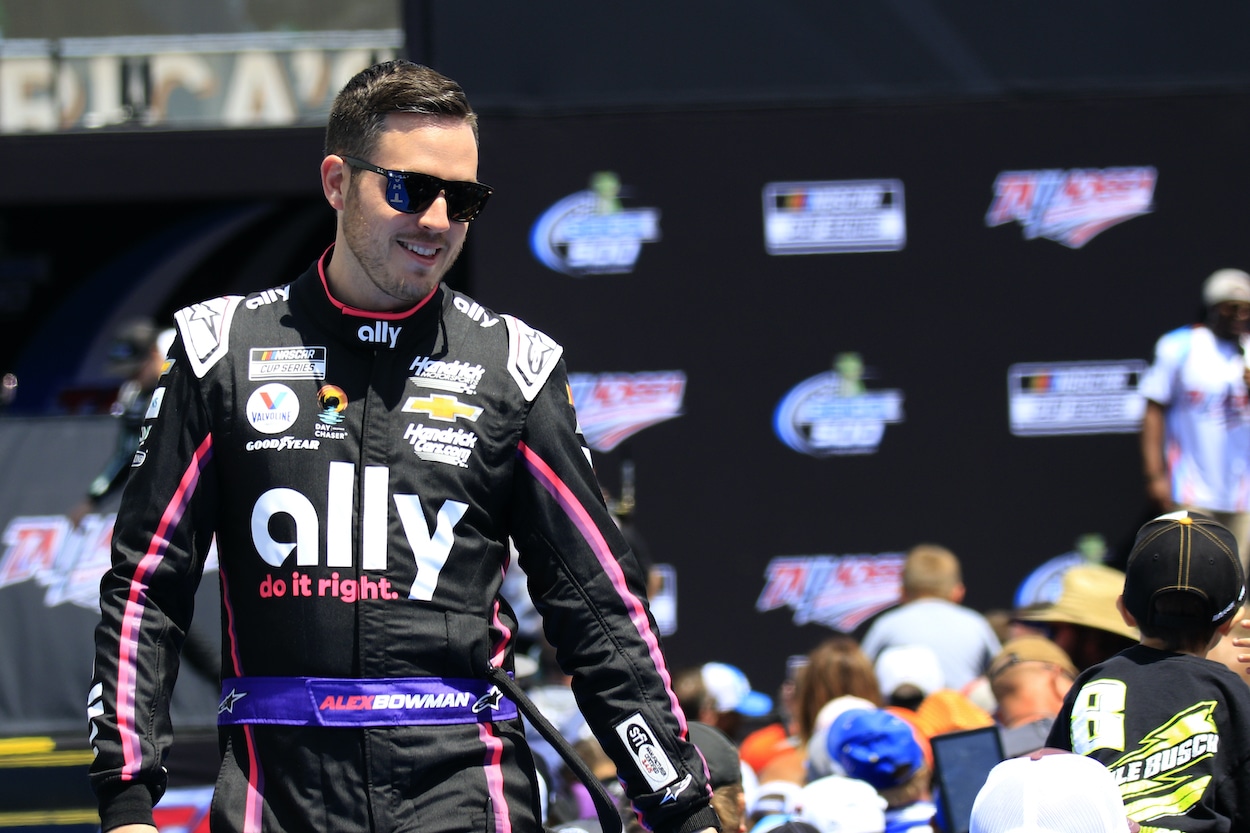 If You Don't Follow Alex Bowman on Twitter, Start Before Sunday's Race, and You Won't Regret It
Alex Bowman missed Monday's race at Dover due to injury, but followed it closely and delivered live commentary on Twitter that kept fans laughing and entertained.
Alex Bowman missed his first Cup Series race on Monday at Dover Motor Speedway after sustaining a back injury during a mid-week race that will reportedly sideline him for up to four weeks. Not at the track, the Hendrick Motorsports driver had time on his hands and a phone in his hand, where he delivered one humorous remark after another on Twitter, including announcing at one point how he was part of a group that Fox broadcaster Mike Joy isn't a fan of and recently called out during a broadcast.    
Alex Bowman delivers hilarity on Twitter
Alex Bowman stayed at home recovering from his broken back injury this past weekend, but made it perfectly clear that he was keenly following the action at Dover. He started on Saturday during practice and qualifying, which was rained out, when he mentioned in a tweet how he missed racing at his favorite track. But he didn't limit his remarks to racing. 
When asked what he thought of Noah Gragson's new bowl haircut, the 30-year-old driver suggested: "Buddy needs a life coach." 
"He has a personality though. Hendrick doesn't have any of those lol," one fan responded to Bowman's reply, probably not thinking he'd get a response. But he did. 
"Especially not on the 48 team," the driver sarcastically fired back. 
And he was just getting started.
Bowman live tweets during Dover race
A couple of days later, Bowman was watching the first stage of the race with phone in hand when Ross Chastain got into Brennan Poole, who then collected Kyle Larson. 
"5 was a rocket, 1 doing 1 things. Gosh I'm sure he didn't mean to," Bowman said of the Trackhouse driver and included a GIF showing Will Ferrell in the movie Elf saying, "Darn it!" 
"If I were Kyle Larson, I would have simply just missed the crash if I were the best driver in the universe," one fan responded. 
"Your couch must handle better than a cup car," the driver replied.
Later in the race when a caution came out with 14 laps to go, Bowman jumped in the conversation with another tweet that included a GIF of Will Smith and a surprised look on his face.
"Oh man this changes everything," he wrote. 
When another fan wrote how they loved Bowman's commentary and suggested that he needs to join the Fox NASCAR booth like his HMS teammate Chase Elliott did for one race earlier this season while out with his knee injury, the injured driver offered another funny response.
"Please don't. I'm a keyboard warrior only," the driver said, referring to a broadcast earlier this season when Fox announcer Mike Joy called out keyboard warriors for their critical comments. 
When the race ended, Bowman fired off one last tweet that included a GIF of Jerry from Tom and Jerry taking a bow. 
"My thumbs hurt, idk how y'all keyboard warriors do it! Until next time," he wrote and signed off with a peace sign.
Not a fan of social media
While Bowman is good at showing his sharp sense of humor on Twitter, and it is undoubtedly entertaining, the driver admitted earlier this year at Daytona that he doesn't necessarily like social media but does it to connect with the fans. 
"Definitely dry and sarcastic," he said of his Twitter tone. "Try to have a good time with it. Social media is not my favorite, so if I'm going to do it I try to have fun with it."
He definitely does that. And the next round of fun comes this Sunday at Kansas. Keyboard warriors unite! 
For the latest breaking news and information about NASCAR's three national series, check out @kdsportswriter on Twitter.