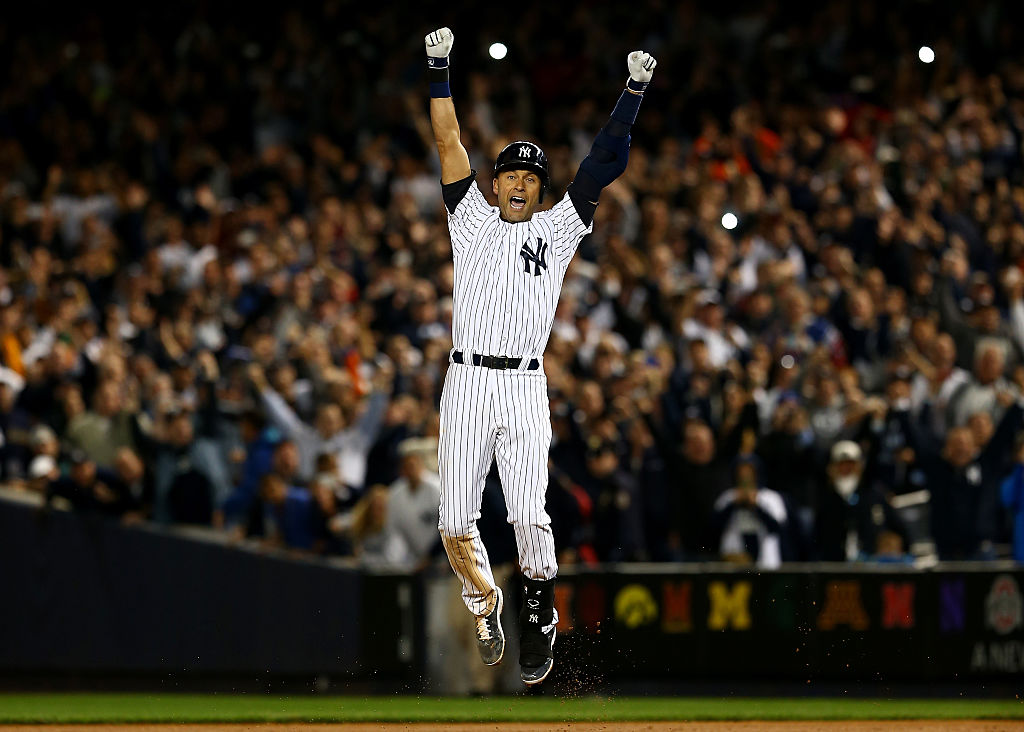 For Derek Jeter, Playing for the Yankees and Dating Mariah Carey Were Dreams Come True
For MLB Hall-of-Famer Derek Jeter, playing for the New York Yankees and dating singer Mariah Carey were dreams come true.
Derek Jeter knew he always wanted to be a Major League Baseball player. It was a dream come true when he was drafted with the sixth overall pick in the 1992 draft by the New York Yankees. Jeter, of course, went on to have a Hall-of-Fame career with the Yankees. According to Chris Heaps, Jeter's first professional double-play combo partner, Jeter fulfilled another dream that involved singer Mariah Carey.
Derek Jeter's Hall-of-Fame career
Derek Jeter was drafted in the first round (sixth overall) of the 1992 MLB draft by the New York Yankees. The Houston Astros as the top pick and Astros scout Hal Newhouser, a Hall-of Fame pitcher, heavily scouted Jeter. Newhouser highly recommended the Astros select Jeter with the top pick, but Houston elected to draft Phil Nevin. According to the New York Times, Newhouser was so upset with the pick, he quit his job.
Newhouser looked like a genius as Jeter went on to spend 20 seasons in the big leagues – all with the Yankees. The Yankees Hall-of-Fame shortstop and eventual captain was a 14-time MLB All-Star and a five-time World Series champion. He was named Rookie of the Year after his first full season in the big leagues.
Jeter finished his career with a .310 batting average. Although he never was named MVP during the regular season, he finished second in 2006 and was third in the voting in 1998. Twice, Jeter led the league in hits. Jeter was also a five-time Gold Glove winner. He was inducted into the Baseball Hall of Fame in 2020.
Former teammate reflects on Jeter's early days in pro ball
Derek Jeter collected an $800,000 bonus for being the sixth pick in the draft back in 1992. Chris Heaps, whose locker was right next to Jeter's in that first year, recalled seeing Jeter walking in for the first time and remembers not being overly impressed. "We were like, 'Man, that's the No. 1 pick? That's the bonus baby?" Heaps told NJ.com. "That's what everybody behind the scenes (was saying). Guys talk."
Heaps, who was drafted the year before in the 28th round, quickly changed his tune when he saw Jeter on the baseball field. "Man, it was it was special," said Heaps. "And one thing that surprised us all was, as skinny as he was, you know? That was the biggest thing. The Yankees knew that we got to put some weight on him. We gotta get this guy on a weight-lifting program, and they did. He had some pop. But, he's 6-foot-3 and 160 (pounds), that's not very thick. But, man, he had some pop in his bat. And turning double plays with him — I would say that that's probably one of my greatest moments as a player. Being out there and just being one of the guys and say, 'Hey, man, I used to be on the field with him.'"
Heaps, now a teacher and high school baseball coach at Russellville High School in Alabama, said despite being the Yankees' top pick, Jeter was your average guy. "So very much humble," he said. "Although he was a No. 1 draft pick, he acted like one of the guys."
Derek Jeter's dream come true with Mariah Carey
Former teammate Chris Heaps said that Derek Jeter was always a fun-loving guy. They were close early in their careers and had their lockers right next to each other. Heaps said Jeter would suddenly start rapping at his locker. He also remembered Jeter had a picture of singer Mariah Carey at his locker.
In his locker, Heaps said Jeter had "a picture or two, and a motivational thing or two, and some family stuff," he told NJ.com. "And I remember a picture of Mariah Carey, and him singing, 'I'll Be There,' with his headphones on. Not a great singer, but we laughed and liked it." Heaps also recalled something Jeter said about the singer.
"We were side by side and, I'll never forget, he had that picture of Mariah Carey, and I think he said, 'One day, I'm going to marry her.' That was, you know, a teenage thing to say. I think they dated, didn't they?" Heaps asked. Yes they did, according to Fox Sports.