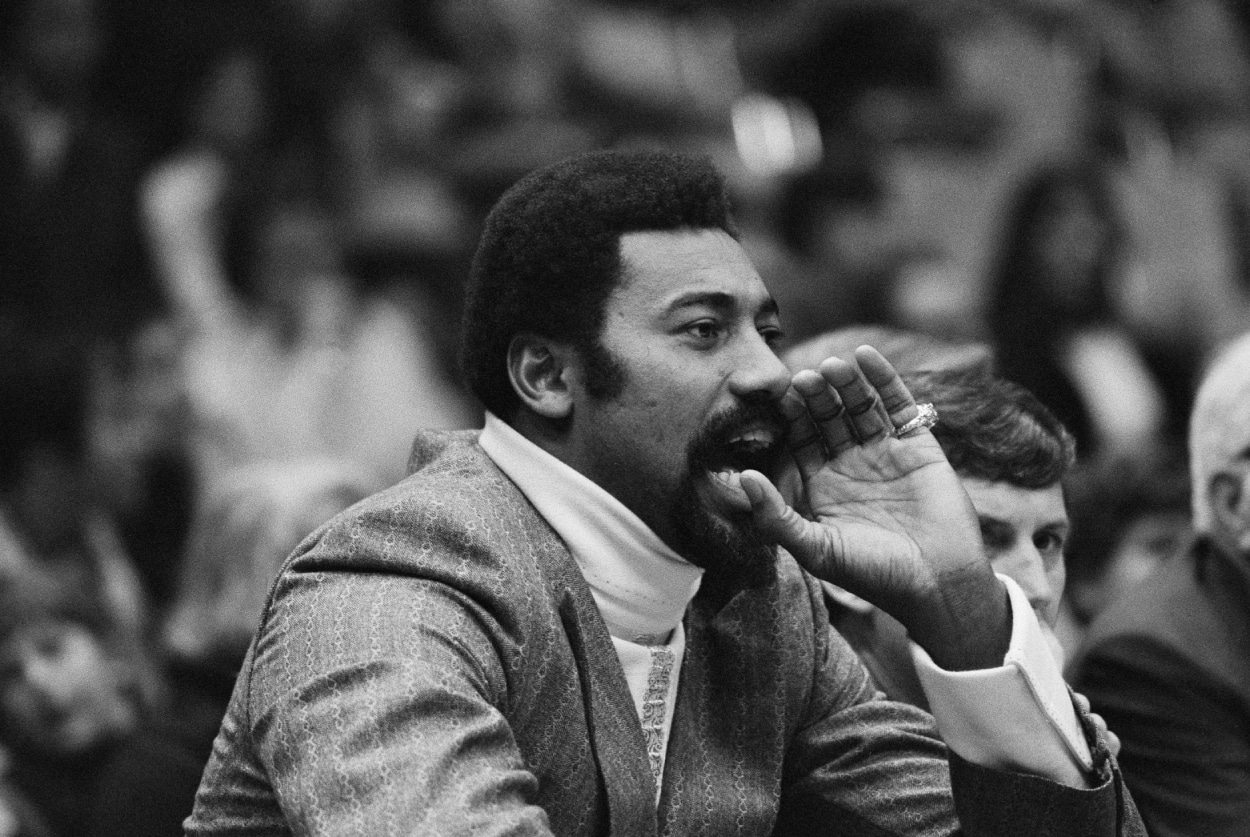 For Wilt Chamberlain, Image Appeared More Important Than Success in the ABA
Wilt Chamberlain's one year as a head coach in the ABA didn't come close to the success level he had as a player in the NBA.
Wilt Chamberlain is arguably a top-five NBA player in history. Some say he's the best ever. Chamberlain, a four-time MVP and two-time champion, was a force. Nobody put up numbers like the 7-foot-1 center, who averaged more than 50 points and 25 rebounds for the entire season in his third year in the league.
After 13 All-Star appearances in a 14-year NBA career, Chamberlain headed over to the ABA to try his luck as a head coach. Let's just say that didn't go over well, as his image appeared to be more important than on-court success.
Wilt Chamberlain was a tremendous player but not so good as a coach in the ABA
Wilt Chamberlain's numbers in the NBA are unmatched. He owns many records that will never be broken. While Chamberlain's 100-point game is the one record most remember, he also averaged 48.5 minutes per game for a season, even though NBA games are 48 minutes long.
After his illustrious career that landed him in the Naismith Memorial Basketball Hall of Fame, he joined the ABA as head coach of the San Diego Conquistadors. He had an option year with the Los Angeles Lakers left on his contract but decided to make his head coaching debut in the ABA.
The move was initiated by San Diego owner Leonard Bloom to provide a spark to the ABA.
"In 1973, the merger (with the NBA) was supposed to be near, and the NBA was encouraging teams to go out, be aggressive, and do something dramatic," Bloom said, per Terry Pluto's book Loose Balls. "I figured, why not get Wilt?"
Chamberlain, however, quickly grew bored with coaching. He often didn't even show up for games.
"The day-to-day things that are an important part of coaching just bored him," said Alex Hannum, former ABA Coach of the Year with the ABA's Oakland Oaks. "He didn't have the patience or desire to coach."
"Wilt just wasn't very reliable," said Carl Scheer, former ABA GM. "He showed up at halftime during a game at Charlotte. We tried to capitalize on his name, but Wilt didn't help because he didn't like to make appearances deal with the media."
Image seemed more important than success to Chamberlain as a coach
Chamberlain's coaching career lasted one year, finishing 37-47 in the regular season. He went 2-4 in the playoffs.
"Wilt was very aware of his image," said Dave Vance, former GM of the Kentucky Colonels. "I was with him at the Executive Inn in Louisville, and he dropped a quarter on the floor. I knew that Wilt saw he dropped the quarter, but he kept talking to me and wouldn't bend over to pick it up. Finally, I said, 'Wilt, you dropped a quarter.'
"Wilt said, 'I know, but if I bend over to pick it up, people will talk about it.'"
Chamberlain wanted to do things his way. Mike Storen, former commissioner of the league, had the unenviable task of telling Chamberlain he was violating the dress code.
"When I was commissioner, I had to talk to Wilt about his wardrobe," Storen said, per Pluto. "Some people complained that he was wearing sandals on airplanes, which wasn't supposed to be good for the image of the league. I'm not sure what that means, but people complained.
"So I called Wilt in and said, 'Wilt, whether you like it or not, you are going to have to wear shoes and socks on the road.' Wilt is so damn big and imposing. He is bigger than life, and if you don't know him, he just scares the hell out of you. But Wilt is a very nice guy, thank God. I kept thinking,' Here I am telling this guy to wear shoes, and he can just reach across the table and rip my head off with one hand.'
But Wilt said, 'No problem.' And it wasn't a problem."